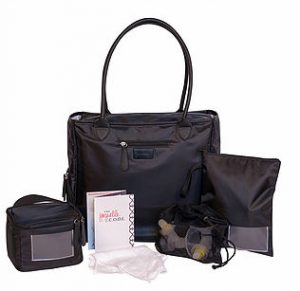 As national breast feeding month comes to an end I would like to bring your attention to a product geared to those mama's heading back to work. One of the biggest fears for new mothers is how they are going to continue to breast feed when they go back to the work force.
When you go back to work you have several worries. How will your baby do without you? How will you make it without her!? Will you find the time to pump at work? Will you have a place to pump? Everyone will know your pumping because you have this huge pump bag and cooler for your pumped milk. It's kinda embarrassing to think about, sitting there like a dairy cow. I can nurse all day in front of my family but when I break out that pump I gotta do it alone. Even though my husband and children know what I'm going I don't want them watching.
But you don't have to be embarrassed. You don't have to carry a bag that lets everyone know what you're about to go do. jay elle has just come out with the perfect Breast Pump Bag for you to pump while on the go but also be stylish. Pumping at work is hard work, but your baby is worth it. Having a nice bag that holds everything you want and need to pump that liquid gold is priceless.
There are a couple different styles to choose from Type A, Duchess and the Terra ( Available Winter 2016). Each of them are beautiful and really make it look like any normal bag. They are large enough that you could put would other things in it as well like a wallet. So when you go to pump you can take the whole bag with you.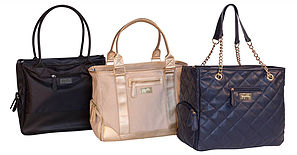 Product Features + Benefits:
6-piece set includes the Carry Bag, innovative Cooler Bag, Wet Bag, Accessories Bag, Dry Cloth and jay elle C.O.D.E. Handbook
For every Breast Pump Bag purchased, jay elle will donate $1 to support breastfeeding moms
Removable Divider – Use to separate Cooler Bag area from breast pump area,then remove divider once breastfeeding season is complete so bag can easily be used as a purse/work bag
Two Large Elastic Storage Pockets – Use for pumping accessories such as [nursing]covers, hands-free pumping bras, breast pads and more
Pen Slot & Zippered Pocket – Store pen to mark bottles/bags, personal items in zippered pocket
External "Small Things" Zippered Pocket – Perfect size for cell phone & keys
External "Big Things" Zippered Pocket – Sized to fit either a small laptop, tablet, papers, etc.
For every Breast Pump Bag purchased, jay elle will donate $1 to support breastfeeding moms