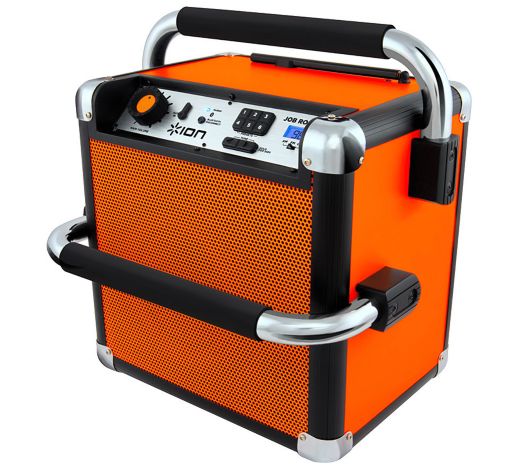 ION has its eye on the future! Lucky for you, they have had their eye on the future for a long time! Why?!? Because ION is here with the ION Job Rocker!
I was skeptical at first. I was taking it out of the box like it was a new guitar that I didn't want to scratch. However, after a few uses, I could see how rugged it is. Steel handle, steel front guard, steel reinforced corners, and a complete wood construction.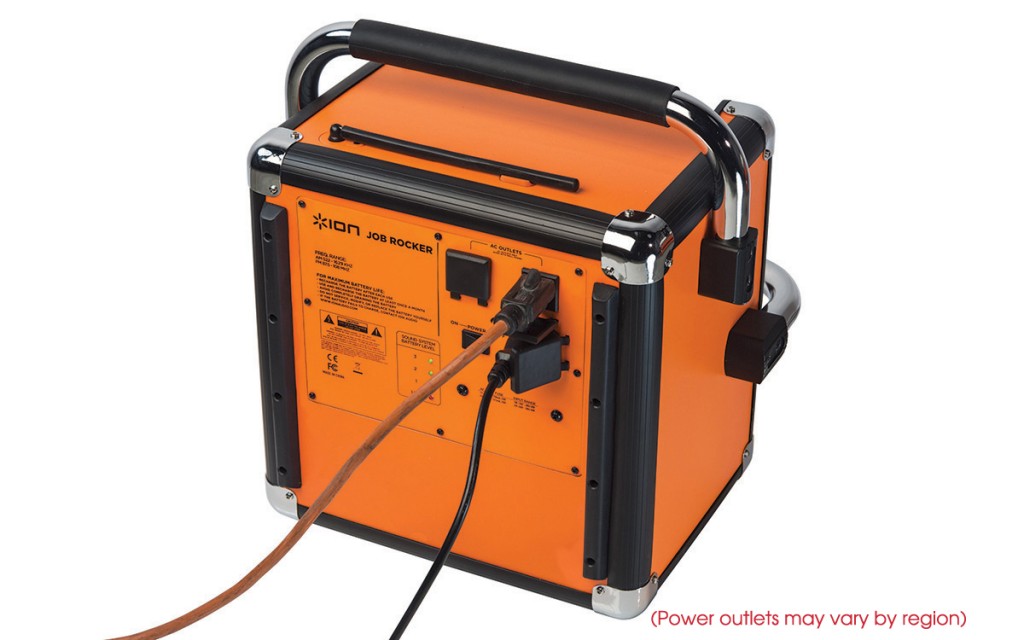 In the back you have your charging inlet with two 10 amp pass thru power ports. These plug-ins can also be used to charge your phone, tablet, laptop, or cordless drill for that matter.
The ION Job Rocker has an internal rechargeable battery that boasts up to 50 hours of life on a single charge. Now, I have personally never stayed out in the garage that long at one time, but I have done some long stretches while working on some projects and I haven't ran out of juice yet! And it also has a light indicator to tell you how much power is left in your battery.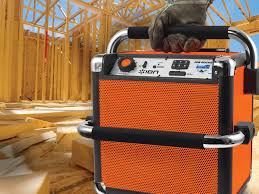 Rugged or not, the real test is how does it work. Well, you are going to be happy that it has four rubber feet to absorb the vibration because Job Rocker ROCKS!!!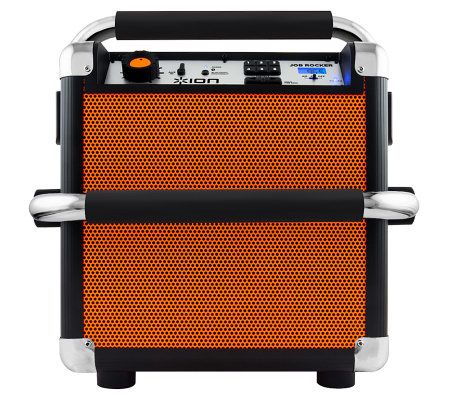 Let's look at some of the Key Features…
• Streams music wirelessly from any Bluetooth music player up to 100 feet away.
• Works with iPad, iPhone, iPod touch, Android® devices, and more.
Most Bluetooth devices only work up to 30 feet. With 100 feet you can be on the roof, across the yard, ten cars down at a tailgate party, or up in the air on a lift and you can still adjust the volume, change a song, or turn it off or on anytime you want!
• 2 AC power outlets for powering lights, tools, and more.
• Built-in battery provides up to 50 hours of continuous use on a single charge.
• Powerful 50-Watt speaker system provides room-filling sound and full bass.
• Durable wooden cabinet, rugged chrome-plated steel handles, and protective corner bumpers.
• Large rubberized buttons and controls that are easy to use even with gloves on.
• Built-in digital AM/FM radio with 6 preset buttons and durable rubber antenna.
• Protective rubber dust covers over power outlets and audio port.
• Full-length metal grille protects the speaker.
• Portable and rechargeable, perfect for use anywhere, indoors or outside.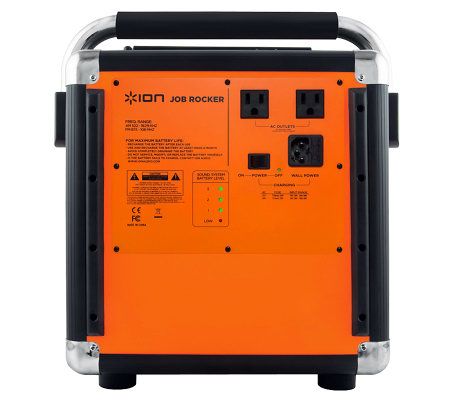 This is just what everyone needs. It isn't just for men, but women as well. Use it on the patio, at the pond, pool, playground. Use it in the garden, on the porch; it goes anywhere you go. It has its own power. You don't have to have a plug in, go to the woods or lake, at the river or in the mountains. This is truly a great product!
Not only have I used it to listen to music, but I have also used it as a guitar amp. At 50 watts, it's a loud amp! I have also used it as a P.A. system and as a monitor system for the band. It isn't a loud enough P.A. system for a live gig, but it is for practice in the garage. And in a pinch, I wouldn't be afraid to use it as a guitar amp on stage. Or as a filler to give the crowd something to listen when we go on brake in between sets.
We had a few friends over and grilled out back and set the Job Rocker in a convenient place so everyone could hear it. Meanwhile, the Android was in the shade under the pavilion and anyone could come and add songs, change songs, or just crank it up whenever they wanted to. It was great to have some background music that everyone could use. And as the fires burnt low and the sun went down, it sounds great when you turn it down the volume too. Now is when that long battery life really pays off. We never had to recharge it and we played it all day!
The unit includes the following:
• Job Rocker
• Power Cable
• 1/8-inch (3.5mm ) Audio Cable
• Quickstart Guide
• Safety & Warranty Manual
Here are some things that you may find useful as well:
• Product Overview html
• Quickstart Guide, v1.4 1MB pdf
• FAQ and Troubleshooting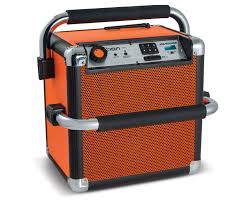 So if you are looking for some sounds for your worksite, garage, outdoors, or anywhere you want to be, take a look at ION's Job Rocker. I am really glad I have one. It goes anywhere and pairs with any Bluetooth device. In fact, my friends request it now when we go places.
What do you think? Do they really like me or just my Job Rocker?!? Yeah, they like me. We always have fun, just more fun with the ION Job Rocker!