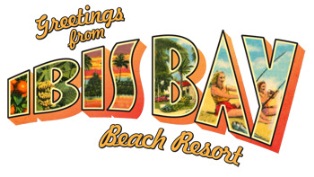 Key West's original 1956 resort debuts all-new line of 2014 Yamaha jet skis featuring GoPro® cameras as standard equipment.
GoPro Cameras are also available for rent with the resort's scooters and bicycles, making "GoPro Vacationing" a new Key West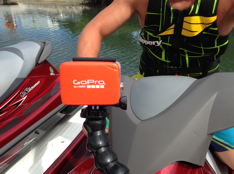 reality!
KEY WEST, FLORIDA, August 19, 2014 — IBIS BAY Beach Resort, the forward looking Key West resort that first introduced vacationers to "Nightboarding" in 2012, is now taking fun to a whole new level with the introduction of "GoPro® Vacationing!" According to owner-operator Chris Holland, IBIS Bay has just taken delivery of ten 2014 model year Yamaha jet skis and each one of them is equipped with a GoPro® HD video camera as part of the standard rental package.
"The IBIS Bay GoPro-equipped jet skis are a first for the resort capital of the United States. We're very proud to be the ones to bring it the idea of GoPro® Vacationing to the Florida Keys," Holland explained. "We're even more excited to let vacationers know that the cameras are free with all our jet ski rental packages. We're not charging a dime more and we're taking water sports to a whole new level of enjoyment!"
IBIS Bay jet skis can be rented for $130 for the 1-1/2 hour Island Tour, for $110 for the 1-1/2 hour Early Morning tour, or for $130 for the 1-1/2 hour Sunrise Tour, which includes a full pre-tour breakfast as part of the package price.
Vacationers can also rent GoPro cameras as an option when they are renting the resort's scooters or bicycles for $35 for the first day, $22.50 for the second day, and $11.25 for every day thereafter. GoPro cameras and SD Memory Cards can are available at the IBIS BAY Tiki Hut on the front Beach or at the Fun Desk, which is located in the lobby of the resort.
GoPro cameras are transforming the way consumers capture, manage, share and enjoy meaningful life experiences. They empower people to capture compelling, immersive photo and video content of themselves participating in their favorite activities. "We provide mounts for jet skis, bikes and scooters," Holland explained, "so our guests can easily take their GoPro camera from recreational activity to the next. Making the GoPro cameras available is just one more way that IBIS BAY makes a stay here a destination stay they will always remember!"
The IBIS BAY Fun Desk brings together all the best attractions of Key West, saving travelers time and money by offering them everything they could want all in one place. With one visit guests can book and schedule activities for their entire trip, and then get on with enjoying their vacation. The desk is open to the entire public. Visitors need not be guests of the resort to benefit from the experience. The full list of activities, packages, and specials can be found at www.ibisbayresort.com/attractions, and visitors can book in advance by calling the Fun Desk at (305) 296-0616.
About IBIS BAY Beach Resort:
The IBIS BAY Beach Resort (www.ibisbayresort.com) embodies the very best of Key West and offers guests a vacation experience like no other. With a full deck of options for active adventure-seekers, Hemingway buffs, or travelers who want to fit in with the locals, there is something special for every guest. Featuring classic Key West architecture and design, 600 feet of beautiful private beach, a 20-foot poolside movie screen for outdoor movie nights and the Stoned Crab restaurant, IBIS BAY Beach Resort is more than a resort—it's a destination.