When it comes to making money on your website, have you considered exploring ad revenue? You're probably saying, I do not know the first thing about where to begin when it comes to putting ads on my blog. Worry not! Since our priority, at Mom Blog Society, is to help you make the most you can from your blog, we're letting you in on an ad platform that has been garnering rave reviews from bloggers like yourselves. Read on. You can thank us later for the extra income earned!
About Media.net
Media.net is the 2nd largest contextual advertising business worldwide, after AdSense. Media.net was founded by Divyank Turakhia, a serial internet entrepreneur who's a world leader in advertising technology. They recently orchestrated the 3rd largest ad-tech deal ever, when a Chinese consortium acquired them for $900 million USD.
What bloggers and website owners say about Media.net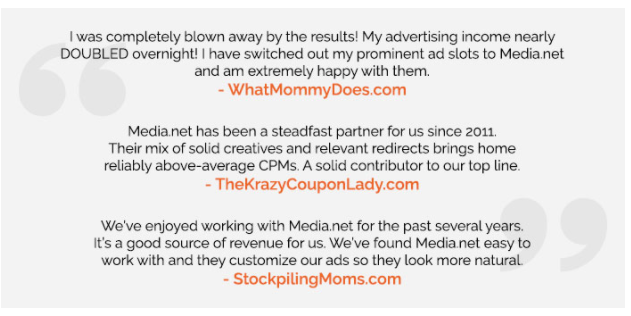 Why should you choose Media.net?
Very quickly, here are my top 5 reasons why you should consider signing up with Media.net to boost your blog earning potential:
-Exclusive access to the Yahoo! Bing ad marketplace
What this means for you is direct access to $6 billion worth of search demand, and at absolutely no cost to you. Very simply, this advertiser demand can be unlocked only with Media.net. You can get your hands on this pie of revenue once you sign up with Media.net
-Contextual Ads and Native Design
Their ads take into account what you're blogging about and every page will display ads related to your content. So, while you aren't compromising on your readers' browsing experience at all, you also stand to earn more because readers are likely to click on ads that are contextual to what they were originally consuming.
Their ads can be customized to match the look and feel of your website. They can be made to blend in or stand out according to your blog design and taste.
-Dedicated Account Service
They assign a dedicated Specialist to you once you're approved and this person is your sounding board when it comes to monetizing with Media.net. Your Account Representative will give you suggestions to make the most you can with their Ads and that's a hard-to-find service anywhere in the industry.
-Excellent alternative to your current revenue strategy
Media.net complements a diverse mix of revenue strategies and adding it to your current setup would definitely mean an increment in your earnings. Publishers, both big and small, can benefit from adding Media.net ads to their blog/website.
– Minimal tech effort
If you're the kind to feel overwhelmed with all the tech behind the integration of ads into your website, you're not alone! The good news? All your Media.net ads start displaying with just 1 piece of ad code. It's as easy as it sounds.
The unique Media.net advantage – D2S Ad format
Media.net is the pioneer of the D2S (Display to Search) ad format, a two-click model which has been successfully utilized by publishers and advertisers and shown great results.
Simply put, the D2S ad format identifies user search intent and displays relevant search keywords to monetize display placements. These D2S ads are purchased by advertisers on a cost per click (CPC) model as opposed to cost per impression (CPM). As it takes 2 clicks to land on the advertiser page, these ads are a more accurate indicator of user intent, unlike ads bought by CPM where it is not even clear whether the user engaged with the ad or just scrolled past it.
As a publisher, you may be thinking, that's all very well but what does it do for me?
Boosted revenue: This ad format results in more competitive bids from advertisers, as they are more keen to pay for ads that their users will genuinely engage and interact with. This naturally results in more revenue for publishers.
Improved ad targeting: Because D2S filter;s user's intent with the 2 click-process, these ads are better targeted and therefore better suited for the kind of content and audience you have.
Greater choice in ad selection: Partnership with Media.net allows for greater choice in ad selection, as opposed to the 2–3 text ads which lead to higher engagement with ad units.
It's important to remember though, that it takes some time for ads to be optimized to your website. So when you start displaying ads, be patient. The auto-learning takes a while to kick in and then your revenue should see a visible spike.
If you're serious about monetizing your blog as is best possible, you cannot afford to ignore the multiple reasons why you should be giving Media.net a try! Give them a shot and see what they can do for your bottom line when it comes to making ad revenue on your website.
To get you started, here's a sweet deal I got exclusively for Mom Blog Society readers:
Sign up with Media.net by clicking here and you stand to make an extra $100 with them.
You can visit them on their social media here: