Hey, bloggers! We recently wrote about how Media.net makes monetization easy for all bloggers while helping you earn incremental revenue. This month we're spilling the beans on what makes Media.net a super special ads partner. No, we're not talking about their special algorithms or high-tech platform features (though they're enviable in their own right). We're going to talk about how Media.net makes monetization easy with one-on-one support by a dedicated account manager for every publisher. You heard it right! We mean nothing but personalized 1×1 attention for ALL approved bloggers.
Get ready to be pampered!
Most ad platforms out there have you join them, and then you never hear from them again when you face an issue! When you're wondering how to monetize your site, what ads you should choose, where you should place them, and how you can sustain ad revenues, you're up against a blank wall. Luckily, Media.net offers just the opposite experience. Whether your website focuses on a particular niche or is a treasure trove of generalized updates and information, you have access to a dedicated account manager every step of the way. In fact, it's not just the biggies that qualify for this personalized service. All publishers on the Media.net platform are treated with equal care, and I'll explain how this adds value to your blog monetization efforts.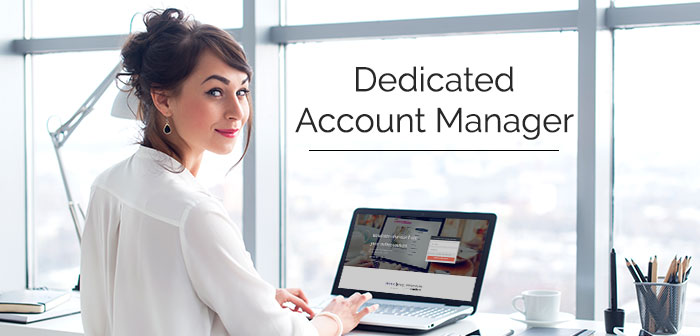 No guessing, no speculation: Got a query on how to select the best ads for your blog? Sign up for Media.net services, and you'll get all the answers you need straight from your account manager. No more relying on vague and potentially misleading information from online user forums anymore. You don't need to hear it through the grapevine or speculate about your ad revenue prospects too!
Dedicated round-the-clock support: Your Media.net account manager assesses your website and audience in-depth to understand all your requirements inside-out. He/she is just a phone call and email away, so don't hesitate to get in touch anytime and rest assured that you'll receive a response at the earliest. Prompt support services ensure that your ad performance is always on track, and the revenue earnings follow closely behind.
Performance improvements all the way: Every account manager not only offers expert industry advice, he/she also chips in with useful recommendations to help you maximize your ad revenue. Looking for custom ads? Your account manager doesn't just help you select the right ad skin personalizations, native designs, etc, but could also recommend the optimal number of ads per page. This is especially useful to bloggers who may be new to the monetization business. For the experts bloggers too, the presence of personalized suggestions in an otherwise complex and dynamically changing field makes all the difference and also offers a competitive advantage.
Take a break from it, if you want to: Even though blogging allows one the luxury to work from home, everyone needs to get away from it all once in a while. With Media.net, you'd never have to worry about your ad performance being neglected while you're on a break. You just need to tell your Account Manager and he/she will take care of it for you. So, you can take a backseat and let your Manager make the right moves to boost your revenue.
If that's not all, Media.net gives publishers plenty other reasons to smile, Thanks to their unique value-added features. Let's check these out:
Access a massive ad inventory
Media.net exclusively powers the Yahoo! Bing Network Contextual Ads Program. What this means for every publisher is access to over $5 billion worth search demand. So, even if your blog deals with a niche topic, you needn't worry about how you could get the right ads served. Access to a wide variety of premium advertisers also means that only the most relevant and competitive ads get selected for your content. Media.net has also pioneered the display-to-search (D2S) format, to offer you ads based on user intent that maximize your revenue.
Display relevant and contextual ads on your blog
Your quality content deserves the best ads, but don't let these ads take away all the attention. Get ads that blend in so that your content stands out. Media.net's unique algorithms understand your content well, throwing up perfect ad suggestions to sync well with your blog message. In addition to the best ad selections, Media.net also lets you customize and select ad topics and filter the advertisers you'd rather avoid. So, you will always end up displaying ads that are relevant and connected to the content you create. This also helps boost your earnings – since your audience is already reading your content, their interest in connected ads will make them that much likelier to click on your ads which in turn, can translate to higher earnings.
Deliver stellar mobile ads too!
As a chunk of your blog's readership comes from mobile-friendly users, Media.net also ensures that their ad technology performs equally well on all such devices and across operating systems. You would do well to sign up with them to ensure that you don't miss out on capitalizing on every single impression.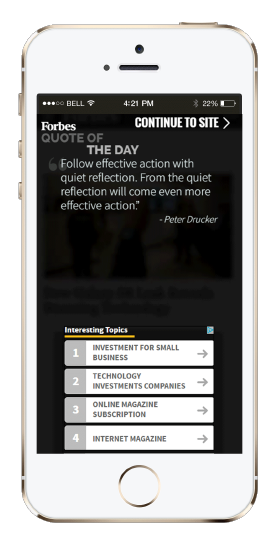 Media.net Mobile ads
So, are you ready to start monetizing your blog with Media.net? I've got a special offer just for you and all Mom Blog Society readers. Sign up here, and you can earn an extra $100 from Media.net.
Good luck with it!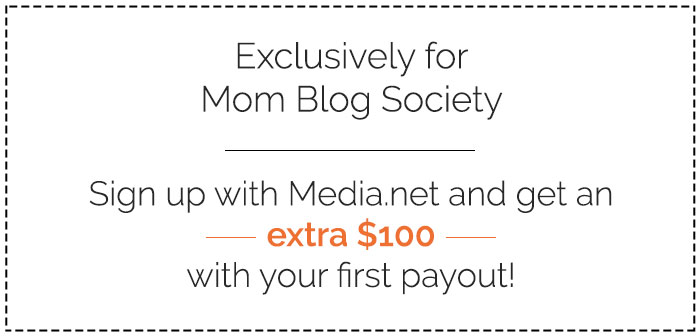 You can visit them on their social media here: