Are you ready? Have you stocked up for cold and flu season? Well, now is the time to do so because the weather has changed and we're headed for a bad winter the weatherman states. Lately I've been noticing the kids coughing and sneezing and you know those symptoms will lead to a sore throat so I've been gathering my cold and flu season survival kit with lots of soups, crackers and of course Chloraseptic products.
If you haven't had a chance to try out the Chloraseptic line I suggest you get ready to now. They have an awesome line of cold and flu medicines that are number #1 and recommended by pharmacist all over. Let's start by sharing a few of their products like their Chloraseptic Soar Throat Sprays & Chloraseptic Sore Throat Lozenges.
The Ultra Chloraspetic anesthetic throat sprays are available for adults and kids and come in a variety of flavors like grape, menthol, cherry and soothing citrus.
Chloraseptic Spray also comes in a grape flavored Maximum Strength version for kids (6 oz; $6.25) and a pocket pump version (0.67 oz; $2.75), all for instant relief. Just open your mouth and spray and feel the Chloraspetic start to work! Another great thing about Chloraseptic Sore Throat product line is you can travel with them anywhere and they will fit in your purse, travel bag and pocket with ease.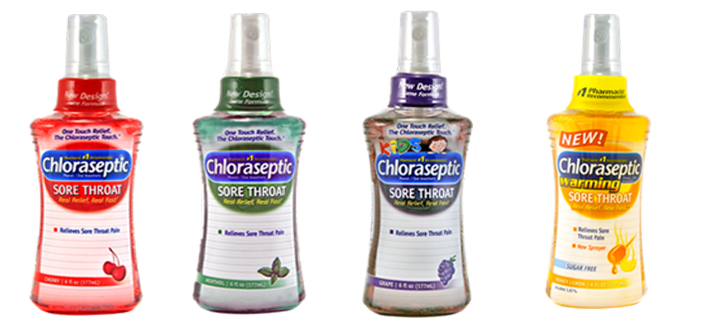 Next we have the Chloraseptic Sore Throat Lozenges– These medicated lozenges have a dual-sensory solid shell with liquid medicine in the middle. The menthol soothes while the lozenge helps open nasal passages and fight coughs. Lozenges come in a variety of flavors such as Cherry, Citrus, Warming Honey Lemon, MAX Wild Berry, TOTAL Wild Cherry and TOTAL Sugar-Free Wild Cherry. They come in packs of 15 or 18 and retail for $3.99.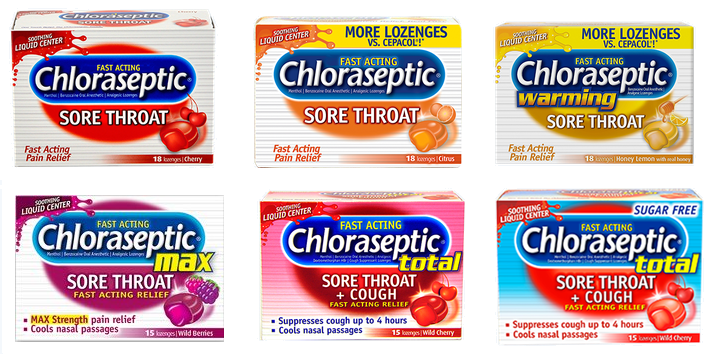 To learn more information on Chloraseptic Sore Throat Lozenges, Sprays and the full line of sore throat relief products visit Chloraseptic . You'll also find a coupon for $1 off any Chloraseptic product there!
If you're wondering as to what active ingredients are included in the Chloraseptic Sore Throat line, they contain the active ingredient benzocaine, which is a type of medicine called a local anesthetic. It works by temporarily blocking the pathway of pain signals along nerves.
Benzocaine acts by stopping the sodium entering the nerve ending at the site of the pain. Benzocaine is used to relieve the pain and discomfort of sore throats. It is administered by spraying directly onto the area that needs numbing.
Don't wait around till that cold or flu gets you down and brings on those aching soar throats, get prepared now so you and the kids can enjoy the holidays and travel without the worries of a soar throat this flu season. You can also visit their website (Cold & Flu tracker) to track where in the country the flu is hitting the hardest and check outbreaks and symptoms in your local area.