Although Winter is still weeks away, already it is becoming much too cold outside – especially if you work outside like my husband. And while the fact that you lose more heat through your head is a myth, what is not a myth is the fact that the warmer the clothes you wear, the warmer you will stay. Well, now you can say goodbye to frigid feet thanks to Heat Holders Thermal Socks.
Heat Holders Thermal Socks work by holding more warm air closer to the skin, keeping your feet warmer for longer.
"Heat Holders® are the warmest socks ever! They are over 7x warmer than regular cotton socks and 3x warmer than ordinary thermal socks. They are better than heated, electric or battery operated socks because you can just put them on without fussing with batteries, wires etc. Heat Holders® means No more cold feet! They are made using a unique 3 step process which makes them the Warmest Thermal Socks!"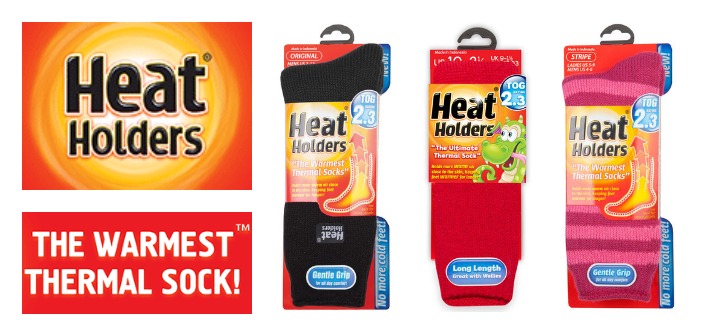 TOG (Thermal Overall Grade) is a recognized measure of a textile's thermal ability. Simply put, the higher a product's TOG rating, the better that product is able to keep you warm. Your basic cotton sock has a TOG of 0.33, an ordinary thermal sock has a TOG of 0.89, but Heat Holders Thermal Socks? They boast a TOG rating of 2.3! That's 7x warmer than a basic cotton sock!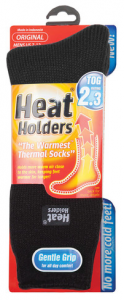 What Makes Heat Holders Warmer?
Three things work together to make Heat Holders so comfortably warm. First of all, specially developed, advanced fibers provide both a high level of insulation against the cold, and superior wicking abilities against sweat and moisture. Secondly, innovative knitting technology produces a unique, extra long looped cushion pile which works to hold in more warm air. And finally, an intense brushing process also maximizes the amount of warm air that is held inside the sock. And that is what makes your feet stay warmer, longer.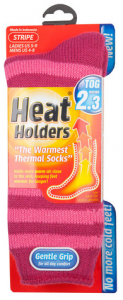 Comfort
Cold and wet are a dangerous combination when it comes to being outside in freezing temperatures. I don't know about you, but I have found many types of thermal socks make my feet sweat which pretty much undermines the entire point since that sweat trapped against your skin makes you cold. Again, because of Heat Holders' unique yarn, any moisture is actually wicked away from your feet where it evaporates leaving feet warm and dry. In addition, Heat Holders are not so thick and bulky that your shoes become tight and uncomfortable. And the insides are super soft and fuzzy!

Heat Holders also makes slipper socks so you can wear them around the house. Thick, chunky and super warm, each pair of slipper socks has non slip grips on the bottom to keep you safe and warm even on the smoothest, coldest surfaced floors!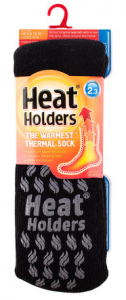 With a wide selection of thermal socks in a variety of colors and patterns for men, women and children, Heat Holders are perfect for making sure your family's feet stay toasty warm all winter long!
Connect with Heat Holders: Shop
– Facebook – Twitter
Disclaimer: This product was received from the Company for review purposes only. All thoughts and words in this post are my own and I was not paid to endorse it. I am only voicing my opinion about this product.