With the vast array of stroller options out there, how do you choose just one when shopping for your little one? I know most parents go for fancy features like attached storage bags, large canopies, adjustable handles, fold flat function, lightweight construction, even large under carriage baskets.
From my own experience many manufacturers seem to want to focus mainly on those features as well, but what about comfort? Your baby spends up to 40 weeks in the womb— a super comfy, safe space that offers offers everything baby needs. So, why not continue to want to provide that same type of environment when he or she is born?
I've been through several strollers on my own and I can honestly say the majority are NOT comfortable at all. They're certainly not something I would want to spend possibly hours in (if I were a baby). And that's why I love the Cush 'n Go Memory Foam Stroller Cushion from Baby-Bee Haven.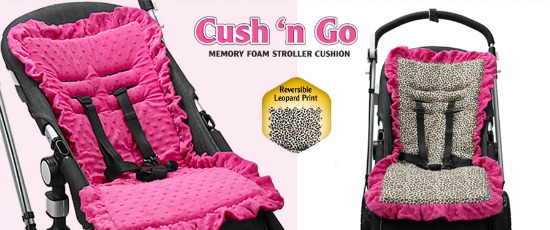 This reversible cushion is the ultimate when it comes to accessories! Why? The Cush 'n Go is made of a high quality machine washable memory foam that conforms to baby's head to help decrease resistance and the risk of flat head syndrome— a condition that's common in infants. This plush, stylish memory foam cushion also supports baby's neck and back for a more enjoyable ride.
While the Cush 'n Go is said to fit most stroller harness systems, I did try it out on our Jeep Cherokee Sport Stroller and it fit nicely. It also provided Baby E with a luxurious seat SO nice that he instantly fell asleep once we began to walk. hehee!
A few awesome benefits to the Cush 'n Go is that it helps protect those hard to clean strollers (just toss it in the wash when soiled, then machine dry)— it comes out looking just like new. It also includes multiple slots to ensure a better fit for your stroller. For those parents that like a bit of change, one side is solid-colored and the other has a matching printed side.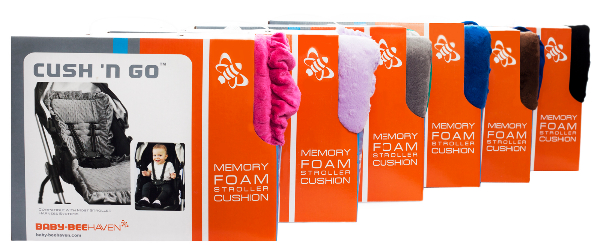 Choose between Chocolate Cars/Brown, Bumble, Emerald Safari, Maliblue Stripe, and Preslee Purple.
Give your child the best seat outside the house with the ultimate solution in stroller support and style, recommended and used by medical professionals.
The Cush 'n Go measures 13.4″ W x 1″ D x 29″ L. Yes, it's one-inch thick— very nice! Too bad they don't make these to fit automobile seats— my back would love it! I would totally buy one. hehee!
I do want to mention this cushion is only meant to be used in a stroller— not a crib, bassinet, cradle, or bed (for obvious safety reasons). One major benefit of using a Cush 'n Go is that your baby will sleep more comfortably, deeper and longer, ensuring a happier baby when he or she awakens!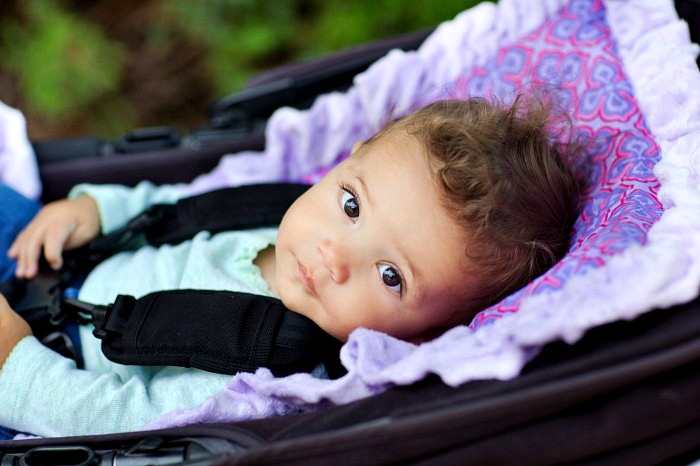 Connect with Baby-BeeHaven: Shop | Facebook | Pinterest
Disclaimer:
This product was received from the Company for review purposes only. All thoughts and words in this post are my own and I was not paid to endorse it. I am only voicing my opinion about this product.