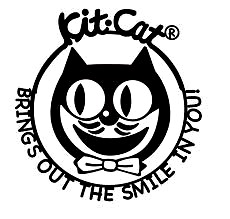 If you know anything about American icons and pop culture, you probably already know about the infamous kitty cat clock. The original kitty cat clock or better yet, The Original Kit-Cat Klock has been around since the 30's— amusing family members and guests with it's wide, smiling face, large moving eyes and wagging tail.
Not much has changed about this whimsical, animated clock aside from going from having two paws to four. And, these adorable art deco clocks are now powered with batteries rather than electricity. In my opinion that's actually a good thing, especially if you don't have an outlet located near it's place on the wall and don't want an unsightly cord hanging around.
The original clock started out as a black cat but now you can purchase these in a variety of fun, attractive colors like burgundy, orchid, white, green, pink, tangerine orange, rose, red, and blue. Plus, there's a gentleman's version as well as a lady's version— the male version wears a bow tie, the female wears a pearl necklace.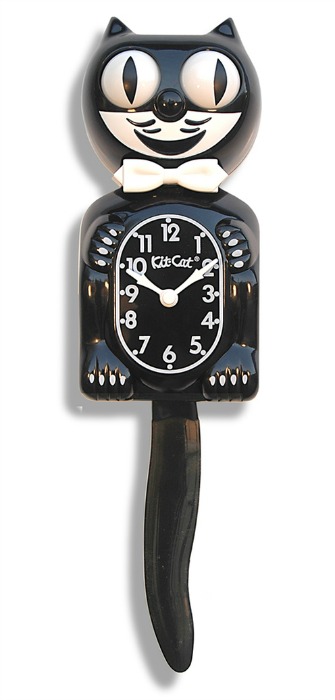 ORIGINAL KIT CAT KLOCK FEATURES:
Quartz movement and analog dial
Made of durable plastic
Requires 2 C Batteries
Made in the USA
Measures 15.5″ x 4″ x 2.5″
I can't get over how cute this guy is. It's impossible to look at him and not smile and giggle. His ping-pong-like eyes and tail move simultaneously like a pendulum as time ticks by. It's literally entrancing to watch!

You're watching it right now, aren't you? haha!
A LITTLE BIT OF INTERESTING HISTORY:
The manufacturer estimates their highly sought after clock has been sold at an average rate of one every three minutes for the last 50 years. I can see why. What's not to love about this famous cat?
Enjoy this slice of American pop culture history in your home, office, or classroom. These smiling, tail-wagging clocks are a playful touch on your walls, and their durability and craftsmanship guarantees their place on your family's walls for generations.
The Original Kit-Cat Klock makes a purr-fect gift for novelty collectors or any cat lover!
Connect with Kit-Cat Klock: Shop | Facebook | Twitter
Disclaimer:
This product was received from the Company for review purposes only. All thoughts and words in this post are my own and I was not paid to endorse it. I am only voicing my opinion about this product.