Arts and crafts are an important part of children's developmental stages. CRA-Z-ART offers a huge number of fun products that can help to spark your child's imagination.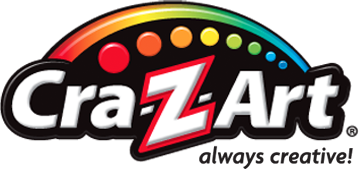 Unfortunately, many schools have drastically reduced the amount of time, that their young students spend on creative activities. This is such a shame, as arts and crafts help to develop:
Fine Motor Skills
Visual- Spacial Awareness
Problem Solving
Critical Thinking
A study by Americans for the Arts has shown that students (of all ages), who regularly participate in art are up to four times more likely (than students who don't) to:
Participate in math & science fairs
Win awards for essay and/or poetry writing
Be recognized for academic achievement
Parents can provide supplies in the home, that are fun to work with and that encourage creativity. This great Cra-Z-Gels Sticker Art kit is so awesome, that I want one (or two or three) for myself!
About CRA-Z-ART
Original, creative, exciting and trendy activity, toy, art and stationery products is what Cra-Z-Art is all about. The management team has over 120 years of experience in creating, manufacturing and marketing stationery and activities products.
Paints, crayons, construction paper, and glue. Pencils, pens, markers, brushes, modeling clay and easels. Kits for all ages and interests, along with licensed products, are all a part of the CRA-Z-ART® line up. Sew, cook and weave. Get slimed and enjoy Shimmer 'n Sparkle. Don't forget the Cra-Z-Sand, which is one of my all-time favorites, as is the Travel Magna Doodle!
Adults can get in on the fun too, with adult coloring books, and loads of colored pencils.
Learn more and connect with CRA-Z-ART: Facebook | Twitter | Instagram