Confession: I've had a life long obsession with scrapbook, craft and office supplies. When I was a kid, I thought I wanted to be a teacher when I grew up. As I actually started to grow up, I realized that teaching wasn't actually my passion. I just wanted access to all those awesome office supplies! As I got older, my love of school and art supplies quickly grew into a love of craft projects, bullet journaling and scrapbooking. I'm always looking for fun, new products to try. I was super excited to find that Polaroid had branched out with their own line of scrapbook supplies.
Polaroid has come a long way from the cameras we remember from our childhood. They've partnered with Zink, a zero ink printing technology, to bring you the best crafting experience possible for your photo projects.
Start your project with the Polaroid scrapbook album. It measures 8″ x 8″ and comes in three vibrant fabric colors: blue, purple and pink. The front window is designed to hold any 2″ x 3″ Zink photo and the inside pages are the perfect size for all your Zink photos.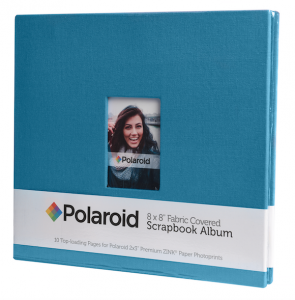 Add some color to your project with these Polaroid fluorescent gel pens. They're non-toxic and best of all, they're smudge proof. I'm a big pen junkie so I love finding new pens that not only write well but also don't smudge. No more smeared ink mess to ruin your perfect project! These pens are great for journaling, scrapbooks and even coloring. They're also available in metallic and glitter.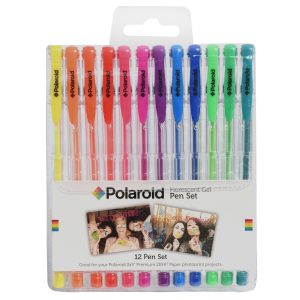 No photo project is complete without a little bit of whimsy. Get silly with these adorable mini punches. They come in your choice of flower, heart, star or smiley face. Add pretty borders and accents to all your craft projects. They can even double as a confetti maker to help you liven up your next party!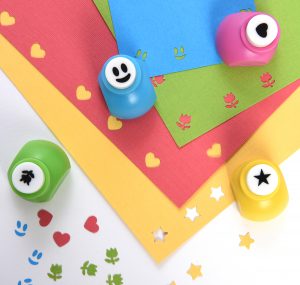 This colorful set of decorative edger scissors. comes with six funky designs to really add flavor to your projects. Add a fun border to your photos or spice up your scrapbook pages.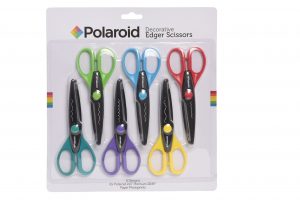 These are my favorite! These simple peel & stick decorative sticker frames fit on any 2″ x 3″ photo and will add flair to any photo or project. You'll never get bored with 100 different fun designs! I've got dozens of them decorating my cubicle at work.
I'm always looking for new craft supplies and Polaroid offers so many fun options. I can't wait to restock! Check out Polaroid on Amazon today for all your scrapbooking needs.
Connect with Polaroid: Shop | Facebook | Twitter | Instagram | Pinterest | YouTube