I don't know about you but getting my kids to eat their fruits and veggies is a bit of a challenge. So when it is Citrus season comes around, I get super excited. It seems like Mandarins are the only fruit they will eat without arguing with me. As a mom, I have no problem with that because I love when my children eat healthier! They eat the occasional grapes and Strawberries but they will devour every bag of Mandarin if I bring home! Our favorite brand in our house is Halos Mandarins.
Why do we love Halos so much? They are sweet, seedless and easy to peel! My daughter especially hates it when the skin is super thin. She goes to peel it and her fingers go right into the Mandarin. I also love to give them Halos for lunch. It is such a wonderful snack alternative plus they are so easy to peel I don't have to worry about them having issues doing it on their own.
Halos® mandarins are Mother Nature's perfect snack—sweet, juicy, seedless, and easy for little hands to peel. Even better, these li'l guys are 100% California born and raised, and absolutely, positively Non-GMO Project verified. So be sure to enjoy Halos® when they're in season, from November through April.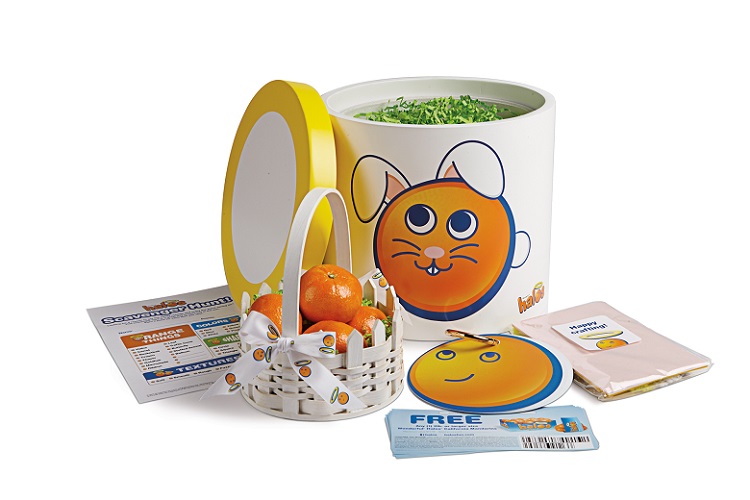 As Easter approaches, what a better time to stuff the baskets with something healthy. Check out the adorable things they have in their March Easter box:
-Welcome letter/Tips for sharing
-Easter Basket
-Easter craft kit with instructions/ribbon, white, yellow and pink cardstock, glue dots, googly eyes, white pom poms, white and yellow pipe cleaners
-Bunny craft card
-Chick craft card
-Scavenger hunt printable
-Mandarin Peel kitchen cleaner craft card
-Halos Toast recipe
-Halos Granita recipe
-Coupons

Do you love Halos as much as we do? Let us know how much you love them and why!
Learn more and connect with the folks at Halos socially:
Website | Facebook | Twitter | Instagram
STAY TUNED FOR THE GIVEAWAY!!!