Remembrance Jewelry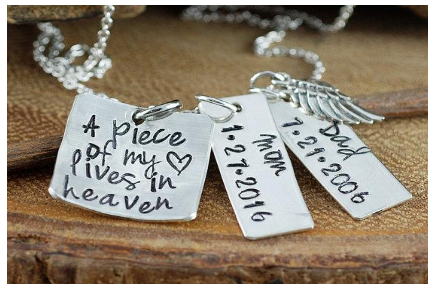 Our remembrance jewelry is a beautiful and heartfelt way to commemorate the life of a loved one. We make unique and beautiful designs for the loss of a parent, child, even a beloved pet. These make gorgeous and meaningful gifts for someone who is grieving. Nothing can make this kind of loss easier, but our memorial jewelry can help to keep their loved one always close to their heart. Each piece is personalized and handmade to order and so special.
Sweet Blossom Gifts also has a huge selection of personalized mommy jewelry, pet-lovers jewelry, spinner rings, bangle bracelets, and even handmade leather and canvas goods.
And you should feel good about shopping with Sweet Blossom Gifts. Every purchase helps to support our Women's Empowerment Initiative. This is a cause that is very close to our hearts. We donate money from every sale to provide seeds and education to women in developing countries so they can grow their own food and learn how to market it. In this way, they can support their own families. Each item ordered also supports the women artists in the USA who create each and every design by hand.
Please read more about what we are doing and join us on this journey!

A few customer reviews of our Remembrance Jewelry:
"My best friend LOVED the Necklace I got to remember her first Grandchild that died at birth. Fine quality…"- Sharon
"Very nice product. Company was a pleasure to deal with"- Deb
"I was proud to give this as a gift. It was nicer than expected and very good quality. This was my first purchase from this company and I will order something again for myself this time."- R Johnson
"I'm very happy with this product! It looks great and I know it's going to mean a lot to the recipient."- Crystal