Have you ever walked into somebody's home and immediately smelled something unpleasant? It may not necessarily be something as obvious as garbage or burnt popcorn but it's….something. Don't be that house. Funkaway can help rid every area of your life of gross, funky smells. Funkaway's odor eliminating sprays actually eliminates odors instead of just covering them up. Check out the science here. The possible uses for Funkaway are infinite but here are some of the best ideas: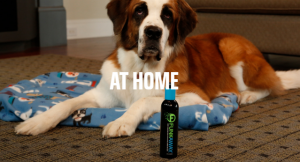 Pet odors – We all love our furry friends but let's be honest, they don't always smell great and they make messes. Funkaway can help defunkify those pet beds and carpet stains.
Stuffed animals – Whether they just need a quick spray or a full wash, Funkaway has you covered. Their laundry booster is a great addition to any washing machine.
Mattresses – Unfortunately, mattresses can't be thrown in the washing machine. Keep them fresh with a weekly spray of Funkaway.
Garbage cans – I like to wash my garbage can out with the hose about twice a month, but in between, Funkaway is a great way to keep the icky garbage odors away.
Rugs – Like mattresses, you usually can't just throw these into the washer. Funkaway is my best friend when it comes to the rugs in my house. I have hardwood floors and lots of rugs so I love that I can just add a quick spray of Funkaway to my normal cleaning routine.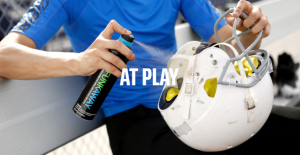 Jerseys & Helmets – No matter the sport you or your kids play, after running around sweating for hours, those jerseys and helmets need a good washing with the Funkaway laundry booster. But in the meantime, spritz them with the spray to keep odors at bay.
Lockers – Full of icky, sweaty helmets and jerseys, lockers are the perfect place to use Funkaway's odor eliminating beads. Just place it and forget about it for up to 90 days.
Gym bags – Just like lockers, gym bags get pretty funky pretty fast. If you can't wash them in the machine, spray them down on a regular basis. Keep a Traveler size bottle in your bag at all times!
Yoga mats – You may not think that yoga mats get very stinky but they do. Usually made from smelly rubbers and covered with sweaty feet, don't forget to spray your yoga mat after every workout.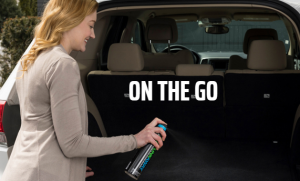 Car upholstery – Who has the time to get their upholstery cleaned all the time? Especially if you have kids, you spend a lot of time in your car and it accumulates all of those everyday odors. From sweaty kids who just got out of soccer practice to old, stale french fries, Funkaway will get those odors gone! I like to put a canister of the odor eliminating beads underneath my seat and a Traveler size in the glove box.
Backpacks – Whether your backpack doubles as a lunch bag or your kid has just thrown theirs in the dirt one too many times, the Funkaway laundry booster will help get those smells out.
Camping gear – Camping is fun. But it's also dirty. And let's be honest – most people don't shower daily when they're camping. Add to that all the dirt and mud that get's tracked into tents and sleeping bags and you may need a Hazmat suit just to pick them up! Instead, defunkify them with Funkaway!
Winter coats – Winter coats usually aren't machine washable. Keep them fresh all winter long with Funkway's pump or aerosol sprays.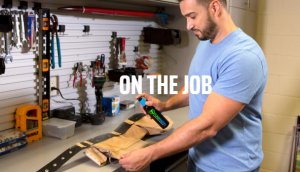 Tool belts – Tool belts are rarely washed so they spend years accumulating dirt and sweat and chemical smells. Banish them away with Funkaway!
Work gloves – If you have to wear gloves at work then there's a good chance that whatever you have to touch isn't very nice to smell. Maybe it's garbage or plumbing disasters or hazardous chemicals. Whatever it is, Funkaway will keep your gloves odor free.
Goggles – Hopefully you don't have to share goggles where you work but if you do, you certainly don't want to smell the last person's face germs. Funkaway that nastiness!
AAAAND THE BIG ONE – SHOES! We all have to wear shoes and no matter how often you bathe, they will get stinky. Tennis shoes, dance shoes, ice skates, cleats, sandals, bowling shoes, winter boots, you name it! Funkaway works on ANY kind of shoe. Short true story:
When my daughter was 7 she refused to wear socks for an entire year. No kind of socks would please her and even when we forced her to wear socks she would often sneak them off. All of her shoes smelled terrible and washing them didn't help. Funkaway would have been a lifesaver. Thankfully, she's gotten past that and is friends with her socks once more. Don't delay, order yours today! Also available at hundreds of stores nationwide.
Connect with Funkaway: Web | Facebook | YouTube | Instagram | Pinterest |