My family loves potatoes. Especially mashed potatoes! But, with our busy schedule it's difficult to find time to peel, boil and mash fresh potatoes! We've tried instant potatoes in the past and my family complains every time I serve them. I decided to conduct an experiment with instant potatoes and see how my family reacts. Basically, I lead them to believe I was making mashed potatoes the hard way! When in fact I was making Betty Crocker instant potatoes. They make the perfect side dish and they only take a couple of minutes to prepare.
In order to pull this off I placed a large pan of boiling water on the stove so they would think I was boiling water. I even turned on the mixer so they would assume I was mashing the potatoes.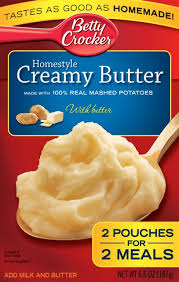 For this particular meal I served meatloaf, corn, homemade bread, gravy and of course Betty Crocker Instant potatoes. Betty Crocker offers several flavors and several potato side dishes that make the perfect pairing for any meal. I decided to go with the creamy butter for this experiment instead of some of the fabulous flavored versions like cheddar, four cheese and loaded mashed. Which are all delicious by the way. But I needed to make these tasted like I peeled, boiled and mashed them in order for my experiment to work. So, no delicious flavoring. Other than of course yummy butter!
I fooled them! I served our dinner with these amazing instant potatoes and they had no clue! No once did anyone comment that the potatoes taste differently than any other time I served mashed potatoes! In fact, my husband said the "potatoes hit the spot"! I was thrilled! I loved them! They tasted like homemade potatoes! My family enjoyed them and that's the most important thing!
Now, I can make side dishes for my weeknight meals fast, simple and delicious with Betty Crocker! In the coming weeks I plan to pair the Betty Crocker Au Gratin Potatoes, Scalloped Potatoes, Roasted Garlic Mashed Potatoes, and the Betty Cocker Loaded Mashed Potato with my weeknight meals. I love to same time and clean-up. But most importantly I love to make great meals for my family that they will love and enjoy!
Need a quick and easy meal solution for the busy holiday season?  Try Betty Crocker Potatoes today. Get recipes at http://www.bettycrocker.com/recipes/product-recipes/potatoes-recipes
"Disclosure: Compensation was provided by Betty Crocker via Glam Media.  The opinions expressed herein are those