In today's society, many families are choosing healthier lifestyles by using "natural" ingredients in their daily lives. Especially when it comes to what we eat! Over the years just about everything has been dubbed "bad for you". In fact, statistics show that Italians life expectancy is 81.86 years. Italians live an average of 3.37 years longer than Americans who's average life expectancy is 78.49 years. Is it credited to they way they eat? I mean they do eat a lot of pasta! According to the American Heart Association, the answer is in their diet. The antioxidants found in olive oil and red wine — two key features of an Italian meal — can improve cholesterol, prevent blood clots and stave off heart disease, according to the American Heart Association.
Until I was introduced to Michael Angelo's at Blogher back in August of 2012 I didn't realize you could buy a FROZEN meal with only "natural ingredients". Their philosophy.
Our "No Compromise" Philosophy
"There's a reason that our ingredients read like a grocery list, and not a trip to a chemistry lab.
 If you can't find it in our mom's kitchen, you won't find it in our meals".
.
When I set out to take the Michael Angelo's taste test I already knew that their frozen meals were like no other. In the past I've tried several of their frozen products including their Chicken Parmesan and Chicken Piccata which is to die for. And that is NOT an exaggeration! So, I was eager to try their lasagna. Although, I was NOT thrilled to have to taste the Marie Calendars or Stoffer's. And this is why. Marie Calendars meals are always undercooked! Have you ever tried them? If their is a vegetable in their meal it's almost always like eating a raw vegetable. Sure, the box is pretty and makes you want to grab it, but the stuff inside the box is never good. As for Stoffer's, their food is always cheap, thus cheap ingredients are used and a ton of preservatives.
My taste test went a little like this. First, I told myself to "Keep an open mind, be fair and let your taste buds tell the story".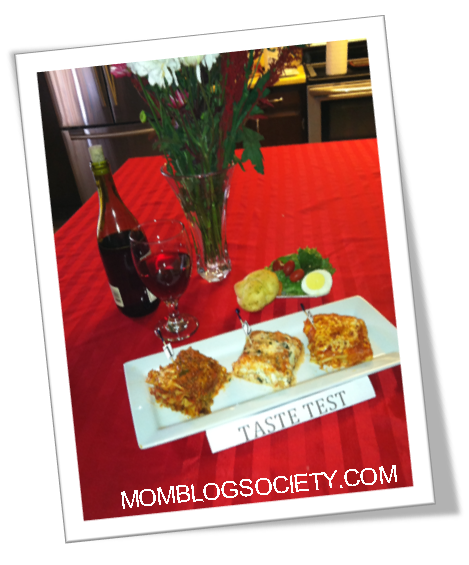 #1 is Michael Angelo's #2 Marie Calendars #3 Stoffer's
Don't be fooled by the pretty picture.
It took 7 minutes for Stoffers to stop running it's watery sauce all over my pretty plate to take this picture.
Marie Calendars had to cool 10 minutes before I can get a "square" piece to say in place and not flop all over my plate. (Thus cold by the time I could eat it.)
Michael Angelo's came out of the over, onto the plate with no problems at all!
Taste Test:
Stoffers: Their noodles are TOO thick. I can only assume it's to save them money. Not produce a quality product. Their sauce is like water, and their cheese is well, processed tasting.
Marie Calendars: The noodles are exactly what's you'd expect from Marie, UNDERCOOKED! I can't find anything good to say about this dish so I'll just leave it at that.
Michael Angelo's: Hearty, cooked perfectly, and yummy sauce. I'd like to see a little more cheese on the top of the dish, but it was still as amazing as their other dishes I've tried. The sauce didn't run. The sausage was great and the noodles were perfectly cooked and the right thickness.
The Winner:
Of course you may think I'm bias, but I swear I'm not. Michael Angelo's won hands down. I encourage you to try it. Next time you reach for a frozen meal, look for Michael Angelo's and you'll see for yourself. Now, in my store Michael Angelo's products are not by the Marie Calendars or Stoffer's. There are set apart and I had to look for them. What a shame. But, I assume it's because they don't put out a mass production of varies meals and stick to what they know and do best. Verses the other two that think they are experts in every type of meal imaginable. I have news for those two.
Disclosure: I received a free product from the sponsor to review. I received no monetary compensation and my opinions are my own and were not influenced by the sponsor.