I would love to be more organized. Our bedroom is the first place I would start. I constantly tell my husband that he has too many clothes. Kind of odd I know but I think the man has more t-shirts than any guy or girl I know. It drives me crazy. Then he works two jobs and each has their own t-shirt he has to wear so it is double of those. Then there is his workout shorts, sweatpants, sleeveless shirts, the list goes on and on.

When I saw what Trinity has to offer I could already start formulating in my mind how I would be able to get organized with their closet organization items. Our bedroom is a walk through to get to the bathroom. We live in an old farmhouse and at the time of purchasing the house, we were not really thinking set up wise. Now the kids are mainly all out of the house I told my husband I would like to do something so things didn't look so out of sorts.
We have a wooden 3-4 shelf shelving unit at the very back of our bedroom. It has been there for the 8 years we have lived here. The problem is it makes the clothes, or bedding linen smell odd. I have tried covering it but I think we are to the point of tearing it down and going with these below to build our own.

I like the black although it looks like they have a few other color choices. Then on some of the shelves, I would use the wire baskets with the cloth covers. These would be great for socks, underwear, and my husband's bandana collection. We have never owned a dresser since we have been married. So this to me would be even better than how it is now. There are baskets with the covers sold separately and the wire drawers with the covers sold separately. I most likely would have to go with all baskets for my project. So when you are thinking about doing some organizing at your home, stop by their website and see all that they offer.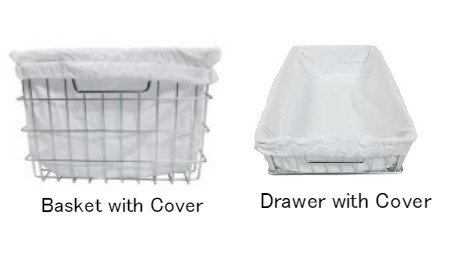 Don't forget to connect with TRINITY via Facebook | Pinterest | Twitter| ShopTrinity.