A new technology called "Nucleus" internet-connected intercom system allows users to instantly connect via audio or video to anyone on the same system – whether they are in the next room or the next country. One tap and Nucleus can help call the family for dinner, check on a baby, or have a face-to-face conversation with an aging parent.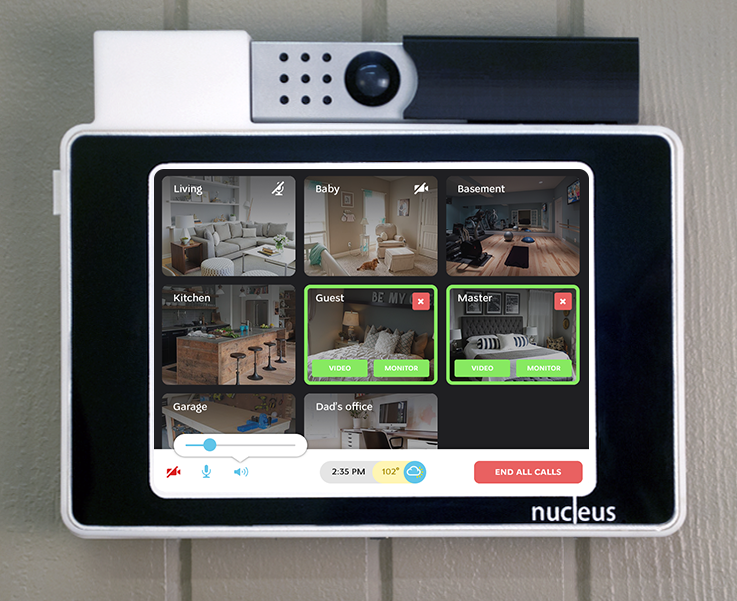 What makes Nucleus unique is that instead of bad audio and expensive wiring, Nucleus uses Wi-Fi, an HD camera, and a touch screen to provide a higher-quality intercom at a fraction of the price. And because Nucleus is Internet-connected, it allows home-owners to extend the intercom system anywhere in the world. The Nucleus Intercom System is ideal for parents checking on kids in other rooms in the home; for parents at work checking on kids in the home; family members checking on elderly parents living alone; as is also great for use as a baby monitor….all with just one tap on the screen.
Nucleus is installed throughout the home, so it becomes the ideal hub of the "connected home" – integrating with other smart home appliances as well.
Nucleus was invented by entrepreneur Jonathan Frankel out of his frustration with traditional intercom systems. In early 2013, Frankel was renovating his home and wanted an intercom system to keep tabs on his three little boys; (they had a tendency to destroy the house when not being watched). But when all the quotes came in above $3,000 for the same system his parents installed twenty years ago, Jonathan went looking for a wireless option. Realizing that none existed, Jonathan decided to launch Nucleus to help others in his position.
Jonathan Frankel is not a single-sided individual – he is an ordained Rabbi; received a B.A. in Computer Science magna cum laude from Yeshiva University, and a J.D. from Harvard Law School. He has worked as a developer for JPMorganChase, a legal and investment intern for two hedge funds, and most recently, a management consultant at the Boston Consulting Group.