Disclaimer: We received the following bath toys for review, and are thrilled to offer our honest feedback along with information for you to review!
Bath toys make bath time into play time!
Kids of all ages enjoy splashing and playing in the tub, so it's no wonder that parents are always on the lookout for bath toys that will delight their kids.
As our own guys have gotten older, we've found it less a necessity. But we still try to engage a 13-year-old who has multiple diagnoses and needs distractions in the tub so we can help him get clean! And also to try and keep him from escaping! 😂
Some of these toys are perfect for older kids with special needs, but our guy wouldn't be interested in others. A couple of these will be great for younger friends and family, especially a couple new babies due early next year. Tip: If you purchase toys as gifts for nieces and nephews and other friends and family, bath toys are a great choice for that hard-to-buy gift especially for babies and toddlers.
Playgro's Bath Fun Play Pack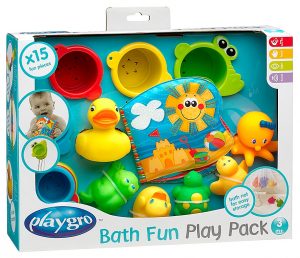 This full complement of bath time fun is sure to entertain and delight any baby in a bubble bath.
It wasn't right for our older child with special needs, but the adorable bath time play pack is a perfect gift for new parents as well as for younger little ones.
Baby can practice gross motor skills by holding and grasping the cute bath squirties. Included is an engaging waterproof bath book, featuring soft padded, bright colorful pages and cute seaside characters to captivate any baby.
This pack also features 8 brightly colored stacking cups, great for promoting your baby's motor skills, hand eye coordination and ambidexterity. The vibrant colors and patterns are just right for visual stimulation. Bath net for easy storage of the cute bath toy characters. All items are easy to grasp with small hands.
Age Range: 3 months+
MSRP: $24.99
Buy Online
Learning Resources Smart Splash® Shape Shell Turtles
Water play is fun and calming to young children which makes these Smart Splash® Shape Shell Turtles the perfect toy for bath time fun. While this was another one our guy wouldn't find interesting, I do think some children with special needs would find this a durable and fun bathtime toy too!
No ordinary bath toys, these turtles can help integrate learning into your child's bath – they help teach shape and color recognition with removable shells that feature moon, star, cross, circle, square, rectangle, triangle and oval shapes. Even better, all pieces are mold-resistant and come with a mesh storage bag.
Age range: 2+ years
MSRP: $19.99
Buy Online
HABA Bathtub Ball Track Set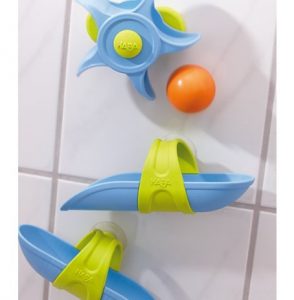 Bring the fun and creativity of HABA's ball track sets into the bathtub! This HABA Bathtub Ball Track Set has pieces that easily attach to the wall of the bathroom with suction cups and can be rearranged into many different configurations.
My guy is delighted watching the balls roll along the tracks and loves watching the water splash down them as well! This is one bath toy that might keep kids IN the tub even when you want them out! 🤣
It's easy to put the suction cups on the tracks and paddle wheel on the wall of the tub – they stuck easily to the wall of the tub. As soon as the tracks and paddle wheel are in place, the fun can start!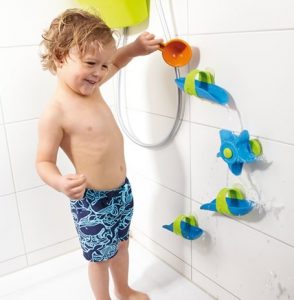 The ball quickly zips down the tracks, gives the paddle wheel a spin, and finally flops into the bathtub. For extra fun, use the ladle to pour water into the track and watch it run the same route as the ball! The PP-plastic set contains three tracks (7.75″ x 3.00″), a paddle wheel (5.50″ x 3.00″), a ladle, and a ball, with suction cups to attach to the tub or tile (made of phthalate-free PVC).
Age Range: 3 years+
MSRP: $19.99
Buy Online
SoapSox® Plush Friends and Bath Scrubs
SoapSox® is an adorable line of plush friends that kids can take from playtime to bath time featuring some amazing animals and characters! We received two of these to review but there are over a dozen of them available for your kid to love and scrub with, including several Disney characters!













SoapSox® are 2-in-1 fun cuddly companions kids can take in the tub! Snuggle, cuddle, and play together all day and when it's time for their bath, the toy becomes mom and dad's assistant! Our guy loves the soft and squeezeable friend and is tickled by the extra bubbles his new friend shares in the tub, so getting him nice and clean is a lot easier as a result!
A patented soap pocket transforms lovable SoapSox® into sudsy wash cloth – just add soap and scrub. SoapSox®, the next generation of washcloths for kids! "Feed" SoapSox liquid or bar soap, use the built-in finger pockets to help wash. 100% machine washable! This is a delightful different kind of toy and a spin on basic bath scrubbers available.
Age Range: Birth +
MSRP: $12.99 each
Choose Yours Online