About Ashton Drake
Disclaimer: This product was received from the Company for review purposes only. All thoughts and words in this post are those of the writer, who was not paid to endorse it. Only personal opinions are voiced about the product.
Introducing the most lifelike play doll in the world, the So Truly Mine® Baby Doll: Dark Brown Hair, Blue Eyes, Light Skin by Master Doll Artist Linda Murray, available only from The Ashton-Drake Galleries
Safe for kids ages 3 and up and specially designed with many of the same features as our high-end collectible dolls, this lifelike poseable So Truly Mine® dark brown hair, blue-eyed play baby doll is lovingly handcrafted of RealTouch® vinyl
Lifelike baby doll is poseable and specially weighted to feel so incredibly real nestled in your little girl's arms
Realistic So Truly Mine® baby girl doll is meticulously hand-painted to enhance her handcrafted features, from her fine dark brown hair and eyebrows to the soft blushing of her chubby cheeks
Arrives in a cloth diaper and pink sleeper trimmed with ribbon ruffle, perfect for cuddling close
For hours of playtime fun, don't miss the So Truly Mine® accessories, including custom-crafted baby doll clothes, furniture and more, specially designed for your little girl's So Truly Mine® toy baby doll
Birth Certificate Included! Each new play doll arrives with information on how you can create a printable Birth Certificate online that you can easily personalize with your child's name, the baby doll's name and birth date —information is from their website.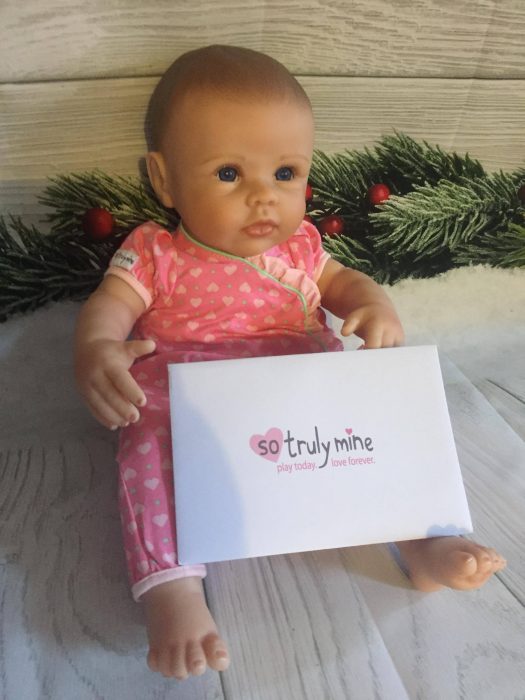 Our Ashton Drake So Truly Mine Baby Doll
Isn't she just darling? I was so happy when she arrived and I opened up the box to see that precious little face looking right back at me. Emma who just turned 7 years old was the happy receiver of this beautiful Ashton Drake doll. I wasn't sure if Emma would be 'too old' for a baby doll since I know kids nowadays are into barbies and things like that. But the instant she opened the baby, she fell right in love with her.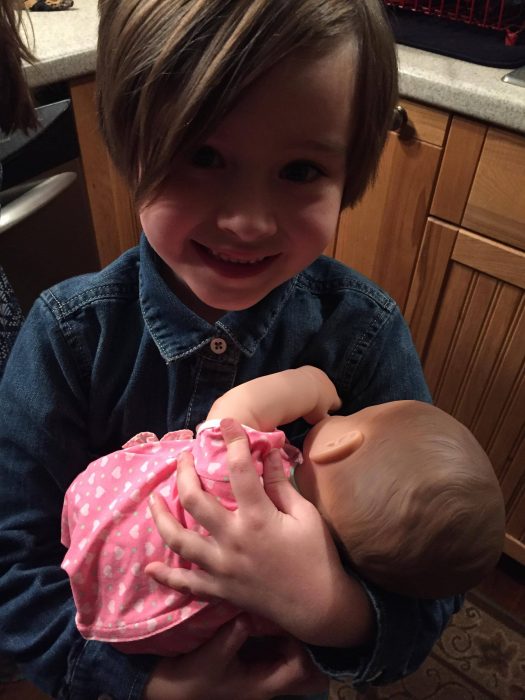 I picked out brown hair and blue eyes and a girl baby because I felt this is what Emma would have picked if she was doing the ordering. She has named her Emily, and actually slept with her the first night she took her home. Her Mom said they are inseparable.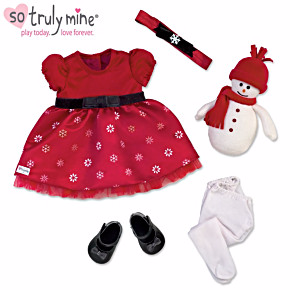 I was able to choose an outfit so I chose the Holiday dress with accessories above. This retails for $39.99 and is just as beautiful on as it is off her new baby.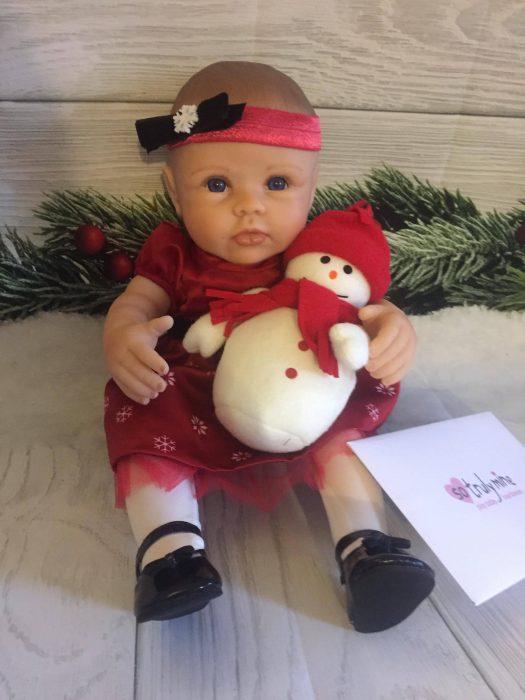 Isn't she just beautiful? Her outfit came with tights, shoes, a headband, dress and a snowman that she can hold. There are so many outfits to choose from, but this one I felt was perfect for the holiday season. Plus Emma got a red dress from us last month so I thought it would be so cute if they could wear them together.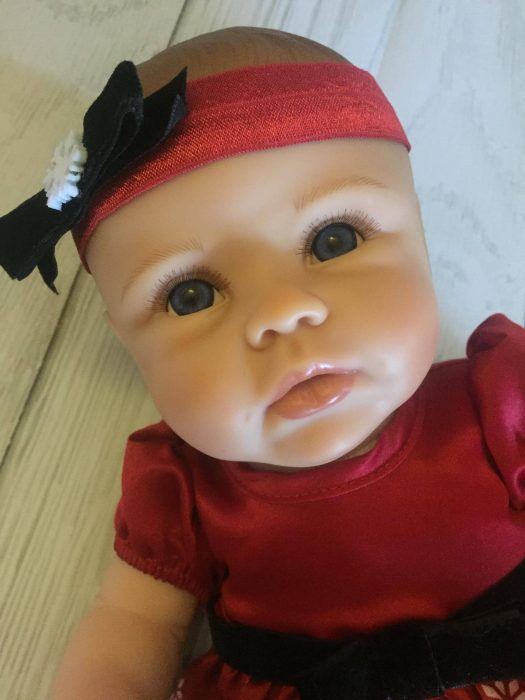 You have time to pick out the doll for your little sweetie to find under the Christmas tree or for Hanukkah. Make sure to purchase an extra outfit, as although the doll does come in a sleeper you can then allow them to have one to change him or her into.
Follow Ashton Drake on their social media below:
Facebook | Twitter | Pinterest | Instagram | Website