The New Year is almost here. But why not get a jumpstart on your fitness resolution by starting it now. Nonetheless, from juggling kids, work, friends, and errands, you may be wondering where you have the time for an exercise class, let alone a 15-minute workout.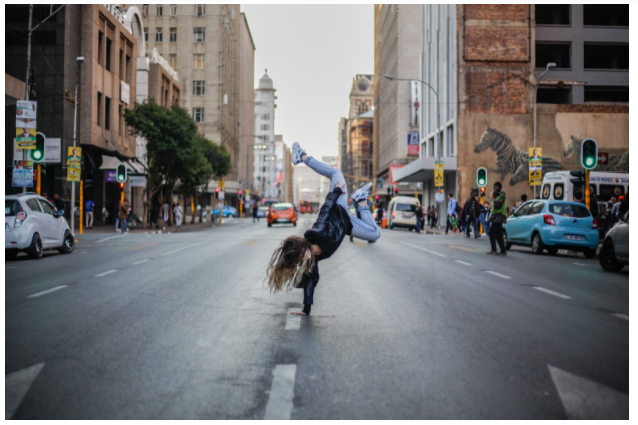 Photo by Keenan Constance on Unsplash
Plus, the thought of running on a treadmill or elliptical fills you with dread — (and maybe even boredom?).
But exercise doesn't have to be that way; here are 4 hip-hop moves you can do to make fitness quick, easy, and fun.
1. Kick Ball Change
This hip-hop move is great for cardio. What you want to do is first bring up your right leg and do a small kick in the air, and then cross it over your left leg. Then you are going to uncross your legs, stepping to the left. After doing that, step back on your left leg and repeat.
Meanwhile, keep your knees slightly bent and your body relaxed. This means, no tight shoulders yet you don't want to be too relaxed that you hunch your back.
Once you get that move down, you can step up the pace. And why not bounce to the music. Speaking of music, you can do this move to any hip-hop track you'd like.
You can even go a full song just doing that move and get some cardio in. Overall, this is a great move to do at a gym or at home when you have 5 minutes to spare.
2. Step by Step and Step Touch Slide
Similar to the kick ball change, you're going to want to start in that relaxed position. Again, your knees should be slightly bent and your shoulders are back.
Simply step to the right side with your right foot. Then bring your left foot to meet your right, and tap your right foot. Repeat, alternating sides.
Now, once you are comfortable with the side to side movement, instead of crossing your feet, you can slide your other foot. So, the move would work like this: using your left foot, step to the left; slide (or drag) your right foot to meet your left.
3. Criss Cross Move
Like with all of the other moves you've read, you'll start out in that relaxed position. With your feet about width distance apart, jump.
As you jump, cross both feet so that when you land your right foot will be over your left. Then jump and un-cross your feet. You'll then land with both feet being hip distance apart.
4. Hop Side to Side
Yes, hip hop includes break dancing and the robot. But it also encompasses several steps as simple as jumping side to side. Think of these steps as buildable.
You can simply just hop side to side or add on 1-2 other moves. As far as the hopping from side to side, Cosmopolitan states, after doing that, you can kick your right leg out. Then skip to the right side, putting your left leg back. In other words, hop, hop, kick, step, touch.
Bonus: Chest Pop
Chest popping may look challenging, especially when you see hip-hop dancers doing this move repetitively and fast. Really, it's a lot easier than you think. Make sure you are standing straight. Tighten your core to protect your back.
Lift and contract your chest and back muscles, keeping your core tight—again back protection. Then release those muscles (still keeping your core tight). Your chest will go back to neutral position.
Practice chest popping slowly. Then, once you feel you've mastered it, try to do 2 chest pops consecutively. After mastering that, 3 chest pops; then four. Sure enough, you're that much closer to chest popping like a hip-hop professional.
Build the Moves
What's great about hip-hop (and dance in general) is that there is no one right way to move. You can do any of these moves by themselves to music or build on them, combining, for instance, the kick ball change and criss-cross.
Get in the Hip Hop Spirit
Just because you may only be able to fit a 15-minute hip hop session it doesn't mean you can't enjoy the look. Rock some silver nail polish – or any other color you can find at pinkgellac.com. Put on some dance shorts and fancy jacket – that way, you can look like your favorite hip hop artist or dancer—or why not create your own look? Looking good will boost your confidence and you will rock those moves on the dancefloor.
Hip Hop Confidence
Yes, moms can—and many do— dance hip hop. (Take international superstar and mom, Jennifer Lopez, for instance.)
No, it doesn't mean you have to be the next Jenny on the block. But it does mean you can totally get down and dance your heart out. It's not about age or whether you have children; it's about having fun and getting a sweat.
Remember, even if you are a beginner and you barely know the moves, as long as you have confidence, you are good to go. (And yes, pro or not, you may get some giggles from the kids—they may even join you!)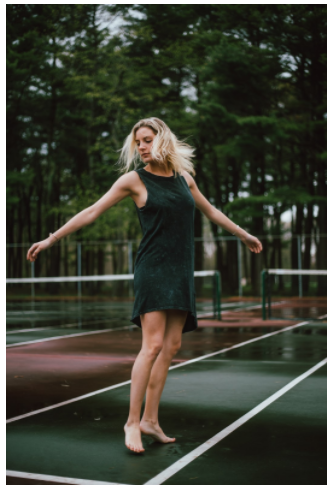 Photo by Sam Burriss on Unsplash
Final Thoughts
Use these moves to get in better shape and release those endorphins. While you may only be able to squeeze a quick 5-minute hip hop session in, every minute counts.
No matter whether you are an expert hip hop dancer or a beginner, use this dance genre as a way to have fun and burn some calories. What other hip-hop moves do you recommend? What hip-hop artists do you work out to? Leave a comment.