*Disclosure: I received an AIRFREE Airfree Onix 3000 Filterless in exchange for my honest review. All opinions are my own.
When you are in your home more hours than you are not, it is important to have clean air. While you are sleeping it is also important, this is where the Airfree Onix 3000 comes into play. The first thing I love about this unit is that it is small and does not make any sound at all. This makes it perfect for running it in the bedroom during the nighttime.
About Airfree
Airfree is a natural solution to asthma, respiratory allergies, and mold. It eliminates allergens of domestic animals, pollen, virus, fungi, bacteria as well as dust mites out of your air. Although it is small in size it is mighty in what it does. With its Thermodynamic TSS Technology, which is patented, it will destroy all bacteria, mold, tobacco and other organic allergens.
Airfree also reduces indoor harmful ozone levels. It is perfect for mold-contaminated areas as well as asthma and allergy sufferers.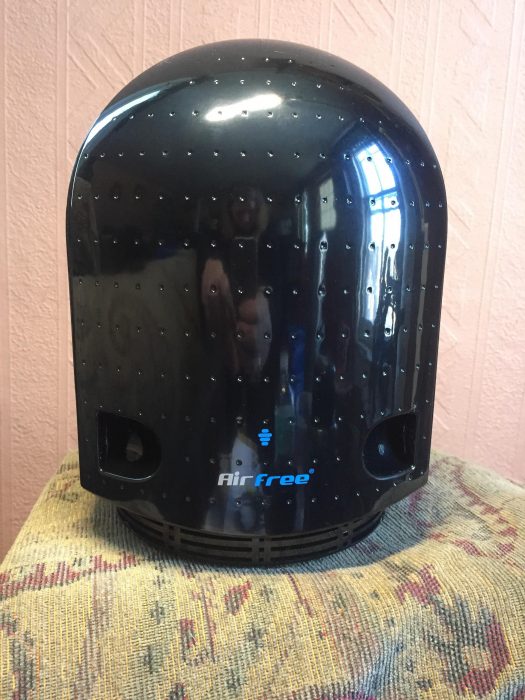 The History of Airfree
Their technology was developed from the creativity and drive of a father who wanted to find a way to help alleviate his son's allergy attacks. This father who was a businessman from Portugal who spent countless hours looking on the market for an air purifier that would help his son's allergy issues. But even after all of the tireless hours of looking, he wasn't able to find anything he was looking for. This is when he decided to develop the Airfree.
The Airfree air purifier was made for a natural way of using heat to get rid of airborne allergens. Once it was successfully tested at the INETI microbiological laboratory in Portugal, it then became a large-scale production of their devices. This way more families would be able to enjoy the benefits of this effective but simple idea.
What are the Benefits of Airfree?
First, these air purifiers are very effective against viruses, mold, mildew, bacteria, pet allergens, dust mite allergens, pollen and tobacco smell. They have been tested and certified by many international labs. They were found to have proven their effectiveness in reducing the number of microorganisms and harmful substances from the air. The TSS technology that is used is patented and exclusive technology that is used in Airfree's purifiers and has been established in 50 countries worldwide. Not to mention it is completely silent. There are no fans or turbines, so a good night's sleep is guaranteed.
Not only are all of the above reasons great benefits, the Airfree is easy to compliment your home decor. They do not require any filters or maintenance and there is no waste. The energy it uses is less than a 60w light bulb, weighs less than 5 pounds, easy to take from one room to another and hardly takes up any space.
This unit can be purchased at a variety of outlets, click here to view the locations.
You can also visit their main website here.