How's it going everyone? Today I would like to tell you all about the amazing
Aspire One Cloudbook 14 made
by Acer! This lightweight laptop is amazing for travel and working from anywhere. The 14 inch screen (comes on 11′ as well!) displays Windows 10 beautifully and captures all of the graphic capabilities of the HD LED. Making accessing the cloud a remarkable experience with the Intel Celeron processor running with 2 GB of ram space and 64 GB of storage space, the Cloudbook is the perfect way to go! Not only will accessing the cloud be a smoother process, with the Cloudbook you will also receive 1 TB of cloud space.
What is the cloud you ask? Only the most useful modern-day saving/transporting tool used for files on any electronic device with cloud capabilities! With the cloud you will be able to work at one computer, save a file and continue working from another computer. With the weight of the Cloudbook being so light, carrying the laptop will be a breeze. The cloud is used for storing files such as mp3 files, documents, pictures and even program software. How amazing would it be to access everything you need whenever you need to…from anywhere!? Look no farther, the Cloudbook is here!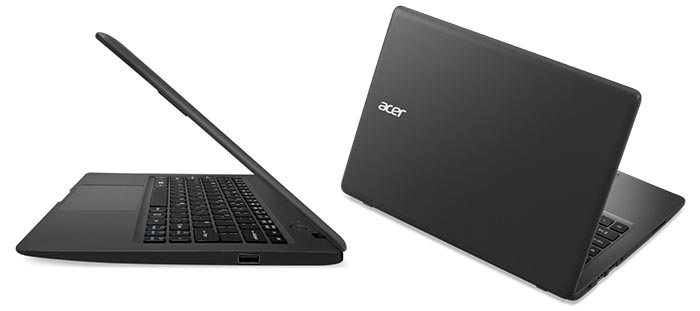 Another perk of purchasing
Acer's Cloudbook
is that you will be eligible for a 1 yr subscription to Office 365 Personal including the latest full versions of the Office application for Word, Excel, PowerPoint and so much more! Now enough with all the perks, lets get into how remarkable the Cloudbook itself is! How would you like to tell your computer exactly what you want it to search for? Seems impossible right? Not for Acer's Cloudbook it isn't! Breaking another barrier of impossible, you can speak to the laptops built-in microphone and have the laptop search the web and even the system itself for all possible results. This is perfect for me because there are times I need to find something in the settings of the computer but am not sure where to find it. This system fits me so well! The laptop also has Bluetooth capabilities being able to pair with almost any outside device and using both simultaneously!
Photo from laptoping.com
Making your experience with laptops top notch is priceless and can get really expensive, lets be honest! Prepare to be blown away, for the amazing price of $199.99 the beautiful device can be your whole families! How great is that? Acer's Aspire One Cloudbook 14 has my stamp for approval! Officially a must have for everyone! Whether you are working from home or needing to finish that paper for your professor on the go, the
Cloudbook 14
is perfect for you!
Howdy everyone, I just wanted to inform you that I was not compensated for this post. However, I did receive a product from the company below and the opinions expressed in this post are 100% my own. I am disclosing this in accordance with the FTC guidelines. All prize fulfillment will be provided by Sponsors.