In 1932 Walt Disney and his wife Lilly built their dream home in the Los Feliz section of Los Angeles where they would later raise their two daughters Diane and Sharon. Last week, I took a tour of the fabulous mansion where Walt himself probably dreamed up magical tales everyday. As I walked though each room, I could only think to myself, "If walls could talk". I envisioned Walt himself sitting in a chair by the living room fireplace dreaming life into the Three Little Pigs, or Snow White and the Seven Dwarfs. It was magical, just walking though his home and thinking of all that had transpired within those mansion walls.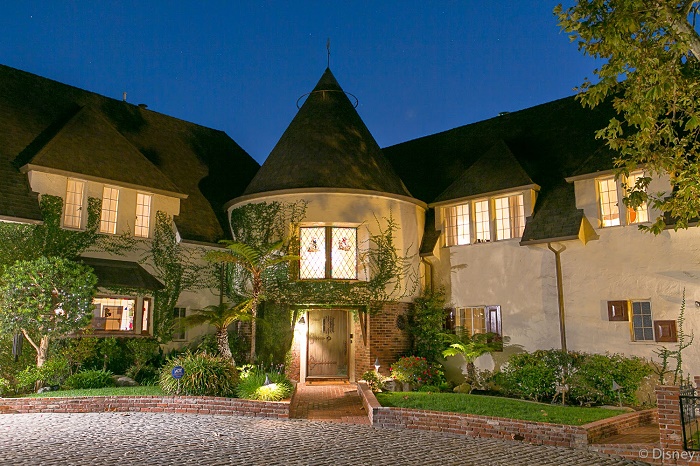 The Walt Disney Estate sits just below Griffith Park at the end of the Santa Monica mountains. The backyard houses a beautiful pool with a breathtaking view of the downtown skyline, a gated entrance and a brick privacy wall.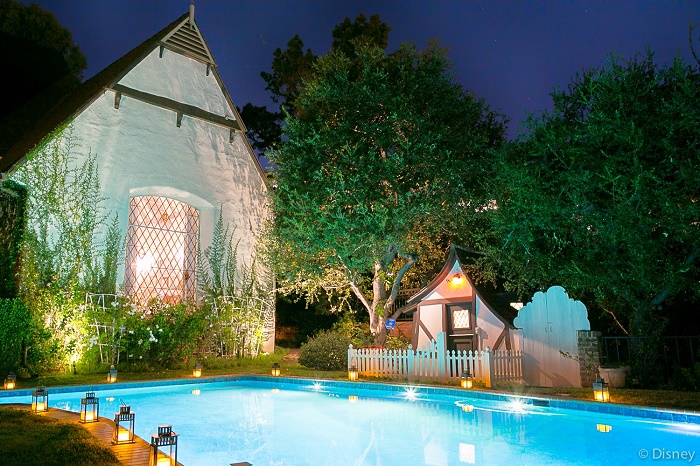 The house offers a Mediterranean feel and is absolutely gorgeous. Inside you'll find four bedrooms, five baths, vaulted beamed ceilings, a billiard room, a formal living room, a dining room, a sleeping room, a projection room, beautiful stained glass windows and beautifully crafted painted ceiling murals. According to Paula Sigman Lowery, a Disney Historian Walt hired a "graduate of the Vienna Academy of Fine Arts who ends up painting the ceiling murals".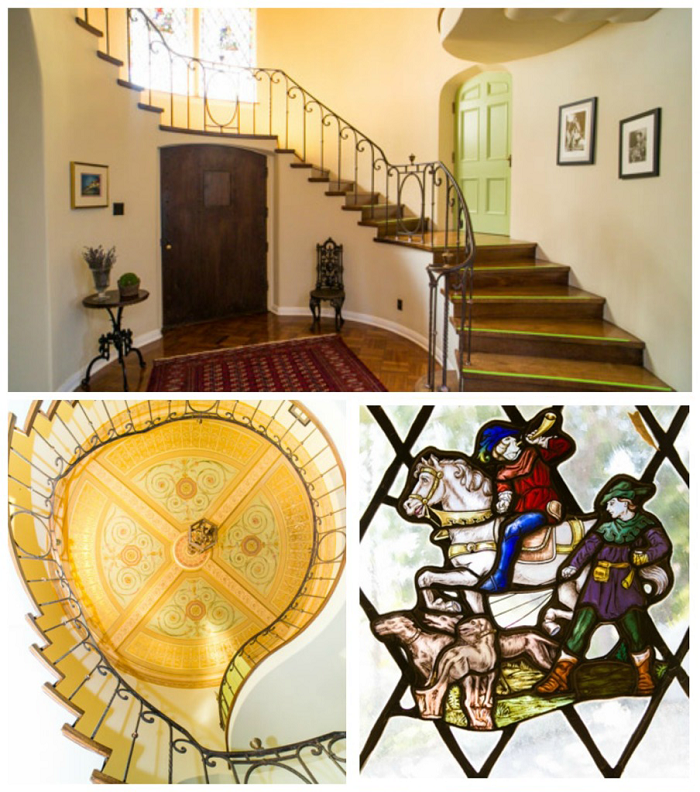 When you look at the details of the Walt Disney Estate, you can see the inspiration that went into many of the classics Disney movies.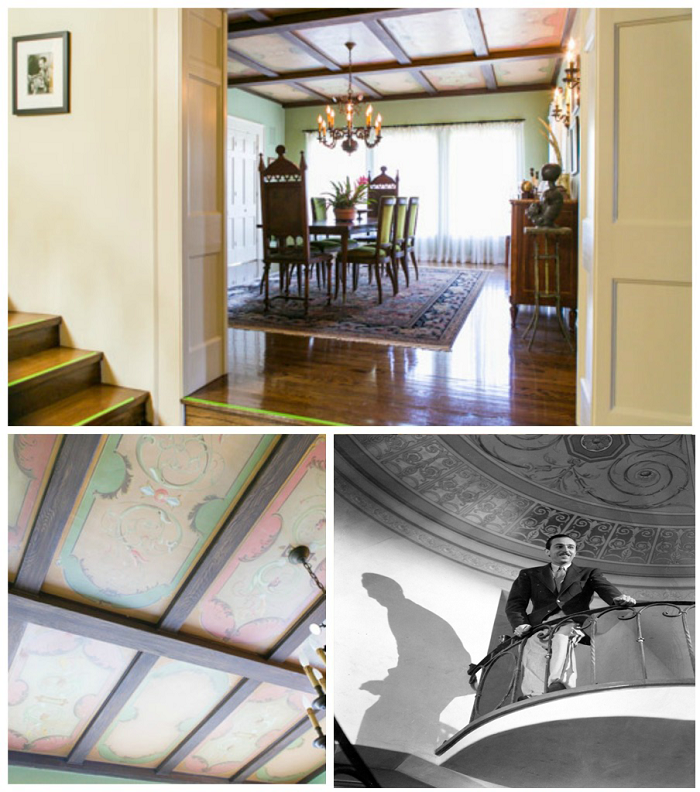 On the second floor, the tour guide told us how when the children were little that they would stand at the balcony on Christmas morning in order to view the beautiful Christmas tree. Diane Disney called it "Christmas Tree Point" because it was where she and her sister Sharon would get their first view of the Christmas Tree each year.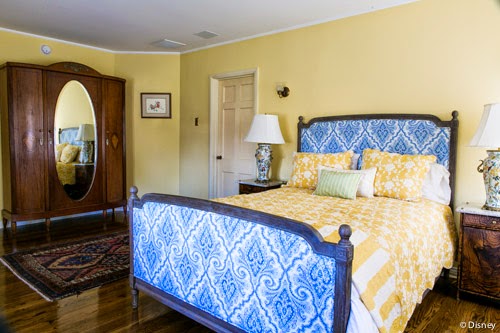 And finally, one of the most cherished rooms in the Walt Disney estate was the girls bedrooms where Walt would read to his daughters every night.
Stepping into the home of the Disney family is magical in itself. You can literally feel the magic that happened in the house over the years that the the Disney family resided there. Each and every room told a tale, much like our own childhood homes when we were growing up. Honestly, in all my life I never knew magic until I toured the Walt Disney estate. Walt Disney brought magic to life and it still lives on today.
Our tour guide Paula Sigman Lowery, a Disney Historian did a fabulous job in helping us relive the history of Walt Disney and his family! 
In addition to the guided tour of Walt Disney estate We actually got to watch some of the bonus content on the Diamond Edition of Sleeping Beauty. And with Sarah Hyland who spoke with us about filming "Once Upon A Parade" for the release of the Blu-ray/DVD.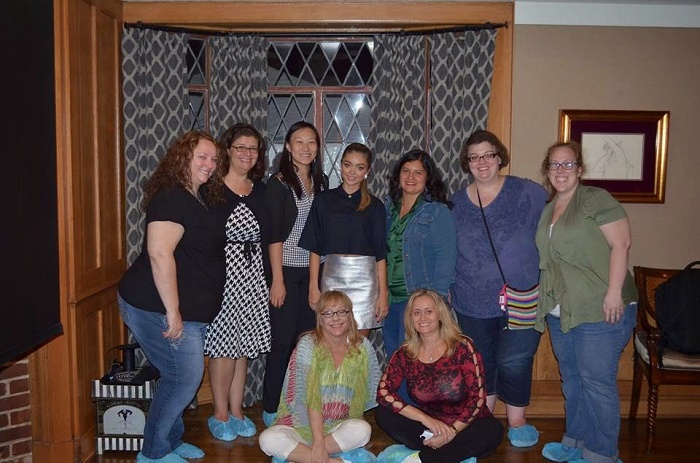 And just before we were about to end the Disney estate tour, we were able to see the original costumes worn by Angelina Jolie and Elle Fanning in Ma
leficent!\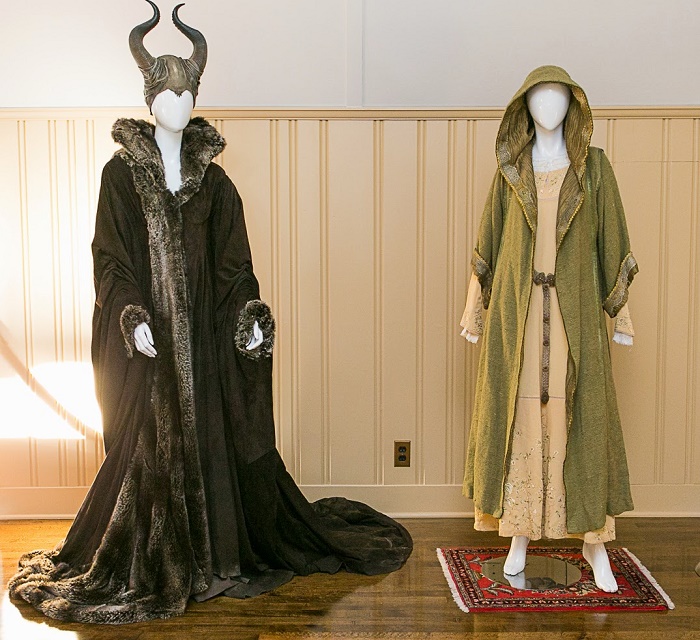 Sleeping Beauty Diamond Edition releases October 7, 2014 and Maleficent Blu-ray releases November 4, 2014

#DisneyInHomeEvent #SleepingBeauty #Maleficent