Get ready to take your family game night to a whole other level with this awesomely addictive game of MYnd Kraft. Not only is it super simple to grasp and even more simple to play, each deck of MYnd Kraft cards works to play 7 DIFFERENT games. Talk about a great bang for your buck as well, right? If you're looking for a new game that everyone in your family can enjoy, it's time to give MYnd Kraft a try!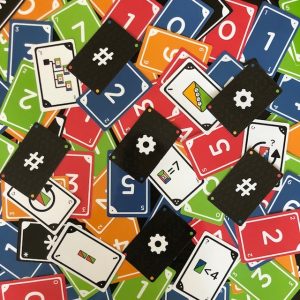 You've Got MYnd Boggling Questions, We've got Answers
The thought of learning a new game can present its challenges, but don't worry! MYnd Kraft has simplified everything so that there isn't a ton of confusion which allows for more time playing.
Affordable for any budget.
With a price point of $17, it won't break the bank! Our goal is to have MYnd Kraft is every home across the world and to make that happen, we are making it affordable for any and all budgets!
MYnd Kraft is suitable for a variety of ages.
Several of the games start at 7 and up, while a couple is for the older crowd, at 11 years and older.
No reading required. (unless you count the instruction book)
The MYnd cards only have pictures and numbers on them so the pace of the game is actually pretty quick!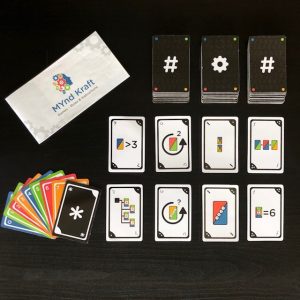 MYnd Kraft presents programming concepts in a fun and interactive way.
Made up of 36 "action" cards, and 72 "number" cards, problems are introduced with the flip of a card that then has to be solved. Don't worry, everything is explained perfectly in the directions!
One deck of cards opens up the world to 7 different games!
You read that right! One deck of cards holds the potential to have a total of 7 different games learned and played. Talk about a huge bang for your buck and a great way to keep your MYnd Kraft cards feeling fresh and new! While the majority of the games can be played with as little as 2 people, there are a couple that does require 4 or more.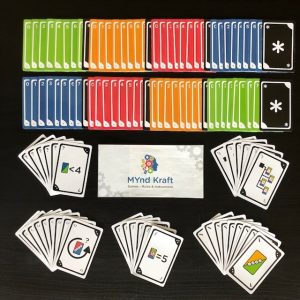 Where can you purchase MYnd Kraft?
As of now, MYnd Kraft is still in the beginning finance stages before it becomes a real product! In order to get this amazing game on the shelves and available to the public, MYnd Kraft need your help! Please take a look at the MYnd Kraft Kickstarter campaign and help out any way that you can. Any and all support is appreciated.
Check out the Kickstarter campaign HERE
With your help and support, MYnd Kraft could be the next biggest game to hit the shelves since UNO!
#MYndKraft #MYndKraftgames #cardgames #cardgame #tabletopgames #tabletopgame