Give Dad an Unique Gift from Picture Your Street

Is your dad one of those guys that have everything and is impossible to shop for? Are you looking for a unique gift that he will love and proudly display? Then look no further than Picture Your Street. The concept for Picture Your Street began in 2007 for a new baby and his brother. Neither had names readily found on other products but both names were located on nearby street signs. Since then their collection has grown to more than one thousand street sign names.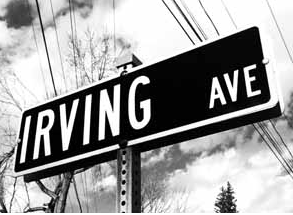 We recently had the opportunity to work with Picture Your Street and review one of their very unique gifts. My husband works in the construction field and gets to visit different places across New York and New Jersey. He spends a lot of time away from home and started a fun game with the kids. Whenever he would have to go away and visit a new town, he would pay close attention to the street names. If he found one of our names or the kids names on a street sign, he would take a picture and send it to us. The kids record the date and town in a book to remember. The game started because when they would find personalized items in stores they could never find their names. The only name that they could find was Kevin. Alexandria could only come as close as finding Alexandra or Alexis. Cheyenne and Irving were out of luck! When I was approached by Picture Your Street, I was extremely excited. The kids would be able to give their father the perfect Father's Day gift and one that he would truly cherish forever. We were sent a beautiful framed Picture Your Street sign personalized with the name "Irving Ave". The photography is absolutely stunning and is truly a unique gift that my husband is going to cherish for many years to come.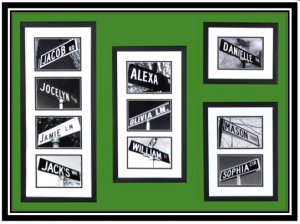 Picture Your Street doesn't just make the perfect Father's Day Gift but would make the perfect Wedding or House Warming Gift. You can personalize the gift with the bride and groom's first names. Every street sign is authentic. Just like fingerprints or snowflakes, every sign is unique. The frame is custom made in the USA and very high quality. You can personalize your gift with up to four different names.
If you would like more information or to purchase your own Street Name Picture, please visit the Picture Your Street Website. Be sure to stay up to date on all of the latest news and products from Picture Your Street by following their social media pages on Facebook, Pinterest and Twitter. While you are there be sure to follow Mom Blog Society on Facebook and Twitter.
Disclaimer: Mom Blog Society received product free of charge to write our review. All opinions stated in our review are our own truthfully opinion and were not influenced by the sponsor or from getting the review product free of charge. We were in no way compensated for our review or opinion.