As I shared with all of you three weeks ago, I started on a new journey to weight loss and better health and although it's still in the early stages, I've continued eating healthier and I'm drinking way more water than I typically would because it's good for you, helps keep your skin moisturized and helps aid in weight loss.
Something else I've incorporated into my diet on a daily basis is yogurt. I love the different varieties you can get in your local grocery store but those little cups just don't last long and I got really tired of running out to buy more. They're delicious but I don't always have the time to shop either so it can become tedious.
Imagine my delight when I came across the Vonshef Electric Yogurt Maker. This small kitchen appliance can whip up 7 delicious cups of homemade yogurt in a matter of hours— and one of the great things about that is, YOU control what goes into it so you know it's natural and safe to eat.
So How Do You Create Homemade Yogurt?
The Electric Yogurt Maker works with boiled milk, either whole milk, 1% or 2% or skim milk— even powdered milk, whichever you like. Why boiled milk? Boiling your milk helps to kill any unwanted bacteria that may be lingering so your yogurt is fresh and healthy. Let this milk cool to 40-degrees C. or just below.
Then you add in a starter culture which consists of a plain commercial yogurt, a yogurt you made previously or a freeze-dried lactobacillus yogurt starter powder. If you use the powder it will add two hours to completion time.
Pour this mixture into the 7 jars and attach the lids. Then place the jars into the yogurt maker and place the cover over top. Plug the unit in and hit the "on" button.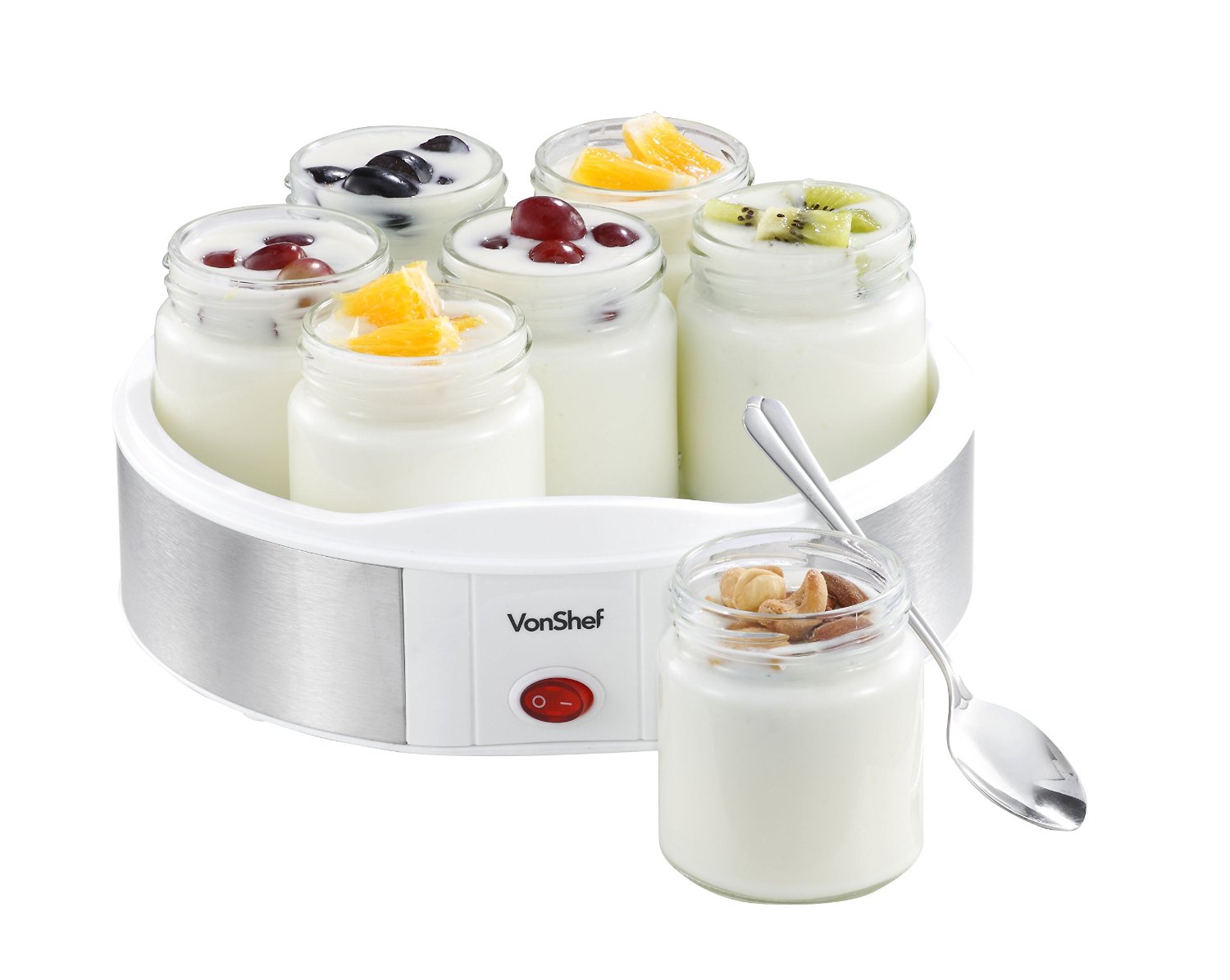 When the yogurt is complete turn the unit off, remove the cover and then remove the jars and place them in the refrigerator. Once your yogurt has reached the desired temperature you can add additional ingredients such as fresh fruit, chocolate, caramel or strawberry syrup, crushed cookies, whatever you wish to make it your own.
For clean up simply remove the jars and lids and place them in your dishwasher or wash them by hand and let them air dry. It's easy as that!
I'm quite impressed with how easy this yogurt maker is to use. I had no idea I could create my own yogurt and that it would cost me a third of what I was paying at the store. Now I can have fresh and tasty yogurt anytime I want. Yum!
For those of you who love frozen yogurt and/or ice cream, you will love the Vonshef Ice Cream Maker. It's just as easy to use as the yogurt maker but you get your favorite tasty frozen treats that are perfect for after dinner snacks, parties or anytime.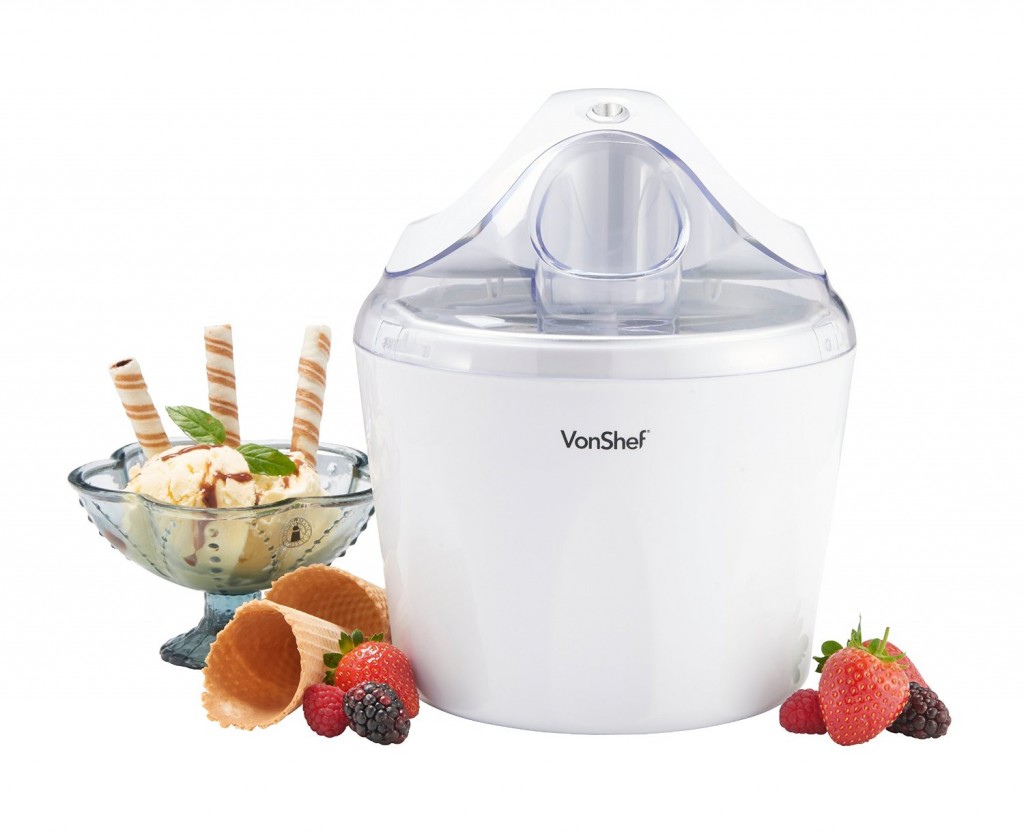 Ice cream has always been my favorite dessert but with my diet, I'm limited to the amount of goodies I'm able to have, plus I have to be choosier about what I'm ingesting so I'm opting for frozen yogurt instead.
The Vonshef ice cream maker does a great job of creating sherbet, sorbet, and gelato as well. Imagine the possibilities! In just 15-25 minutes you can be dining on a delicious, homemade treat that's made with quality, natural ingredients— no artificial colors or other unwanted junk!
This small kitchen appliance has a capacity of 1 1/4 quarts and consists of a double insulated bowl that measures 5.9″ x 7″.
To make your ice cream, freeze the bowl for a minimum of 8 hours. During that time you blend your ingredients and place them in the refrigerator. I use a 2 quart pitcher to store mine while I'm waiting for the bowl to freeze. Then once you're ready, insert the bowl into the outer unit and turn it on. Slowly pour your ingredients into the bowl and watch as it becomes a rich and smooth dessert.
I love that this ice cream maker does not require salt or other items that I don't typically have on hand. And my frozen yogurt comes out ice crystal-free. Too bad the bowl isn't bigger for larger batches. My family loves their ice cream and frozen yogurt. hehee!
Stay Connected with Vonshef: