Tfal and Carrington Farms can help you to bake HEALTHIER!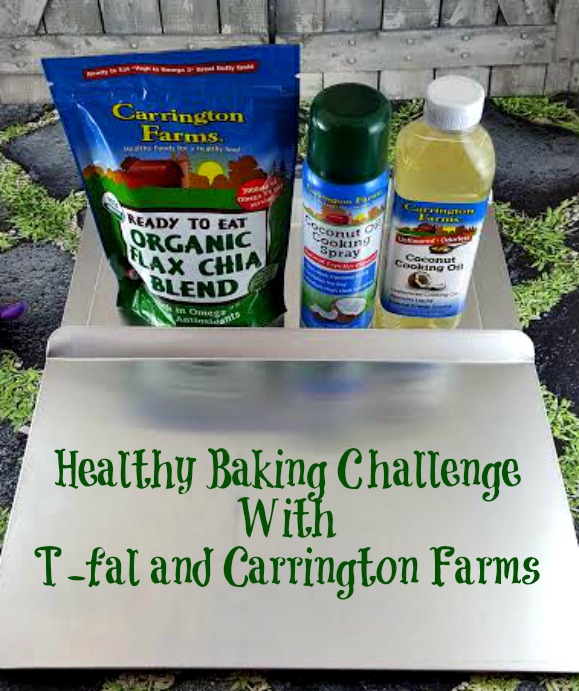 T-fal has been a leader in bakeware, cookware and appliances for over 60 years. Carrington Farms products bring healthy foods to their consumers. Together, they make a great team for healthier baking.
I received a package from these two companies, with all the items needed for the Healthy Baking Challenge. T-fal sent a set of 3 Air Bake Pans. Air Bake is the Original Insulated Bakeware. Carrington Farms sent Organic Flax Chia Blend, Coconut Oil Cooking Spray and Coconut Cooking Oil. Air Bake is the Original Insulated Bakeware.
About T-Fal Air Bake pans and products from Carrington Farms
Air Bake Insulated baking sheets help you to be able to bake without burning. The cushion of air between the top and bottom of each baking sheet helps to overcome any hot spots that you may have in your oven. This means that you will be able to bake with even heat. Before adding your food, simply grease your baking sheets with Carrington Farms Coconut Oil Cooking Spray. After use, let your baking sheets cool, then wash in hot soapy water (don't soak!), rinse and dry. I've owned several of these pans for years, and I've always been thrilled with the outcome. It's nice to have 3 shiny new pans to add to my kitchen arsenal.
Flax and chia seeds are easy add ins to lots and lots of recipes. Did you know that seeds offer as much, if not more, protein as nuts? Chia seeds are very easy to digest and flax seeds contain more alpha-linolenic acid than any other plant food. Coconut oil is rich in lauric acid. Yes, it's a saturated fatty acid that does raise cholesterol levels BUT it mostly increases HDL. This is the healthy type of cholesterol…you want it to be high!
T-fal

In 1954,T-fal invented the non-stick frying pan and created the non-stick cookware category. By doing so, it was simply making every cook's life easier. It was also setting itself on an endless course towards innovation.

Over the years, through organic growth and acquisitions, T-fal has become the leading non-stick cookware maker worldwide and a world leader in pressure cookers, electrical cooking appliances, food and beverage preparation, irons and scales.

Carrington Farms

CARRINGTON FARMS – WHAT MAKES US DIFFERENT IS WHAT MAKES US BETTER

In order to optimize and retain all of the nutritional be

nefits of the flax seed, it is thinly sliced instead of smashed or crushed. It then goes through a strict cleansing process, called Micro-cleansing, along with testing at 4 different stages in order to guarantee the highest quality of the product. By choosing this process over others, we keep the integrity of the nutrients and retain ALL oil nutrients (3's, 6's, 9's) as well as fiber and Lignans.

Flax Seeds are a great source of fiber, lignans, protein, essential fatty acids, omega-3 and omega-6, vitamins, and minerals. Researchers also believe lignans to have antioxidant properties. Flax seed has up to 8 times more lignans than other vegetables and grain! The vitamins and minerals found in flax seeds are zinc, iron, vitamin E, carotene, B-group vitamins, magnesium, calcium, sulfur, potassium, phosphorous, manganese, silicon, copper, nickel, molybdenum, chromium, and cobalt. It also contains some protein!
Add flax and chia seeds to all type of recipes – cookies and cakes, puddings and smoothies…even soups. Coconut oil can be used in place of other oils in cooking AND the consensus is that coconut oil is the best oil to use for frying. It has a very high smoke point. Bonus – it is reported that coconut oil can help kill harmful bacteria and viruses. Don't just keep it in the kitchen. Coconut oil can be used as hair conditioner, a moisturizer, and makeup remover. It's great for your dogs too. Add to their food and to their coat once or twice a month before bathing. I use coconut oil in my homemade lip balm!
The Healthy Baking Challenge
So back to the Healthy Baking Challenge. My family loved the oatmeal raisin cookies that I baked using all of the goodies that I received. I simply added 1/4 cup Flax Chia blend to the dry ingredients. I substituted the Coconut Cooking Oil for the butter and I sprayed my T-fal Air Bake baking sheets with the Coconut Oil Cooking Spray. Not a single family member noticed any changes in the flavor, so they were none the wiser to the fact that they were eating healthier cookies. For a breakfast version – YES – cookies for breakfast, add about 1 cup of grated sharp cheddar cheese and 1/2 cup of raisins or dried cranberries and 1/2 cup chopped nuts of your choice. Be sure to leave out any cinnamon, or nutmeg that is in the original recipe. Bake as directed. You can even substitute some bran flakes for part of the oatmeal. If you like a really moist cookie, try adding a small jar of banana or carrot baby food. Yep, baby food. You'll be surprised at just how good your cookies taste.
So, what will your Healthy Baking Challenge Recipe be?
Connect with Tfal: Shop | Facebook | Twitter
Connect with Carrington Farms: Shop | Facebook | Twitter
Disclaimer:
This product was received from the Company for review purposes only. All thoughts and words in this post is my own and I was not paid to endorse it. I am only voicing my opinion about this product.