Technology is everywhere these days, with kids spending countless hours in front of a screen, carrying around a phone or tablet, or otherwise engaged in some other electronic activity. Wikki Stix wants to bring back the days where kids enjoyed plenty of good, old-fashioned creative play and have started the Wikki Stix Unplugged Movement to make that happen. Join as they celebrate National Unplugged Play Day on September 29th!
Wikki Stix wants to see kids get back to being kids, spending less time staring at screens and more time engaging in creative activities that exercise more than their thumbs. And so, National Unplugged Play Day was born. They have partnered with retailers across the country, as well as created some great offers for parents to take advantage of that will help them help their kids unplug and take a break from all the time online and plugged in.
Finding fun activities for kids to do to help draw their attention away from screens is important! It is critical to keep kids inspired and engaged, while allowing them to create and enjoy themselves. Simple art activities are some of the best resources for enjoying time unplugged from screens and plugged into the power of their own mind. Plus, when kids work on important skills along the way, unplugged play time provides so many more amazing benefits.
Refine Fine Motor Skills While Having Unplugged Play TIme
Wikki Stix are an awesome tool to let kids unleash their creativity, but there is more to these simple wax sticks that just a new medium for them to use in arts and crafts. These yarn and wax sticks require them to manipulate their creations with their fingers, peeling the sticks apart and bending and shaping them, which is a wonderful way to work on fine motor skills. They are even self-stick and can be peeled up and re-used to create over and over again.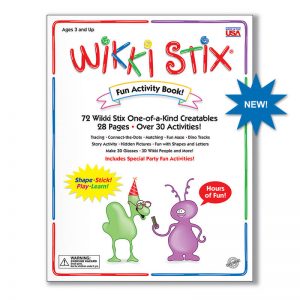 The Wikki Stix Activity Book gives you a fantastic starting point for kids who are new to using Wikki Stix. Created by an experienced Kindergarten teacher, the book contains 72 pages of creative activities, including letter and number recognition, colors, shapes, and so much more. Best of all, because you can peel off the Wikki Stix, the pages can be used again and again.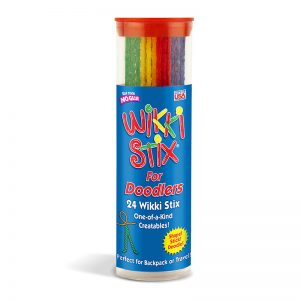 For less structured unplugged play time, Wikki Stix Doodlers are a great choice. This inexpensive pack includes just 24 Wikki Stix, but will allow for unlimited creative, unplugged play! Let kids come up with their own ideas, sticking their creations right to the fridge, or print out some templates that they can follow if they need a little guidance. Their imagination works overtime as they create and re-create, over and over again!
Visit Wikki Stix Unplugged Day page to get some fun templates and ideas for creating with Wikki Stix on Unplugged Day. Plus, you can take advantage of 50% off code PLAY50 to for a great discount on your order* through 9/21/18. *some exclusions apply, see site for details