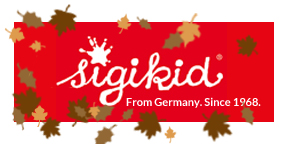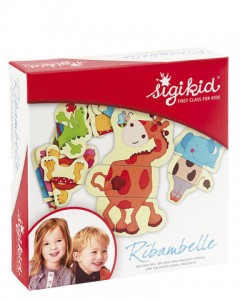 When I was younger, we used to play a party game, where we'd each fold a piece of paper in thirds lengthwise. We'd draw legs, center, and the top of different animals, each person passing the paper to the next person before we drew the next section, so that we were blindly creating a whole animal. Imagine the hilarity when we unfolded the paper and saw the funny creatures we'd created. My only issue with this game was the fact that it didn't exactly stimulate our creativity like it could have. If we'd drawn the animals while seeing the other segments, it may not have been as humorous, but it would have been much more challenging to come up with a unique creature.
The sigikid Ribambelle Game:
The sigikid Ribambelle puzzle (for ages three and up) is a an improved version of my childhood game. I was so excited, and nostalgic, when I saw that it exists! It includes twenty one hardboard puzzle pieces of seven cartoon animals, split in three. Children can either practice cognitive ability by matching them up, or be creative and mix them up! They can even make up creative names (pet girelefow anyone?) I'd definitely have mixed them up as a child (and a child at heart…)
But wait… I forgot to tell you all about sigikid….
I'm rambling on and on, and your'e probably thinking "Who is this sigikid she's talking about?!" Sigikid is a German company that has been creating quality toys for over 45 years. They make beautiful, creative yet classy, durable toys including lots of cuddly creatures. Yup, creatures are their specialty, as you've seen from the Ribambelle game above. But I still haven't introduced you to their cuddlies – you'll have to read on for that!
"In today's world, many of our daily interactions are quick-paced and short-lived. We often tend to forget one of the most important human attributes: the ability to play. At sigikid, we put all our focus on playing. Our products are designed to make children happier. To achieve this, we use the most wholesome and important ingredients available: Quality and Love!"
I've found the sigikid toys that I received to be works of art. They are well-designed, and made of durable, quality materials. So many toys I see today are either full of plastic and flashy colors, or lack the childish play aspect. Sigikid has found the balance, with adorable creatures and bright colors, combined with quality materials and sophisticated prints. These toys are timeless classics that are full of character and imagination, keeping in mind that kids are kids. And now, meet one of sigikid's fun cuddly animals:
Sigikid Activity Elephant: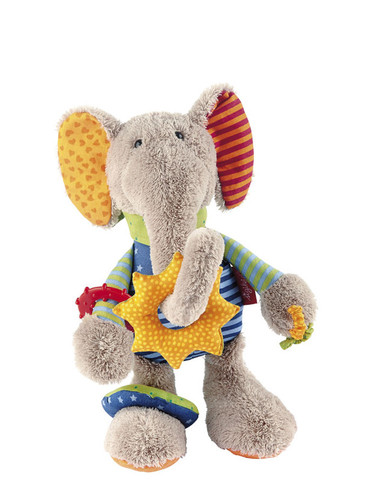 This elephant is adorable! To tell you the truth, I wish I had him (or her?) from when my baby was born. It's the kind of toy that grows with a child. The mix of fabrics make it fascinating for young eyes, but not to flashy or overwhelming. The soft fur will is perfect for sensory development and the built-in toys give baby something to teeth on. Here are some things you'll get with the activity elephant (come on, this boy needs a name too!):
A mini teething ring is secured on his arm (do you have any idea how many unsecured teething rings are floating around in some unknown place in my house?)
A fun rattle is the elephant's anklet (yup, same story as the teething rings. Those things seem to have feet…)
A soft start toy is fixed onto his nose. My baby loves teething on fabric rings even more than the classic plastic and rubber
One ear has a squeaky toy inside.
The other ear is crinkly.
The left hand is "holding" some elastic scrunchy pull strings for baby to play with too.
Elephant has a pocket on his shirt! And he wears a bandanna with a fun tie in the back… which means more exploring fun for your curious baby.
Doll is 10.6″ tall
Doll is machine washable (a must for kids' toys!)
Appropriate for ages 0-3 years
Sigikid toys have found the perfect blend of style and class plus playfulness. They are high quality toys that are both nostalgic an trendy and can last a lifetime. The easy care and the beautiful design and innovation are what completes this amazing toy line.
Sigikid has offered a 15% discount exclusive for Mom Blog Society readers! Shop here and enter code MBS15 at checkout.
Connect with sigikid USA:
Enter to win: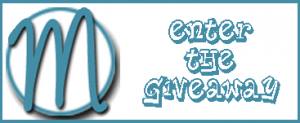 Disclaimer:
This product was received from the Company for review purposes only. All thoughts and words in this post is my own and I was not paid to endorse it. I am only voicing my opinion about this product.