Serving your children balanced and healthy meals is important to you, yet how do you have control over their diets when they are at school? Since children eat lunch at school on average five days a week, it is essential that this meal, too, is portion controlled and nutritious. Bentgo has the perfect solutions, with their innovative and unique lunch boxes.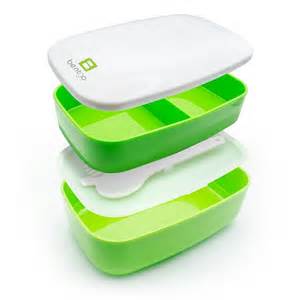 For those of you who haven't yet heard of Bentgo, they are famous for their unique stacking lunch boxes. These lunch boxes are versatile and convenient, and solve many problems of just bringing along food in a container. It is essentially a two-tiered container – one with a larger section for a main dish, and one with two smaller sections for side dishes. It comes with a fork, knife, and spoon, and storage built in for them as well. Finish it off with the included strap and you're good to go.
"Bentgo was born out of passion and necessity. Founded in 2013, the Bentgo team was tired of boring and non-practical lunch box solutions. How could there not be a lunch that had it all? One lunch box looked great but cost an arm and a leg. One didn't cost an arm and a leg, but was made of cheap and unreliable plastic. One was made from quality plastic, but didn't include silverware. One lunch box included silverware but wasn't reusable. One lunch box was reusable but not microwavable. The list went on. "
Bentgo has thought of everyone, and has made their lunch boxes work with various configurations. You can use the top tier alone, the bottom alone, or stack 'em all up!
Some features of the Bentgo All-In-One Stackable Lunch Box Solution:
Top Container Size is6.8″ x 4.3″ x 1.7″ – includes two sections with a divider. Each section is 3.4″ x 4.3″ x 1.7″
Bottom Container Size is 7″ x 4.5″ x 2.5″ and is one large section.
Boxes are FDA approved and are made of all food grade materials
Store compactly by placing the top container inside the bottom one.
Features built-in cutlery
Includes a two year warranty
Available colors include: purple, blue, green, and gray.
But wait- wasn't I talking about the kids a minute ago? These Bentgo all-in-one lunch boxes might offer great portion control for adults, but for children it would be plain gluttony! That's where the new Bentgo Kids lunch boxes (which will be available for pre-sale starting November 13, 2014) come in! These containers are the perfect solution for your children's food needs when they are out and about. You can now control their portion sizes, even when they're at school.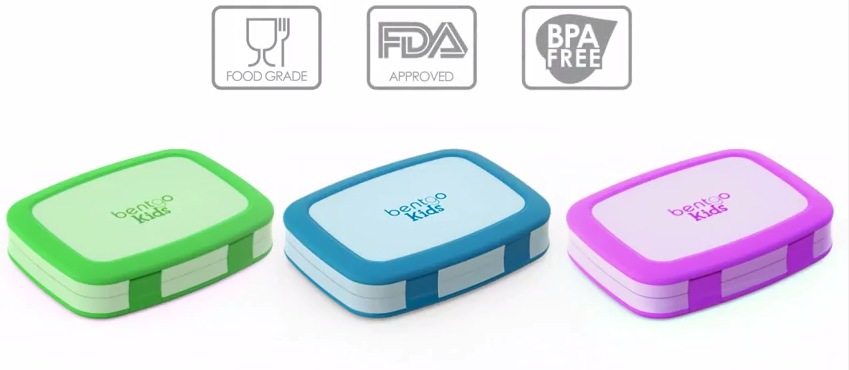 Some features of the Bentgo Kids Lunchboxes:
Easy to open and close latches
Five compartments in the removable tray, appropriate for a child's appetite.
Features a Removable dishwasher-safe tray
The edges are rubber coated and it's designed to be drop-proof
Leak proof rubber – trimmed top
Tray is microwave safe.
Freezer safe
Includes a two year warranty
Dimensions: 8.5″x6.5″x2″
Made of food grade, eco-friendly materials
Free of BPA, PVC, Phthalates, lead, and vinyl
Colors: blue, green and purple
Designed for children ages three to seven
Bentgo Kids lunch boxes are the perfect size, and have the perfect portions for your little ones. Give them their sandwich add some fruit, veggies, an egg and a snack, and they're good to go! Get it in a few colors so that you can mix and match for extra fun. Be confident knowing the container is made of FDA approved food grade materials so that you are truly feeding your child only the best!
Connect with Bentgo: Shop | Facebook | Twitter
Disclaimer:
This product was received from the Company for review purposes only. All thoughts and words in this post are my own and I was not paid to endorse it. I am only voicing my opinion about this product.