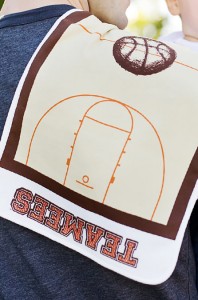 Do you ever feel like baby items are all designed for Mom? I get it – she's the one carrying the baby for nine months, delivering the baby, and she is very physically involved. But Dads are involved as well – emotionally, and often with the care as well.
That's why I find it ironic that everything seems to be designed for Mom. When I built my registry, I shopped with my husband. We both had an equal say in what was registered and what wasn't. Teamies baby gifts seems to be the perfect solution for celebrating fatherhood. That's something my husband definitely can agree on!
Teamies had Dad in mind when they designed their blankets and burp cloths. Although, I must admit, I'm just as basketball-obsessed as my husband! Their plush minky baby blankets are in the shape of the sports they represent, making them unique and innovative. The burp cloths are rounded rectangular screen printed courts.
"TEAMEES was founded by a sports-enthusiast dad who wanted to offer unique and whimsical gifts for the father-to-be. The idea came about when his wife had her first baby shower and was gifted with typical baby gifts. He thought, what about gifts for the dad? Thus TEAMEES was born."
I am in love with the basketball blanket! It's soft and snuggly, and the round shape really works for cuddling baby! I find it so versatile, as it can be recycled as bedroom decor once my baby outgrows it. I plan to use it as a bed-throw in a basketball-themed bedroom. I think it can also work as a rug. But best of all, my husband loves it too. This is an item that makes him feel truly involved in all the baby celebrations. This is simply the perfect gift to celebrate a new dad.
About the Teamies Sports-Inspired Baby Blanket: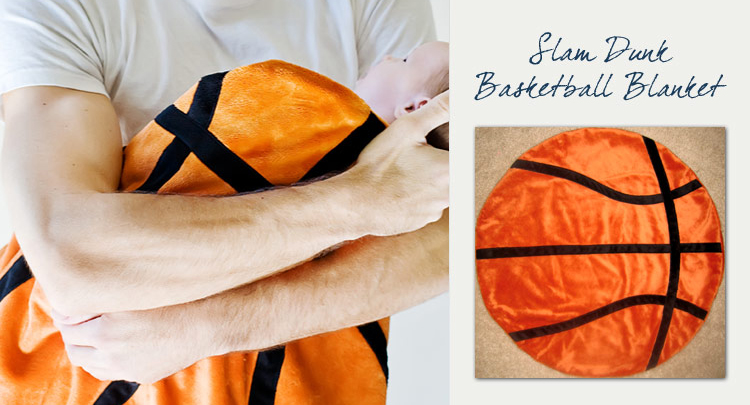 Comes in three sizes: Pee Wee – 25″, Junior Varsity – 35″, and Varsity – 45″
Four styles: Touchdown Football, Slam Dunk Basketball, Goalie Soccer Ball, Home Run Baseball
High quality minky fabric
Handmade in the USA
Football blankets come in team colors as well! Ten colors available (plus brown and white), more coming soon!
About the Teamies Sports-Inspired Burp Cloths:
Screen printed so the print will last
Made from organic cotton
22×10 inch rounded rectangles
Available in four styles: Touchdown Football, Slam Dunk Basketball, Goalie Soccer Ball, Home Run Baseball
And, of course, these are handmade in the USA as well.
These cozy, well designed blankets are a perfect new Dad gift! They double as bedroom decor, and are therefore multi-purpose. They're handmade in the USA, ensuring that you receive the highest quality possible. And what can be better than surprising Dad with something he'll love?
Disclaimer:
This product was received from the Company for review purposes only. All thoughts and words in this post is my own and I was not paid to endorse it. I am only voicing my opinion about this product.