Commuting through any means requires to mark a check on all the necessities to prevent any unfortunate circumstances which may cause convenience to you as well as others connected to you. Whether it's a business journey or a casual one, a person plans and prepares himself well to make the voyage go as smooth as possible, but what if things go the opposite as expected and bothers you, arising frustration and anger.
On similar notes, your Air Travel can also be unintentionally awry due to some factors which are voluntary and involuntary both. And I must say that these problems caused are avoidable at best and manageable at worst.
So without further ado, let's scroll the roll and get familiar with the hiccups that can turn you crazy at the airport; however, the solutions mentioned will help you lower your anxiety and get rid of them.
Let's get started…
# Loss of Crucial Documents
Before reaching the airport, obviously, everybody does make a check on all the mandatory documents to be carried along to avoid any type of inconvenience. But what if, unfortunately, you lose your 'Passport,' an indispensable asset and significant proof of your identity?
It's no less than a sinking feeling!
You inspect your pockets, rummage around your bags, look around the floor, search the traversed path in the hope of finding it, and at last realize that it's lost.
At that moment, you hardly have any choices and can't do much, except to take the necessary steps: head towards an embassy or consulate and go through the laborious process of getting a replacement. You will surely get a solution to this problem but after facing some other troubles coming in line.
A Recommendation:
Be travel prepared and prefer to carry e-forms or digital forms of your documents. It's a good practice to keep a copy of major data or documents in your email, which can be accessed via the internet anytime, anywhere.
# Miss a Flight/ Flight Delayed
There are enormous probabilities to miss a flight, and at least one of them could happen or has happened to you at some point.
Miss a connecting flight
Cancellation of the original flight
Stuffed up with the flight timings
Show up at the wrong hour/day
And much more…
I can understand how it feels as I have been through the same situation once, fortunately, only once. Whether it's one's own fault or the blame is on the airline's authority, you go helpless and the situation and start getting on the nerves.
Flights usually get cancelled or delayed because of the weather issues, technical glitches, refueling, security reasons, etc. and for the safety of the passengers, the administration has to take this step. It's not us who suffer, but the other side also faces issues in rescheduling flights and the entire process management.
Flight delays often happen, still, its recommended to check out the feedback of the airlines and the solutions they provide in such stressful cases. One can give a close look at some airline reviews like British Airways Reviews, United flights reviews, American Airlines customer feedback and all the others which you frequently/rarely travel with.
Many times, customer feedback proves helpful to get aware of the flying services provided by the airline in difficult times and one can see real users reviews on Faremart.com which is a brand name dealing with flying services, associated and having access to more than 450 plus airlines.
What to do?
In such a scenario, we don't have things in our hands, but at least if we know we have seen these situations many times, it's better to book direct flights or flights with long halts. The chances will certainly fall that you miss your plane, making you the defaulter.
As everybody now has access to smartphones, one can download some travel apps which provide you with up-to-date information on flights and notifications of all major alerts and changes.
You may also go through these tips provided by the frequent flyers to make your air journey smooth and enjoyable.
# Jet Lag
Jet lag is something real, natural, and involuntary. Traveling for long consecutive hours and further, if you are to take a connecting flight to reach your destination after a halt of 2-3 hours, then you are seriously going to have trouble with the sleeping and eating patterns.
You travel through different time zones in a single journey; you'll certainly experience jet lag. The after-effects of prolonged journeys covering different time zones make you feel tired, dizzy, hungry, low, sleepy, and definitely not fresh.

Image Source: basedservicedapartment.co.uk
Though it's a natural phenomenon, we still have methods to cope with it to avid witnessing such a minor unwanted health disorder. Take a rundown:
A few workable ways:
Take complete rest a day before bumping to long-haul flights.
To avoid jet lag, prefer reading a guide on how to survive long journeys?
Set your watch timing right for the new time zones. Set the destination's time in halfway through the plane journey.
To prevent suffering health problems, take proper sleep, keep yourself hydrated, eat right, and sleep tight.
For a short time span air travel to home time zone countries, prefer to keep your watch on GMT as a reminder.
# Flight Overbooking
First, let me tell you this; all the airlines do flight overbooking. Flight overbooking is merely booking travelers to more seats than are actually available on a plane. This is usually done to earn profits by assuming and calculating that a specific percentage of passengers won't show up to board the flight.
Sometimes this work but not every time and the issue arises when everybody shows up, but there are more occupied seats than the vacant ones. To avoid chaos, flight attendants offer some travel discounts and vouchers and ask people to set their seats free in return. If things go as planned, then there's a huge tendency for your boarding denial.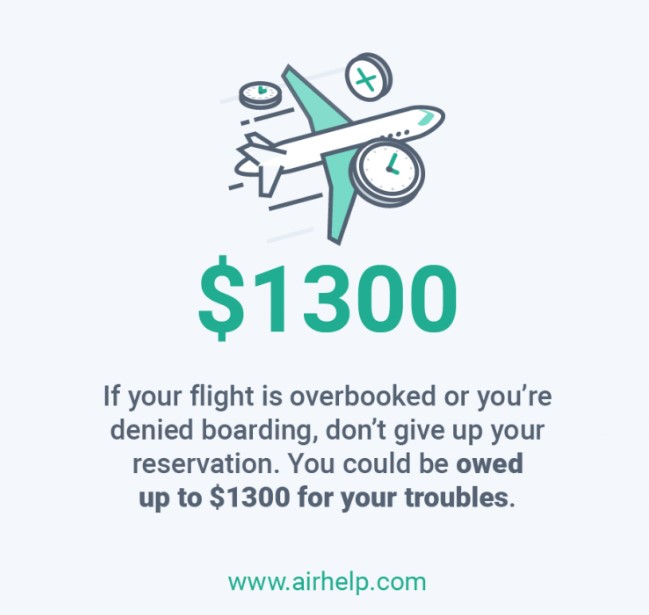 Image Source: airhelp.com
[Note:
There are some compensation rules which pay you back accordingly, taking some factors into consideration like, situation, airline, the destination country, and travel route.]
What Best can be Done?
To avoid getting bumped,
Prefer doing online check-in and arrive early at the airport.
Try to enroll with the airline's Frequent Flyer Program, and you'll be preferred first.
Try to allocate seats while purchasing the tickets; you have an option of seat selection; try to avail the facility.
Also, it is seen that if you possess the airline's credit card and be a part of their loyalty program, it helps you come out of troublesome situations.
For detailed information, check out "What to do when you have an Overbooked Flight?"
#Luggage Lost/Delayed
It's one of the major grievances encountered by many people which ultimately drops the name of the airline and hits that part where trust on the same loses and gets fade. First things first, if it comes to your notice that your baggage is delayed, immediately file a report to the airline you commuted in as it may take hours to days to reach your place.
In the worse case if your luggage got misplaced or lost, claim for all the things present inside the bag(s) to get compensation in lieu.
The most which you may receive for your belongings account for a sum of $3500 for domestic travel; nevertheless, it varies for your international travel routes. To be accurate, check out this post on 'Lost, Delayed or Damaged Baggage Liabilities.'
A Pro Tip:
In order to prevent such an unanticipated situation or bear the loss, make sure your baggage (A-Z) is tagged with a copy of your itinerary and your detailed information with all the contacts to reach you. It will help the airline to know how to deliver the right baggage to the right person at the right place.