Looking for a quaint small town to spend time in for your next family vacation? If so, look no further than Roanoke, Texas. While it may only have a population of 8,000 people, the city is filled with attractions that will keep both you and your kids entertained.
Roanoke is technically part of the Dallas-Fort Worth metro area, but because it's far enough away from the downtown area, you can score great deals on hotel rooms, leaving more cash available for fun.
Hawaiian Falls Roanoke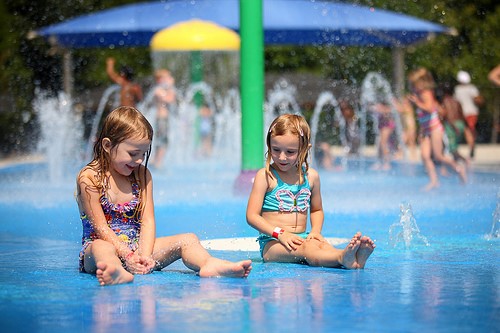 Image via Flickr by limaoscarjuliet
Spend some time working on your tan at this massive water park located at 290 W Byron Nelson Blvd. With numerous pools and slides, Hawaiian Falls will keep your family entertained all day long. Check out the Rainforest River Adventure for some chill fun as you float down the winding waterway filled with frogs, turtles, and waterfalls. For something a little more upbeat, head over to the Pipeline Plunge, two 65-foot tall slides that let you free fall to the pool below.
To make your day even more pleasant, consider renting a private cabana for your family. It comes with your own private sitting area with two luxury chaise lounges and upright chairs, a waterproof storage area, and your own wait service. Cabanas start at $100, while general admission tickets to the park cost $28.99 for adults and $21.99 for kids under 48 inches.
DFW Adventure Park
Get your heart pumping as you tackle one of the many experiences available at the DFW Adventure Park. This theme park is located at 13055 Cleveland Gibbs Road, Northlake, Texas. Here, you can challenge your family to a rousing game of paintball, zoom down the 250- to 450-foot-long zip lines, and even try your hand at a military-style combat simulation using airsoft guns.
If your children are smaller and you worry about them getting hurt during these intense activities, you might prefer laser combat tag. There's no age limit for this activity, and you can try multiple game modes, including Capture the Flag, Free for All, or Zombies.
Roanoke Visitor Center and Museum
If your kids love to learn, you'll have to take them to the Roanoke Visitor Center and Museum at 114 N Oak St. The building itself is worth the trip alone, as it's from 1886 and has been beautifully restored over the years. In the past, it was the home of the Silver Spur Saloon and included a dance hall and brothel on the upper floors. While that's a thing of the past now, you can still learn more about this building's interesting history, as well as a history of the town itself.
Best of all, the Roanoke Visitor Center and Museum is a great launching point for exploring the rest of the city. With over 40 different restaurants to choose from, you'll certainly never go hungry when exploring this historic downtown.
Booking Roanoke as your next vacation can provide you with a great mix of fun in the sun, heart-stopping adventure, and cultural exploration. It will be a trip you and your kids will cherish for years to come.