Thinkfun's selection of mind and music games offers so much more than entertainment! They offer hands-on learning experiences, and not just in areas of logic! They teach creative arts too in a way that is engaging and more than just practice and lessons.
"Games and playing are more than just 'fun' for young kids. They actually help shape and mold the brain and wire it for improved reasoning, creativity, fluid thinking, and more. Instead of worrying whether your kids are playing too much, you should be asking yourself whether they are playing enough."
For those of you who don't know yet, I'm a big fan of ThinkFun because of their amazing mind games. My brothers are big fans too and are engaged by them for hours (they are my official game testers!) Playing board games not only engages the mind, offering a memorable way to learn. It also encourages interaction and social skills (multi-player games) and keeps children from being immersed in technology for too long.
Here are some of the latest (and some other favorite) mind and music games from ThinkFun:
1. Compose Yourself:

Compose songs! I'm serious! This game allows you to arrange cards to make a song. Once you're done, head over to the Compose Yourself website and have it play for you! One of my brothers is very musical-minded and he loves this game! It's a great way to experiment with various musical combinations and arrangements.
2. Code Master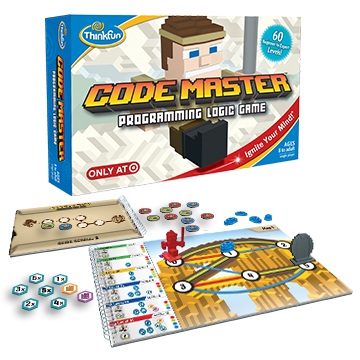 Get your head into programming with this fun Target-exclusive game! The Avatar needs to collect the crystals and land at the portal, and only programming logic will get you there! You need to figure out which sequence will succeed, and on the way you'll earn a little high-tech lesson!
3. Visual Brainstorms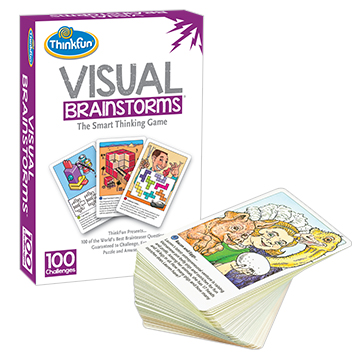 Fan of brainstorming? These visual puzzles and logic problems are perfect for you! 100 cards are full of anything visual that will challenge you to use your head, including math problems, mazes, and more!
4. Move and Groove!

What a wonderful, hands-on way to get you and your toddler moving! We had so much fun with it – I think this will be our new daily exercise routine. The beauty of this game is its simplicity – it offers a little bit of game play, a lot of movement, and no competition, since we're dealing with toddlers here. You simply throw the big cube, and choose a card that matches the color that it lands on. Then do the dance moves listed on the card! It was adorable to see my tot try to imitate the "raising the roof" step.
Thinkfun is about more than just games! It's about introducing mindful play in a way that is fun and engaging. My family is a big fan of their games, and I know you will be too!
Connect with ThinkFun Games:
Disclaimer:
This product was received from the Company for review purposes only. All thoughts and words in this post is my own and I was not paid to endorse it. I am only voicing my opinion about this product.