Not all automatic chicken doors are created equal. When I was looking for an automatic chicken door, I wanted something self contained and user friendly. There were only a few that I would consider and this product is one of them. You may have already heard of it, but even if you have, I also am showing you some of their new products, so stick around and maybe we'll all learn something together.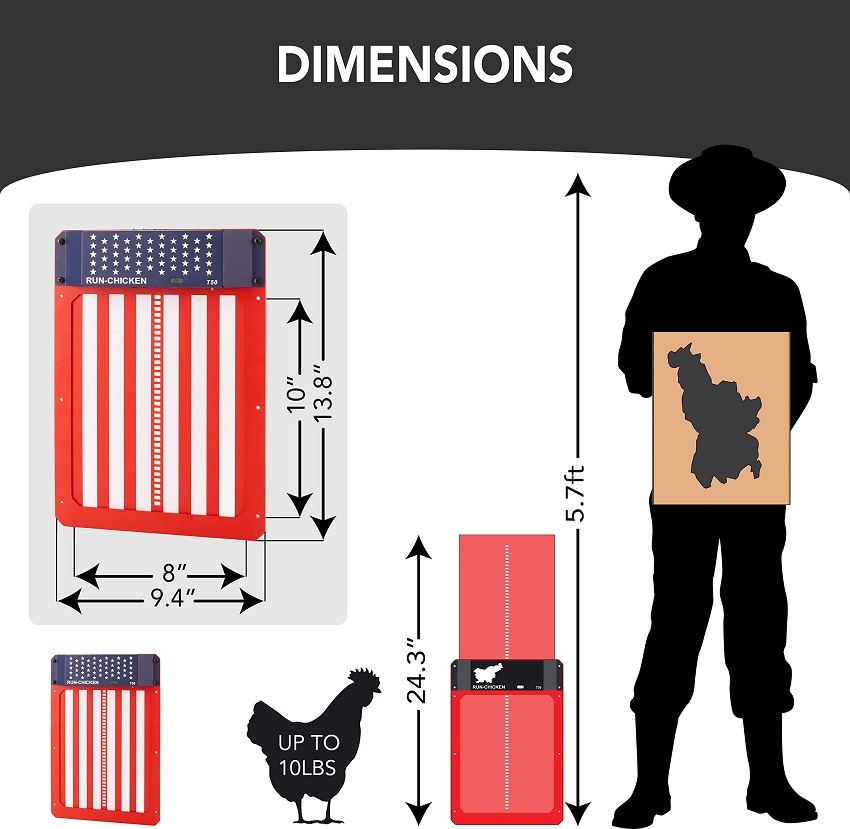 Here are some of the dimensions of the Run-Chicken automatic chicken door. It is also good to know that it is well made. Quality is something that I need. I don't want my chickens depending on an unreliable door. Their life depends on it. You see, the whole idea of having an automatic chicken door is so you don't have to keep checking on it. Why have a chicken door if you have to go out every night and make sure it is closed, or if you have to run out in the cold to see if it opened up in the morning? Run-Chicken Is the name to look for. I have never had an issue with mine. My chickens are out in the morning and locked up at night. Oh, I did the whole routine of checking on it for about a week, but now, I am happy with its performance. Now I rely on it. I mean, if I have to check on it, I might as well do it myself and forget the door.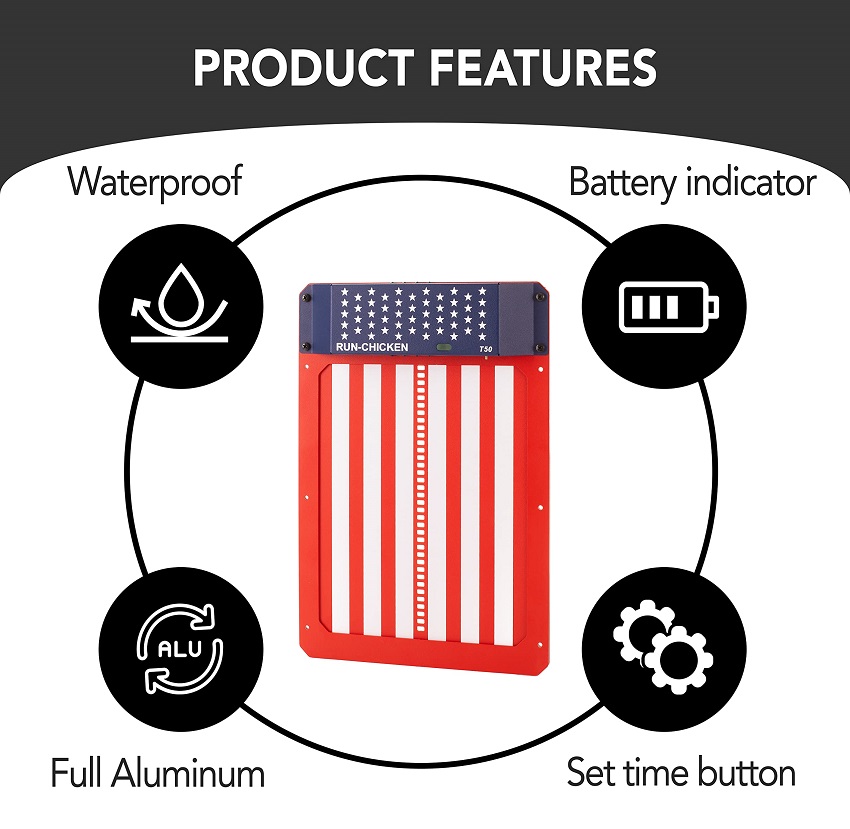 Here is what I got, Model T-50. It's color is specified as a "USA Special".They also have Red, Gray, Brown, and two different styles of Camo. It is constructed from solid aluminum, so there will be no predators chewing their way in. It has some safety features I wanted to mention as well. It has a low battery indicator and warns you when the batteries are getting low (GREAT Feature). It also has a built in safety device that senses resistance as it is closing. If it feels resistance it will back itself up to prevent squashing your precious chicken. Oh and it has an indicator for when the door is getting ready to open or close that flashes so that you know it is going to be operating soon.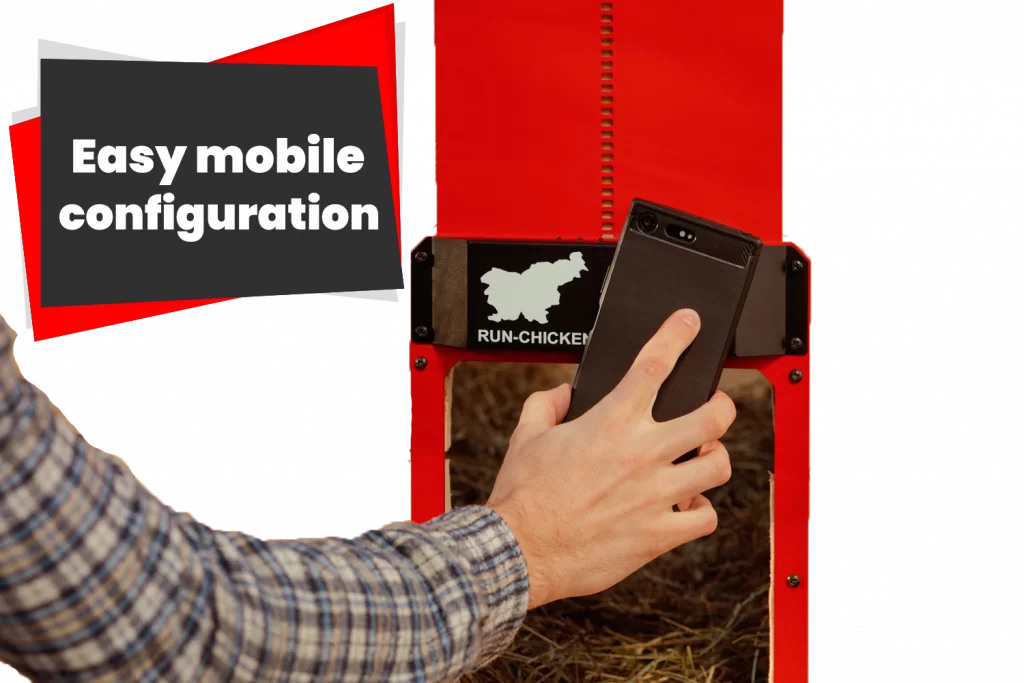 You can re-program the door with the button only if you do not want the app or you just don't have a smart phone. It walks you through how to do that in the manual, however they also have an app that you can download onto your phone so that you can program the door to open and close when you want it to. I went to Google Play, but they also have it on the Apple App Store. It comes pre-programmed from the factory to use the light sensor to open 20 minutes after sunrise and close 20 minutes after sunset, but you can set it to whatever you want. You can change the delay from 20 minutes to something else, or you can bypass the light sensor altogether and just tell it the exact time that you want it to open or close. that's a nice for when you want to let your chickens out to free-range at a certain time each day, but don't necessarily want them out at first light. I have this door on the coop to let them out into the safe and secure run at first light. I want to let my chickens free-range, but there are still too many predators out at first light , so I come out and release them at about 11:00 am each day. I would like to get another door for the Hoop Coop that I can program to let them out of the run each day. For now, it's fine. It keeps me from having to worry about getting there at a certain time each day to keep them safe.
Here is a video of me installing the door into my Hoop Coop. If you have a wooden coop, you can just cut out the door opening and screw the door to the outer surface. With a Hoop Coop constructed of Cattle Panels, I couldn't do that, so what I did do was make a wooden frame to attach the door to and another frame for the other side of the door. Then I just screwed the two frames together. It actually worked pretty well.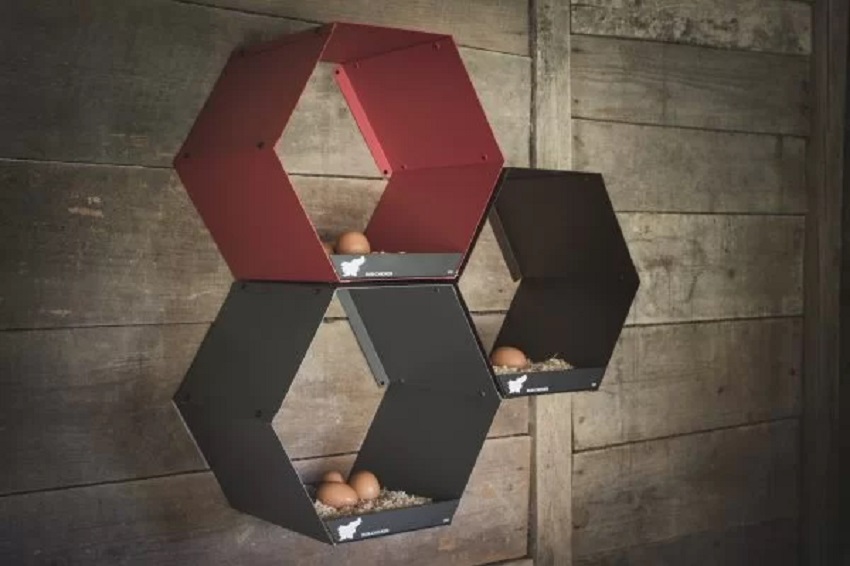 If you watched the video, then you know that besides the Run-Chicken Automatic Chicken Door, I also got four Nesting Boxes from Run-Chicken. The nesting boxes come in a few different colors. Ya know, if I would have had a wooden coop, I would have just screwed them to the wall. However, what I did was mount the nesting boxes to a piece of wood and mounted the wood to the wall.I also would have staggered the boxes like the picture above, but I set them in line with each other. I did this to keep the boxes low. Something to keep in mind is that chickens like to roost on the highest spot they can. If the boxes are taller than your roost, they will roost on the boxes and poop on or in them. This wasn't something that I wanted. This works for now, and that is all that is important. Both the door and the boxes come with mounting screws. The Door also comes with batteries and the boxes also come with nesting material for the bottom of the box. So far, I am very happy with both products.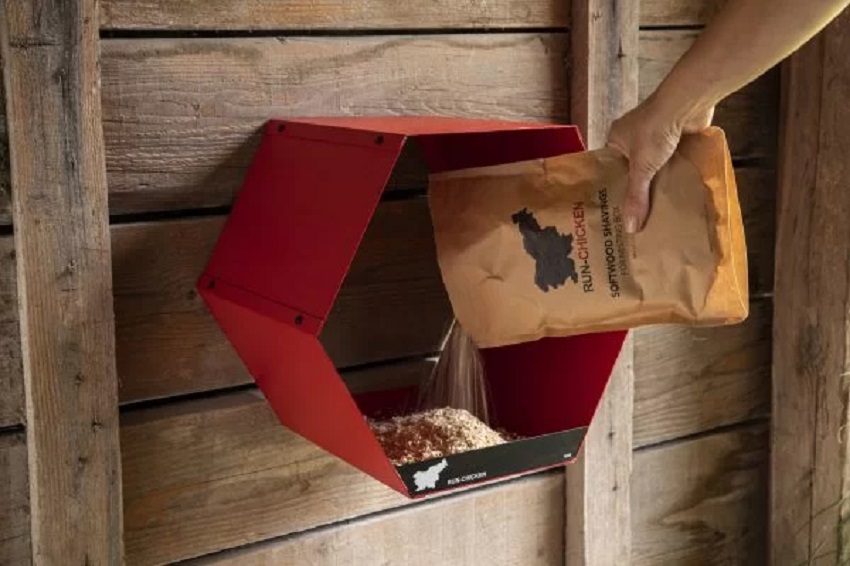 If you would like to get one for yourself, or just want to visit their website, Just follow this link: Run-Chicken . If you would like to purchase it on Amazon, then follow this link: Run-Chicken on Amazon.
Here is how you can look into their Social Media Pages, just click on the appropriate icon below. Lots of people are always posting pictures and videos of their experiences with this product and there's always new info to know there as well.