When I say we love animals, it's true we really do especially the kids. It's like they have a soft spot in their hearts for all animals. With us having a dog and a cat, I find sometimes that those two get more attention than I do…lol! I mean when my kids see an animal in need, they reach out to do whatever they can to help that animal.
So when we were given the opportunity to check out the books "The Dog Tales Collection Books", I was excited to share with my kids! These books are a series of books designed to help children deal with some of the Trials And Tribulations Of Having A Pet Companion written by Patricia Brill, PhD.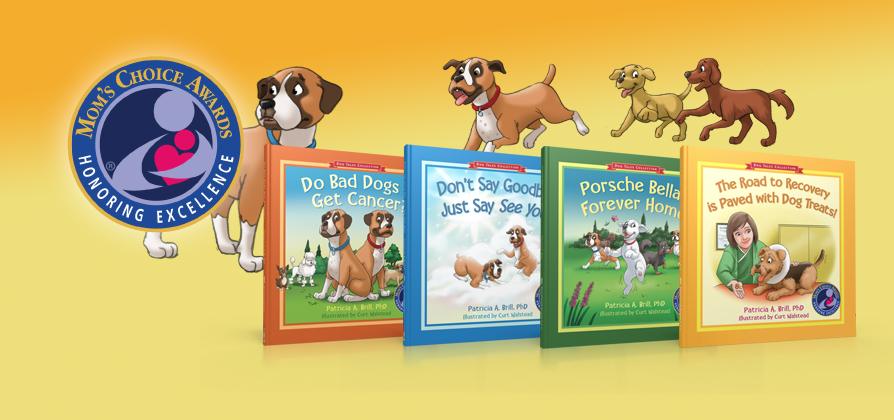 These great informative books are award winning illustrated books that are intended to open a dialogue between parents and children concerning issues or questions about their pets. The books were created to help young children like mine and yours to better understand what happens when their pet or a loved one has cancer, has to undergo surgery, has to stay overnight at the hospital, or even dies. The series of books are recommended for readers between the ages of 5 & 8.
I don't know about anyone one else but I would like to say Thank You Patricia Brill, PhD for creating this series for our children! My children have been in one or more of these situations and it's really a tough subject at times trying to explain to your children, no matter if it's their pets or love ones it's a very difficult time either way. Starting that conversation of explaining as to what happen can become stressful for not only the kids but us parents too, that's why I feel Patricia Brill, PhD author of the Dog Tales Collection series will be a great book collection to have on hand.
There are Four Books in The Dog Tales Collection including:
Do Bad Dogs Get Cancer? This book helps children and young adults better understand what happens when a loved one, including their pets is diagnosed with cancer. This book helps the reader identify with the emotions Turbo and Boxster are experiencing once Turbo is diagnosed with cancer; provides a better understanding of cancer treatments; and reassures that cancer is not contagious.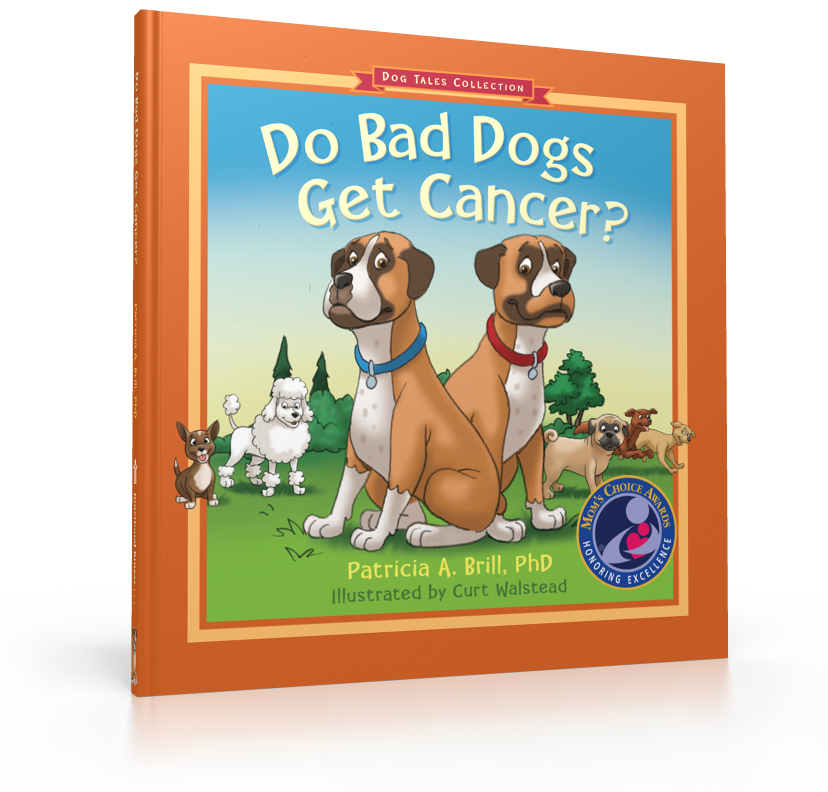 This book I wish I would have had on hand a few years ago when I loss two family members back to back and our dog from cancer. My children were devastated and even when I tried to explain it appears they just didn't grasp my explanation well. This book offers a more positive way to approach a serious scary topic that many of our children need a little more help on understanding. In the book our children will learn that really anyone or any animal can develop this dreadful disease but that cancer also is not necessarily a death sentence.
Don't Say Goodbye Just Say See You! This book reassures a child that no matter how sad or angry they feel when they lose a relative, friend, or pet, in time their sadness will ease and they will be able to remember the happiness they shared.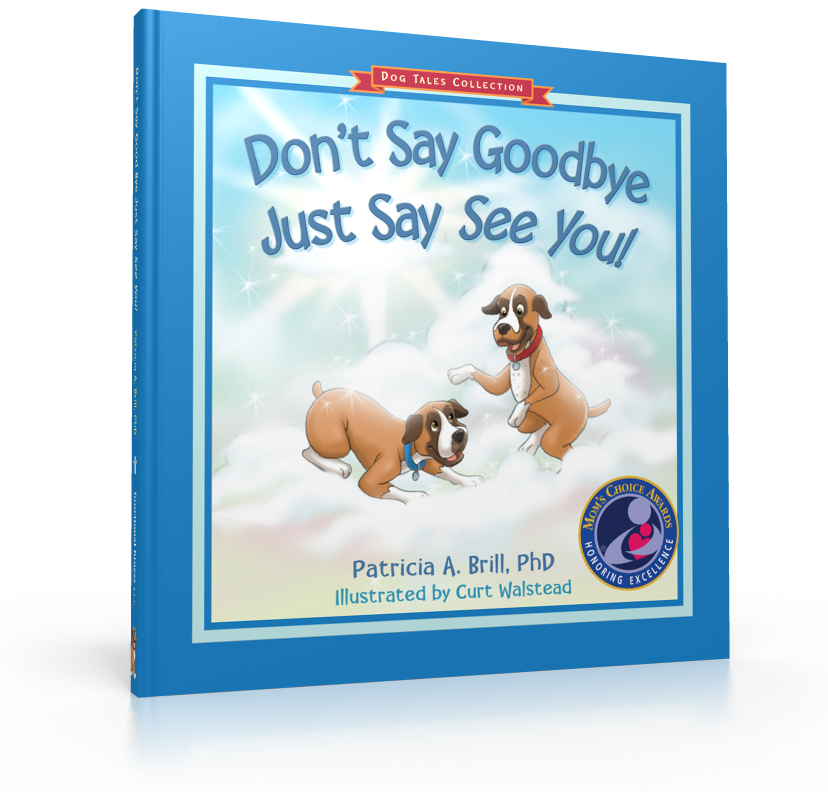 This is another useful book I would recommend having on hand for when your children has questions about death. I love the whole concept about this book too, it basically gives parents an opportunity to talk about death with their grieving child by addressing feelings of sadness, anger, and guilt and to clarify any misconceptions about death.
The Road To Recovery Is Paved With Dog Treats! This book was written to help children understand what happens when their pet has to have surgery and reassure them that their pet will be safe and protected.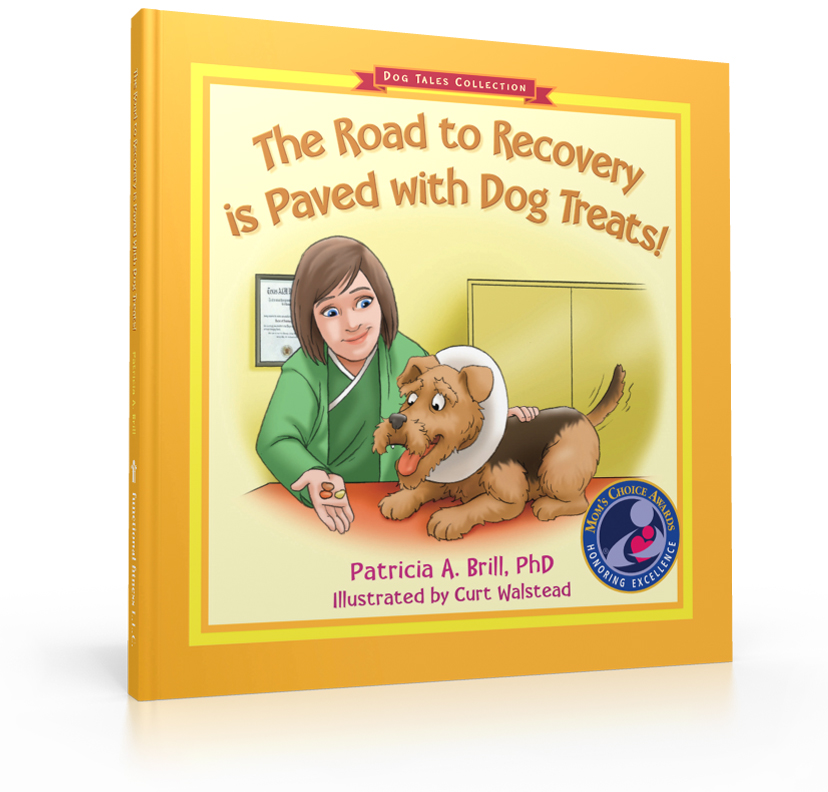 Now this book really would have made a world of difference for my kids last year as their cat had to have surgery. Even though the doctor assured them Sparkles would be OK they still didn't take it so well that she was sick. We had to reassure them many times that she was safe and protected, and soon would be back to herself again!
Porsche Bella's Forever Home Written to help children see the importance of rescuing, fostering and/or adopting animals, thus giving them a second chance.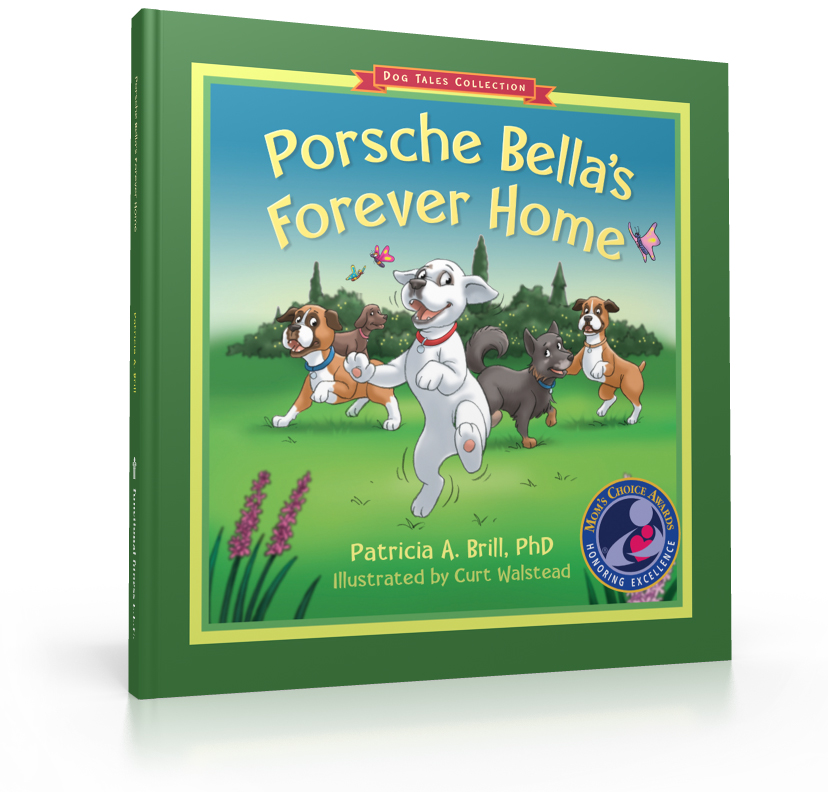 I believe each one of these books will definitely play a major part in our children's' life. I also believe that when a child see an illustration they can actually relate to it helps them understand the concept much more effective than just hearing us parents explain.
That's what the "The Dog Tales Collection" would do, with so many awesome illustrations included in each book. I think the books will give our children a better understanding along with a way to open up a dialogue between parents and children concerning issues or questions they may have about their pets. The books makes it much more approachable to getting our children to understand serious topics like all those above!
I use to dread how I was going to explain to my children certain topics like above, I wasn't sure if I would address the issue properly. But now with the help of Patricia Brill, PhD "The Dog Tales Collection" I feel confident that I can explain to my children in a way they can better understand due to having these books on hand.

Overall I think the "The Dog Tales Collection Series" would not only be great to have on hand, they will be great books to also gift this Christmas to a friend, co-worker, family or neighbor who has kids. Each book addresses topics that are very serious and concerning to each child's pets and loved ones.
For more information about The Dog Tales Collection or to order a book please visit the website.
Here's more about the Author:
Patricia A. Brill, holds a dual PhD in exercise physiology and health education. She is an expert in developing functional fitness exercise programs for specific daily activities.
Her personal experience with family, friends, and their children going through cancer and other life challenging situations inspired her to write the Dogs Tale Collection of children's books. Brill's current family includes husband Dino and rescue dogs Turbo, Cayman, Carrera, and Porsche Bella.
Dr. Brill was awarded both a silver and bronze Readers Favorite 2016 Award for children – animals books. She also won a bronze medal from 2014 Mom's Choice Awards Honoring Excellence; Silver Award Recipient Juvenile Books (Level 1 – Ages 5 to 8): Self-Improvement for the Dog Tales Collection.
And here's more about the Illustrator:
Curt Walstead grew up in the small rural community of Merced located in the middle of California's central valley. After receiving a degree in biology from California State University, Sacramento, he moved to Southern California where he studied illustration at Pasadena's Art Center College of Design.
Currently he resides with his family in Westlake Village, California where he has worked as an animation storyboard artist and illustrator for over twenty years. During that time he had the opportunity to illustrate numerous children's books and work on many of today's popular children's shows such as Dora the Explorer, Dragon Tales, Baby Looney Tunes, Clifford's Puppy Days, Men In Black, and Loonatics Unleashed.
For more information about The Dog Tales Collection or to order a book please visit the website, and make sure to connect with The Dog Tales Collection via Facebook too!