It's no fun having a sick kid. We've all been there, most likely more than once. I remember the last time my daughter got sick. She woke me up in the middle of the night because she was coughing so much and couldn't sleep. Half asleep, I rummaged through the bathroom cabinet in search of cough medicine and a thermometer. I found the cough medicine easily enough, but it took me 10 minutes to find the thermometer buried in the mess of a cabinet. Then, when I finally found it, I was dismayed to find that the battery was dead. I wasn't about to go to the store with a sick child, so I monitored her carefully throughout the night and we made it through.
The next day I stopped at the store for more medicine and new batteries. You know, those little tiny button batteries that are so hard to find anywhere! While checking out the thermometers and hoping they had those batteries nearby, I spotted these Temp-N-Toss disposable thermometers. Intrigued, I grabbed a box and took them home. My daughter was feeling a little better, but not 100%, so I decided to give these a try.
They're so easy to use! You simply stick it to your kid's forehead and, using liquid crystal technology, it gives you an accurate reading in just seconds. There's even a simple reference guide right on the package. They can be used by kids and adults and can be kept on for 48 hours for continuous monitoring.
It's so much easier to keep a box of these in my medicine cabinet, rather than having to worry about a lost thermometer with no batteries. I also love that they're portable and fit easily in my purse for overnight trips. I went back and bought two more boxes, so I know I'll be prepared!
Temp-N-Toss Disposable Forehead Thermometer Strips:
Eco-friendly
No harmful chemicals
Latex and Mylar-free
Batteries NOT required
Medical grade adhesive allows for 48 hours of monitoring
Non-invasive, perfect for sleeping or cranky children
Made in the USA by a company owned by women!
Displays 94F -104F temperature range, accurate to within 1C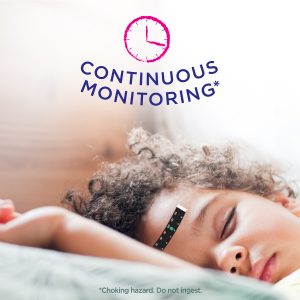 Temp-N-Toss disposable thermometers are available at Walmart.com at a very affordable price. Pick some up today and you'll thank yourself the next time you find yourself with a sick child!