Everyone knows that it isn't fun going to the dentist. Most children resent going to the Dentists, about as much as they do brushing their own teeth. However, as parents it's our job to guide our children in the right direction. Even if your child is right "some" of the time. That doesn't mean they are right "all" of the time. At any age they still need to be lead in the right direction. We as parents have done it all before, and brushing my teeth has always been a high priority of mine. I want to make sure that my children have the same mentality as they grow up. But, brushing alone is NOT enough. My dentist has always told me to floss.

Plackers Flossers intended to make dental health fun again for our children. The Flosser Friend is a friendly monkey shaped container that holds all your child's Plackers Flossers. Plackers Flossers have delicious flavors, like fruit smoothie swirl. Keeping your child interested to floss on a frequent basis. A dual-grip design on the handle of the Plackers Flossers, helps your child grip each flosser for easier access. Your children are going to want to brush their teeth more now that they have a new friend to join them. If you're looking to grab your children any one of Plackers oral care products. You will want to stop by your nearest Publix, Safeway, or Target.
Now's the perfect time for you to explain how important oral care is to your child. Plackers Flossers can make it a little easier to get them on the right path. Grab a
Plackers Friend
to store your children's disposable flossers. If we know anything about teeth it is that enamel does not grow back in the future. This is a great way to keep cavities and gum disease away, as well as a way to teach your children about oral hygiene.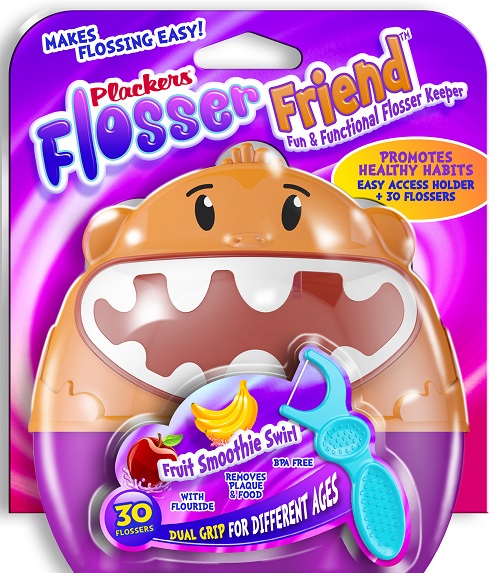 They may be brushing their teeth but are they flossing as well?
Plackers Flossers are the best way to get your children to remove left-over plaque that bristles on a toothbrush leave behind. The plaque and tartar that could lead to gum problems in the future. Anyone that has gone through any form of oral problems can tell you that it's not worth it in the end. The Flossers Friend container by Plackers is great if you have a boy, or a girl, and already includes 30 BPA Free flavored flossers. This is the route I'd recommend taking for anyone who is just starting this. It's the whole package for one low price!
As parents we need to be sure that our children take care of themselves. It's not only the most important responsibility, it's also a foundation for their self-esteem. Teaching them while they are still young. Will allow for them to maintain that information, and develop healthy habits along the way. Like everything that is involved in parenting, this will take time. It isn't going to be an overnight occurrence. Most children don't enjoy brushing their teeth. Plackers Flossers, and the Plackers Friend container can be a less stressful way to transition your children. We will also be able to rest easy at night, knowing that everyday is a day in the right direction.
Connect with Plackers: