I love getting pedicures, but they can get pricey pretty quickly. Sometimes it's nice to treat yourself and let someone else do all the work. But sometimes, it's nice to pamper yourself in the comfort of your own home, and Pedi-Sox can help.
Pedi-Sox were developed by Pamela Berryhill, a wife and mother, just like you! All she wanted was a simple way to keep her feet warm and clean after her pedicure. Standard socks obviously won't do because they cover the toes and are often very restrictive. So, she invented Pedi-Sox.
The benefits of Pedi-Sox are amazing:
They keep your feet warm and cozy after your manicure during the cold, winter months or even in the summer in your chilly, air conditioned house.
They'll keep your clean while your polish dries. No yucky dirt and hair stuck to your freshly manicured feet!
Apply moisturizer or the SofSpa Softening Creme before hand and the sox will help aid in the absorption.
In conjunction with the moisturizer, they help repair dry, cracked heels and soften calluses.
Your toenails will dry flawlessly!
Pedi-Sox come in four different styles: Original, Lite, Ultra and Spa Deluxe. The Original, Lite and Ultra styles come in a wide variety of colors and patterns to fit your own personal style!
The Original Pedi-Sox are a great fit for any size feet. They're made from a triple weave, heavy-weight, thick, cotton blend. These sox work well in cold climates and are machine washable.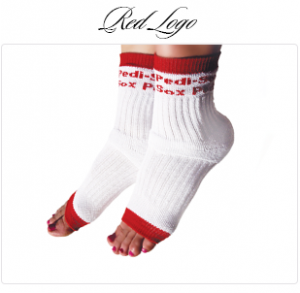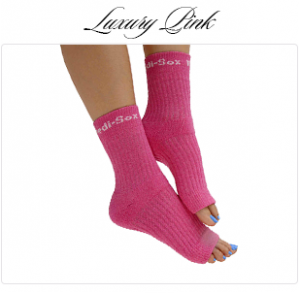 The Lite sox are made from a lighter weight, stretchy acrylic and nylon blend, making them perfect for warmer weather or year round use. Because they hug your feet, these sox are ideal for use with moisturizers, lotions or the SofSpa Softening Creme.
The Ultra sox are made from super soft, luxury and contemporary yarn for ultimate style! These sox are Ultra massaging, Ultra softening and Ultra luxurious.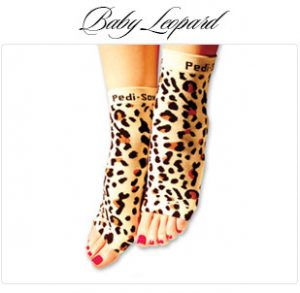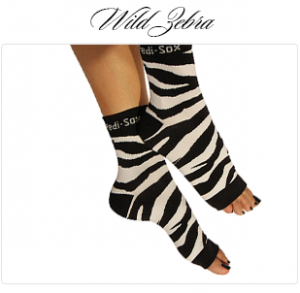 The Spa Deluxe Pedi-Sox were designed specifically for luxury spas around the world. They're made from cotton blend Hydrotech threads that allow for perfect breathability. They feature an inner terry loop for added comfort, an elegant design for style, and a unique fit for maximum comfort. The hollow core threads hold in moisture for ideal cream and moisturizer absorption and then gradually release to give you smooth, baby soft skin.
.

Try any of the Pedi-Sox with the SofSpa Softening Creme. It absorbs slowly and penetrates deep for a long-lasting softness that will make you feel like you paid luxury spa prices for it! Your feet will thank you! SofSpa Softening Creme can also be used on your hands, feet or anywhere else on your body for that same soft feeling.

So before you plan your next pedicure, pick up some Pedi-Sox and treat yourself to the ultimate spa experience, right in the comfort of your own home!
Connect with PediSox: Shop | Facebook | Twitter | Pinterest | Instagram | YouTube | tumblr