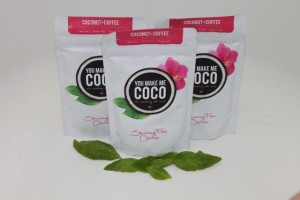 Love me…scrub me…share me! While that may sound like a quote from a romance novel it's a phrase that can actually do a lot more for your body and your mind than a little steamy text on your Kindle.
Love me…scrub me…share me is the little tag line on the package that serves up a new body scrub called You Make Me Coco from Skinny Fox Detox But as far as body scrubs go, You Make Me Coco is in a class all by itself.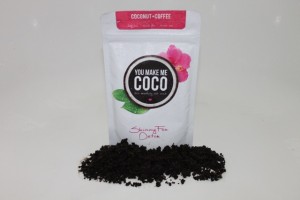 You see, where many body scrubs simply exfoliate dead skin cells to make your skin feel smooth for a couple of days, You Make Me Coco is comprised of natural ingredients to help reduce the appearance of scars, stretch marks, cellulite, psoriasis, varicose veins, eczema and acne. On top of all of that, it also makes your skin feel silky-smooth for an extended period of time.
The natural ingredients in You Make Me Coco include coffee (coffea robusta seed powder), coconut oil (coco nucifera), sweet almond oil (prunus amygdalus dulcis), sea salt (sodium chloride), orange peel powder (citrus sinensis), citric acid (antiosidant), and fragrance (parfum).
Now that you seen the list of ingredients you're probably wondering what all these things do, right? So, here you go…
Coffea Robusta (Caffeine): Caffeine constricts blood vessels to reduce redness. This makes it an ideal treatment for facial flushing and rosaceae. When applied topically, caffeine works as a diuretic and aids in circulation.
Caffeine present in skin care products can dehydrate fatty cells. This results in the water disappearing from the surface of your skin. This minimizes the appearance of cellulite, thus providing you with a smoother skin appearance. Research at the University of Sao Paulo has proven that the application of skin cream containing caffeine reduced the size of cellulite fat cells by 17%.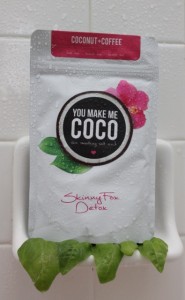 Orange Peel (Vitamin C): One of the most powerful functions of vitamin C is its role in the production of collagen, a protein that gives your skin its elasticity. As you age, collagen breaks down and wrinkles begin to form. Stabilizing your skin's levels of vitamin C can help to counteract wrinkle and stretch mark formation by increasing collagen production.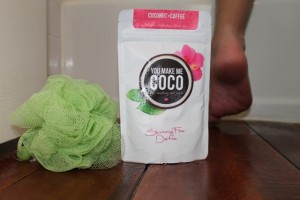 Coconut Oil (Vitamin E): The contributions of Vitamin E towards skin care are well known. It is essential for healthy skin growth, repair of wear and tear on the skin, keeping skin smooth and protecting against cracking. Above all, it prevents premature aging and wrinkling of the skin, since it has good antioxidant properties. 100 grams of coconut oil has about 0.1 mg of vitamin E, thereby enhancing its skin-nourishing properties.
You can learn more about You Make Me Coco and SkinnyFoxDetox online.
Connect with SkinnyFoxDetox: Facebook | Twitter | Pinterest | Instagram