Strider "Learn to Ride" Bikes
Learning how to ride a bike is one of those rights of passage. Unfortunately this is one of those passages that can come with lots and lots of scrapes and bruises. It is a skill that can require a lot our of mom and dad and can become a real frustration for the kiddos. Most importantly, when you choose a bike for your kids, you can follow the bike size chart kids because it will help you find the bike's exact sizes by age. The actual bike size will give comfortable riding experiences. That is why a long bike ride will be inspirational & entertaining to them. The kids will enjoy their riding session.
We received a Strider Sport in blue, for one of our grand sons. This little guy was a preemie, so he's still a little on the small side. This isn't a problem with Strider, as their bikes come in a wide range of sizes. Safety is a watchword with Strider and they take this role seriously. You order your bike specifically for the size of your child. With these bikes your kids can start to learn to balance at a very early age and they have even found great success with special needs children.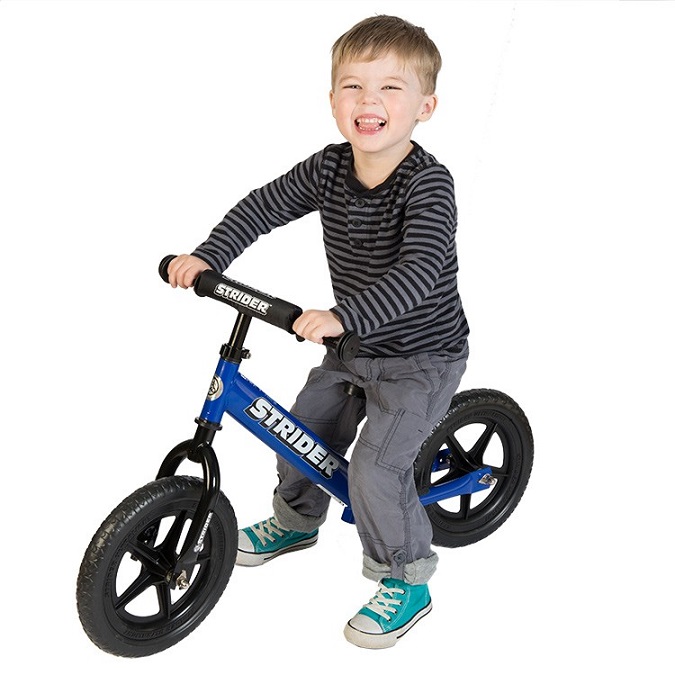 Strider can help to cut way down on those ouchies!
Rethink the Definition of Riding

What defines riding? Does pedaling define riding? Downhill mountain bikers don't pedal, road bike riders descending a highway don't pedal, BMX riders in a halfpipe don't pedal, and motorcyclists don't pedal. They are all riding. So what do they all have in common? The ability to balance on two wheels, and lean through turns regardless of what put them in motion. For children, walking and running are the natural means of propulsion. The simplicity of Strider bikes allows children to concentrate on the fundamental skills of balancing, leaning, and steering while propelling the bike in a natural way.
Strider has bikes for all age ranges…from 18 months to adults, upt to 242lbs. Bikes come in size 12″ (18 months to 5 years) ,16″ (for 6 year and up) and 20″ (for age 13 to adult) models. Depending on model, there are up to 8 different colors to choose from – blue, green, red, pink, yellow, black, orange, yellow and silver. Strider also coffers safety gear, accessories, apparel and more.
About Ryan McFarland

Ryan McFarland is an entrepreneur with a passion for mountain biking and motor sports. Ryan grew up with a grandfather who was a race car engineer and a father who owned a motorcycle dealership. This early exposure to cars, motorcycles, and racing influenced Ryan to ride dirt bikes and mountain bikes, as well as race go-karts and stock cars. His mechanical inclination and his competitive spirit led him to invent the U.S. Patented Thudbuster suspension seat-post for bicycles and a U.S. Patented suspension system for wheel chairs.

His passion for spending time with his family, riding on two wheels and teaching other children how to ride using the STRIDER™ bike was the genesis for what is now known as Strider Sports International, Inc., formed January 9, 2007, in Rapid City, South Dakota of which Ryan McFarland is still the Founder, President, CEO and Chief Enthusiast.
For summer fun…think STRIDER!
Connect with Strider: Website / Facebook / Twitter / YouTube / Instagram