Welcome to Stephen Joseph gifts.com, a place to find a wide variety of cute kid's products. Products that are unique and great for any seasons like bucket hats, sunglasses, hooded towels, rain boots, baby bibs even travel gear and more.
Since school is close to being out for the summer many of us will be traveling and what better way to be prepared than with a few items from Stephen Joseph gifts.com.
Let's get started, I want to first show you a few of their cute rolling luggage's that will be perfect for your son or daughter especially if they are airplane lovers.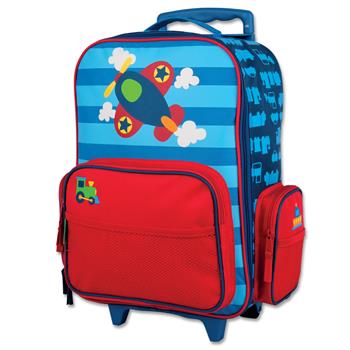 Cute, wouldn't you say! Your son will be so happy when he see he gets to pack all of his items in this nice rolling luggage. It's the perfect height for your child, no need to worry about them struggling to pull this luggage because it's approximately 14.5" x 18" and it's great for having his name monogramed on it. Equipped with multiple pockets your child can store everything he needs for his trip safely. Your son can pack all his little army man and wrestler toys!
But wait there's more to this bag it even has an extendable handle plus they have them available for girls too with many designs. Check out this one for your little girl traveler, I know my daughter would love this one because she loves anything related to ladybugs. This luggage is the same size (14.5" x 18") as of all their rolling luggage's and is also equipped with multiple pockets to handle your child's items with ease plus monogramming is available for this one too.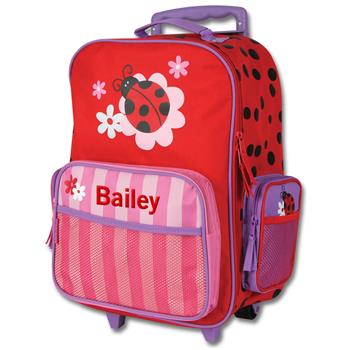 Stephen Joseph gifts.com has so many other travel gear items that your kids would like. Not in need of luggage? How about a nice cozy travel pillowcase. This would be another great item to have on hand so when your child gets tired he or she can add this (29″ x 20″) standard Jersey Knit pillowcase to their pillow. Of course you can have it monogrammed too so they'll know this unique pillowcase belongs only to them.
Trust me when I say Stephen Joseph gifts.com has an array of travel products. If your little one is off to grandma house why not grab this Butterfly sleeping nap mat.
This sleeping nap mat will be able to travel with your child anywhere they go, you see it also has a carrying bag to roll the sleeping bag up when not in use. The front pocket is a perfect place to personalize with your little one's name. Features an attached pillow and soft, fuzzy lined blanket. The All Over Print Nap Mat is extremely soft and it is also machine washable.
Well , there you have it a few great travel items for the kids from Stephen Josephs gifts.com
Stay tune for next month when we share more about Stephen Josephs gift.com, maybe they will allow us to do a giveaway so you child can experience how awesome their items are!
You can keep up with Stephen Josephs gifts.com via Facebook | Twitter | Pinterest | Instagram | to keep up with the latest.