Crete, is not only the largest of the Greek islands but is also a popular family-friendly destination. Blessed with abundant greenery, sensational beaches, dramatic mountain ranges and hundreds of picturesque villages, tucked among an oasis of vineyards, olive trees and wildlife — Crete really does have it all. To make the most of your family holiday in Crete, it is advisable to rent a car which can be easily done with Rental Center Crete – Car Hire. Once this task is accomplished you are ready to explore Crete, but before you go check out our recommendations for the 10 top things to do in Crete with kids.
Crete with Kids: A Guide to the 10 Top Family Friendly Activities in Crete
Discover the Ancient Palace of Knossos
Crete is known for its exciting and rich history, full of myths, stories and legends told about the Greek gods and goddesses. The Palace of Knossos is a must-see historical attraction — Europe's oldest city was the home to King Minos, a mighty ruler who was greatly feared but respected. Inside this mythical palace your kids will love to hear the stories about Theseus who fell in love with beautiful Ariadne, daughter of Minos — and how she helped him escape the labyrinth and the Minotaur by following a path marked by the magic twine, that safely led him out of the maze.
The Palace of Knossos is approximately a twenty-minute drive outside of Heraklion city centre.
Endless Water Activities
Crete is a water lover's paradise blessed with turquoise waters, pristine beaches and coves as well as a glorious underwater world.
If your children are old enough, they can enjoy water sports activities such as scuba diving, wind surfing, kayaking and kite surfing. There are several tour companies offering day trips to the nearby famous dive-sites of Crete where you can scuba dive or simply go snorkeling.
Explore the CretAquarium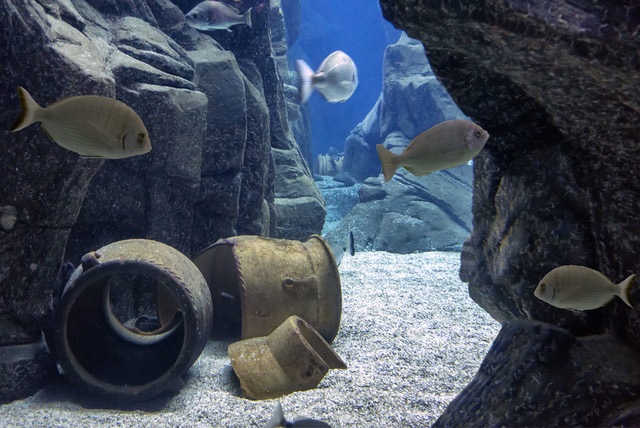 Discover the wonders of the underwater world at one of Europe's largest, state -of-the-art aquariums. Featuring 60 tanks it is home to over 2,000 marine organisms. Both children and parents can experience the enormous aquariums and deepen their knowledge of the Mediterranean Sea. Various organized tours are available for children of all ages.
Visit a WaterPark
Spending a day at a waterpark is the perfect way to cool down while having ultimate fun with your family. On Crete there are several waterparks available in different regions. One of the most famous waterparks is the Watercity Waterpark located in Anopolis, a short 20-minute drive from Heraklion. The park provides entertainment for all ages.
Spend a Day in Chania
The picturesque Old Town of Chania should definitely be on your list of the top things to do in Crete. The gorgeous Venetian port featuring its impressive landmark — the Venetian lighthouse, is one of the most photographed spots in Crete. Take a slight turn inward and you will find yourself wandering off into one of Chania's intimate alleys. You can spend hours admiring the gorgeous Venetian mansions, museums, churches and later sit down in one of the local taverns — to enjoy a hearty Cretan lunch.
The Island of Stunning Beaches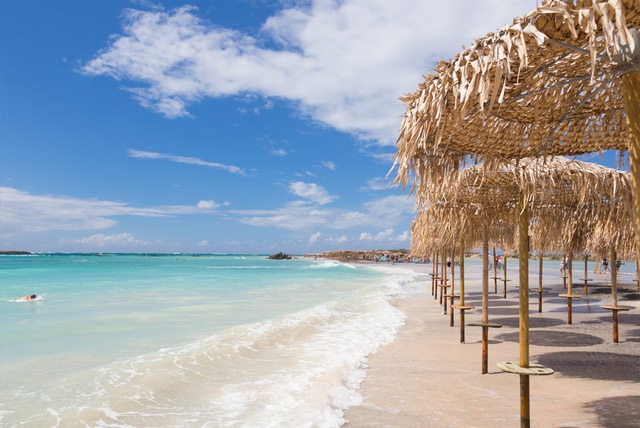 Crete is famous for some of the world's most amazing beaches. Many of the beaches in Crete have shallow safe waters with lovely soft sand, making them ideal for families with children.
The most popular and photographed beaches are Elafonissi Beach — renowned for its remarkable pink and white sand, Balos Lagoon for its stunning shallow waters and great ecological value (Natura 2000 site) as well as Falassarna Beach (also a popular sunset spot) — just to name a few. The beaches of South Rethymnon are also known for the enchanting landscapes and inviting waters of the Libyan Sea.
Discover the Myths and Legends of the Medieval Castles of Crete
The Cretan landscape is dotted with impressive castles and fortresses, many of which were constructed under the Venetian rule to protect the island from various invaders. Today many of these fortified cities are still in excellent condition and are open to the public. Some of the famous castles are the Fortezza Fortress in Rethymnon, Koules Fortress in Heraklion, the Venetian Fortress of Chania among many others scattered around the island.
The Caves of Crete
If you are up for an adventure then a visit to one of Crete's numerous historical caves will be an exciting family activity. Crete is crowned by numerous mountain peaks — the White Mountains (Lefka Ori) being the highest. The Ideon Cave for example is the mythological birthplace of Zeus and an important cave sanctuary throughout all of antiquity. One of the newest additions to the Caves of Crete is the Cave of Elephants which was discovered by a snorkeler in 1999. You can only get to it by diving — many professional tour companies arrange visits to this cave. Exciting, isn't it?
Meet the Dinosaurs
At the theme park dedicated to Dinosaurs, little guests can admire fossil replicas and life size dinosaur models, as well embark on a journey through time and learn all about the magnificent world of the dinosaurs. Other attractions include the Dino Hospital that showcases egg hatching and care of newborns as well as the 5D and 7D cinema halls where children can experience 3-dimensional films with unique special effects.
Farm Life at Agreco Farm
This traditional farm located in the village of Adele, Rethymnon has revived centuries-old organic farming practices and invites guests to learn about the organic production of Crete's renowned food. A special program tailored to kids — Farmer for a Day, introduces children to a hands-on experience where they will be introduced to the farming practices as well as learn how to cook some of Crete's staple recipes.
We hope that this post on the 10 Top Things to Do in Crete will inspire you to start planning your next holiday to Greece.