Getting a head start with your child's learning is always the best way to give them a head start in school. But we don't always know what to teach them or how to teach them . I know with my children I have often wanted to keep their minds busy during the summer months but I always fell behind or didn't know where to start.
The toddler kids is great! It has everything you'll want to get your child learning young. The foam mats are perfect for your toddlers first puzzle. The cardboard books are perfect for little hands to turn. Built tough to with stand any abuse your little one can throw at it. I love that everything fits nicely into a Teach my toddler case. No running around trying to find all the pieces. I was truly impressed.
Teach My Toddler Learning Kit

Teach My Toddler is the multi award-winning all-in-one learning kit for toddlers 18 months+. Requiring no screens, the kit has everything to give your toddler a head start and teach the basics. Teach My Toddler is divided into four sections; The Alphabet, Numbers, Shapes and Colors. The teaching tools are fully coordinated to encourage repetition and interaction. Teach My Toddler is designed around the concept of matching, which is a key pre-reading skill!

Kit Includes:

Teach My Toddler The Alphabet
Teach My Toddler Numbers to 10
Teach My Toddler Shapes
Teach My Toddler Colors

Features: 4 Board Books, 4 Full-Size Posters, 5 Foam Puzzles, 50+ Flashcards, Teaching Guide, Storage Case
Teach My Preschooler is a perfect start for your kindergarten bound child. If your child doesn't attend preschool you can teach them at home with this amazing kit. Making sure that they are ready and on track with the other children. Children are learning things so much earlier and expected to know so much more. This kit comes with loads of flash cards and adorable first reading books. This is a perfect way to give children a love for books early. Best part is this is not and app. There are no electronics. Something my children have too much of.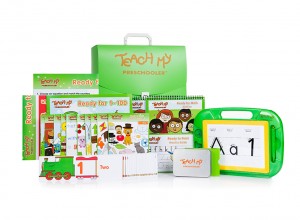 Teach My Preschooler is the multi award-winning all-in-one learning kit for preschoolers age 3 years+. Requiring no screens, the kit has everything for teaching preschoolers the basics. Teach My Preschooler is divided into four sections: Reading, Printing, Numbers to 100, Adding and Subtracting. Developed with education consultant, Judith Rowlands, M Ed., Teach My Preschooler is designed to give preschoolers a head start, develop fine motor skills, encourage parent/child interaction and increase school readiness skills.

Kit Includes:

Teach My Preschooler Reading
Teach My Preschooler Printing
Teach My Preschooler Numbers to 100
Teach My Preschooler Math

Features: 10 Readers, 60 Flashcards, 1 Flashcard Reward Tin, 1 Flashcard Holder, 1 Magic Drawing Board, 78 Print Transparencies & Printing Guide, 101 Train Flashcards, 3 Posters, 2 Flip-Books, Foam Numbers, Counters and Equation Signs, Teaching Guide, Storage case
Connect with them