Sending your children outside to play doesn't always have the effect that you're going for. My teen just sits out side on her phone. The younger ones fight over who is going to chase who. Sometimes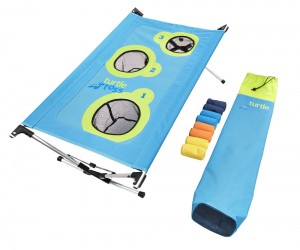 it just doesn't even feel worth it. Sea Turtle sports has a solution to get everyone in the family off the couch and outside. The turtle toss is a awesome bean bag toss that really gets everyone involved. A little friendly competition between family makes it that much more fun. Even the smaller children will have a blast trying to beat mommy and daddy. The best thing about this game is no one can really get hurt.
The bean bags are very well made. They have to be since you're throwing them around. They come in 4 bright colors, making it easy to know
who's bean bags are who's. They easily wipe clean. The board is a neat design. It folds up and into a bag, much like a camping chair. Making clean up and storage easy. There are 3 holes all different sizes and all worth different amounts. We had the whole neighborhood out playing with us and taking turns.
This board is designed to be played almost anywhere. It's perfect for the back year, the beach, or camping. Pretty much anywhere you can set up the table. You party or BBQ will be better for having this game on hand.
It's not always easy to stand out in a crowd, but we think we've come up with the ultimate Bag Toss (or Cornhole for you traditionalists). Let's be honest. Classic cornhole boards are four feet long and weigh a ton. And most Bag Toss games have multiple parts to assemble and very easy to lose.

Features Include:

One collapsible target board for maximum portability (33″ l x 22″ w)
8 barrel-shaped bean bags (2 blue, 2 navy, 2 yellow, and 2 orange)
Laminated weatherproof rules
Custom carry bag with adjustable strap and vented bottom
Connect with them