Take yourself back to the turn of the century in England. This is the setting of "Charlie and the Grandmothers by Katy Towell". This book is a heartwarming story about the beauty of fear in all its levels: grief, loss, love, depression, and anger.
Charlie and Georgie Oughtt are siblings who have been sent to visit their Grandmother Pearl and find themselves experiencing their fears together. This upsets Charlie for three reasons: To start out he is an exceptionally nervous twelve-year-old boy and worries about everything. The second is that all the other children in his neighborhood who have gone to see their grandmothers never return. This would be apt to make any nervous child anxious. The third reason is that Charlie and Georgie don't have any grandmothers. As it turns out, a visit to Grandmother's house has never been so frightening. It is very easy to see why Charlie is beside himself with being afraid. You will want to read the novel to find out the rest of the story.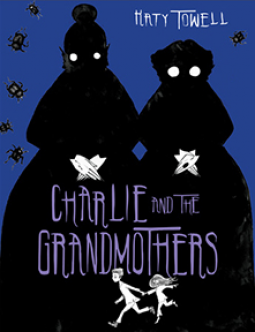 This novel has been praised by the School Library Journal as "a heartwarming adventure about overcoming one's fears and the unbreakable bond between siblings".
COMING AUGUST 4TH, 2015. When fearful twelve-year-old Charlie and his bolder younger sister are sent to visit a grandmother they never knew they had, they discover a dark secret…..
About the Author:
Katy Towell is an artist, creative director, and writer in Portland, Oregon. She has dreams of one day being the scary old lady in the house about whom all the neighborhood children tell ghost stories. She is also the author of Skary Childrin and the Carousel of Sorrow, and is the creator of the Children R Skary website and illustrated series: skary.com.
Facebook | Twitter | G+ | Tumblr | YouTube
About the Publisher:
Random House Children's Books is the world's largest English-language children's trade book publisher. Creating books for toddlers through young adult readers, in all formats from board books to activity books to picture books, novels, ebooks, and apps, the imprints of Random House Children's Books bring together award-winning authors and illustrators, world-famous franchise characters, and multimillion-copy series. A division of Random House LLC, a Penguin Random House Company.