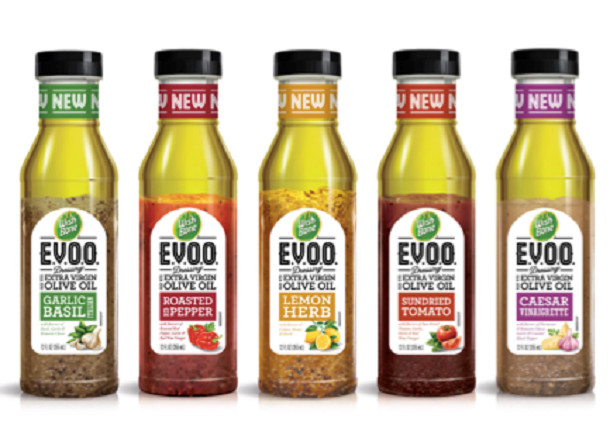 Lately since it's been so hot here, the only thing I've enjoyed eating is a fresh homemade salad dressed up with one of Wish Bones new EVOO salad dressings.
Wishbone has 5 different flavors that you can try. I've only tried three so far and I'll have to say I've been pleased with each one.
Today I wanted to try out the EVOO Garlic Basil Italian Dressing. Now the EVOO Garlic Basil Italian Dressing has flavors of Basil, Garlic & Romano Cheese, and is expertly crafted with extra virgin olive oil, balanced vinegars and our signature blend of herbs and spices for a one-of-a-kind salad dressing experience.
I decided for lunch to make a small salad and heat up a piece of my leftover lasagna and garlic bread. Now, I have to be honest I wasn't sure how the EVOO Garlic Basil Italian Dressing was going to taste.

Being that I'm not a friend of basil or garlic I just wasn't sure if I would like the EVOO Garlic Basil Italian Dressing.. Well, let me just say I didn't like the EVOO Garlic Basil Italian Dressing, I "LOVED IT"! The tasty was just right, it's like every ingredient included accented each other making this dressing even tastier. I could taste the flavors very well and you'll definitely see the extra olive oil that's mentioned on all their bottle ingredients.
The great thing about EVOO salad dressings is you can again spruce up any meal no matter what the season may be. Take a look at the Garlic Basil Mozzarella Stacker, Herbed Marinated Chicken & 20 Minute Potato Salad.

This would be the perfect meal for your summer backyard party, it's light, healthy and will taste great being marinated in one of EVOO dressings. You can visit Wish Bone to see the recipe here.
Don't let your summer meals be boring and non-tasty, visit your local grocery store and grab a few EVOO Dressings to spruce up your meals!
If you don't have any ideas as to what to make for supper, lunch or even summer time meals you can also visit Wish Bone.com to see more meal ideas to share with your family and friends.
You can find Wishbone on Facebook | Pinterest |Shop Website| to keep up with the latest.