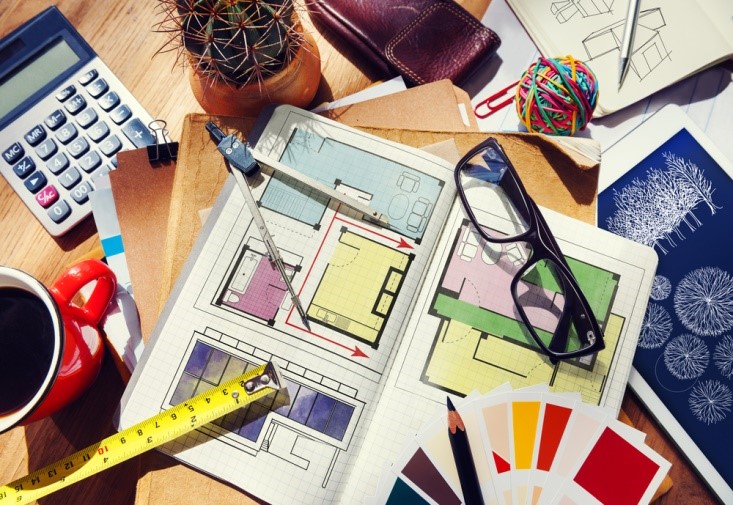 You've been watching and pining over those decorating shows on TV again, haven't you? The ones where a crew of professionals swoops in and makes over someone's house in three days and claims to have done it on a budget that really wouldn't even cover replacing the 10-year old carpet in your bedroom.
How do they do it? Well, for starters, they lie. They didn't do the makeover in three days, and if they did, it was because they'd planned and ordered everything well in advance. And as far as the budget, they get a lot of stuff deeply discounted or for free, and — drumroll, please — they don't add in the cost of labor.
So how can you possibly make the same kind of changes in your own home without enlisting the help of a TV production? Follow along and we'll tell you:
Plan and Budget
For some of you, this might be the boring part, but it's essential. Unless you have boundless funds, money is the bottom line of the majority of make-over projects. The most important thing is to decide how much you can spend. Keep in mind that you don't have to spruce up the whole house in one fell swoop, either. Prioritizing will keep you on the straight and narrow.
Start with the big stuff. If you're planning on replacing big-ticket items like flooring or kitchen appliances and counters, price them first and see what you've got left in the budget to work with.
Then price everything else you can. Spend some serious time researching local stores and online sources to see the range of prices you'll be dealing with, and compare for the best deals. Keep in mind that buying by price isn't always the best idea if it means you're sacrificing quality. To really invest in some unique pieces, check out retailers like Weston Table for quality items you can keep for a lifetime. You may decide for some items that it doesn't matter, though, and that's okay if you don't intend to keep them forever.
Assess your skills. Decide what you're going DIY on, and what you're going to need professional or otherwise experienced help with. Anything that involves electricity, gas, or plumbing, for example, is not for amateurs.
What could possibly happen? Well, apart from setting the house on fire or winding up in the ER, you could inadvertently set up a dangerous situation that doesn't cause trouble until way down the line. Even if it costs more, be safe now rather than sorry later.
Get your ducks in a row. Measure rooms, floors, windows, any furniture you plan to replace, and any spaces you'd like to fill. Take pictures. Be prepared for finding just what you've been looking for and knowing for sure it will fit.
Steal Ideas From the Best
Don't let all of that design show watching go to waste. Use the tricks that the pros use.
Painting makes a huge difference. It takes some time to do it right, but it's relatively inexpensive, and easy to do-over if you find you've made a drastic mistake with your color choice. (Actually, drastic is a word best reserved for marriage and other life choices. Paint is just paint.)
To make a space look stylish and interesting, try adding contrasting trim to the woodwork, painting focal walls, or highlighting nooks or other architectural features with shades that are lighter or darker than the rest of the room. Before you start, you might want to study up on technique a bit so the results are worth the effort.
Kitchen and bathroom cabinets don't have to be replaced to change their look. At best, all you have to do is change the hardware. At worst, you can paint or stain them. If they're truly awful, you can still just replace the doors without replacing the entire units.
Add light wherever you can. Replace heavy drapes and swagged valances that smother a room and block the natural light that makes a space feel airy and welcoming. Brighten dark corners with table or floor lamps. The eye can only appreciate what it can see.
Don't neglect the small stuff that puts the finishing touches on your makeover. Replace old switch plates with fresh new ones. Do away with worn doorknobs and replace them with lever sets. Get updated faucets and handles for the sinks. Those minor changes alone will refresh your house more than you'd imagine.