It's no secret that in the United States, the native tongue is English. It's also no secret that the second most commonly spoken language is Spanish. In the United States there are more Spanish speakers than there are in all of Spain! And roughly 20% of New Yorkers are fluent in Spanish.
What does that say about the importance of learning to speak Spanish? It says a lot! Giving kids the opportunity to learn the language is one of the best gifts you can give to them. It will allow them to connect with potentially millions more people than somebody who cannot speak the language. That opens up a lot of doors for them.
If you're put off by having your kids learn a foreign language because you picture rigorous studies, huddled over a desk with a dictionary and a tape of a monotone voice repeating stuff like "Buenos noches, Seniorita!", you don't need to be. Whistlefritz offers an incredible opportunity for kids to learn to speak Spanish through immersion. And no, that doesn't mean packing your kids off to Barcelona to learn to speak the language like a native.
Spanish Learning through Whistlefritz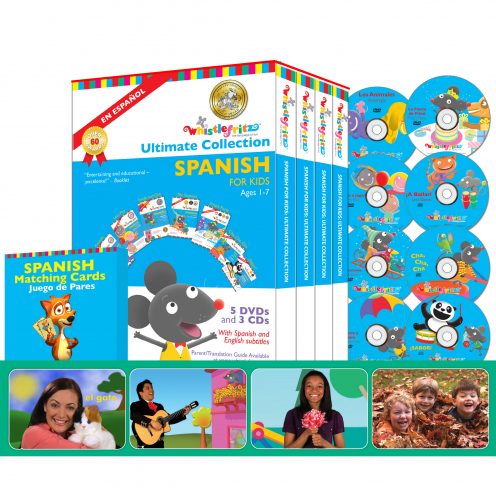 The language programs offered by Whistlefritz are a unique way of learning for kids. They offer lesson plans that parents or teachers can put together with DVDs featuring fun characters and storylines, CDs with songs and stories, and a whole array of resources. What's more, the parent or teacher does NOT need to be fluent in the language in order to organize the lessons for children. The immersive experience will have little ones engaged and entertained so that they don't even know they're learning!
No Clunky Dictionary Necessary!
The programs come in two different options–Spanish or French. They are a perfect way to get kids speaking another language. They can be done just about anywhere without the need for a Spanish-English dictionary. No monotonous repeats of basic phrases (unless they prefer it that way!). Instead, kids have so much fun interacting with the DVDs and CDs that they look forward to their language lesson. Lessons are available in several different options and price points, and will vary depending on just how immersed you want your child to get!
You don't need textbooks, dictionaries, or even prior language experience to have your kids learn to speak Spanish. Whistlefritz will have them speaking Spanish like a native in no time at all. It will give kids the opportunity to learn the second most commonly spoken language in our country and open an infinite number of doors for their future.